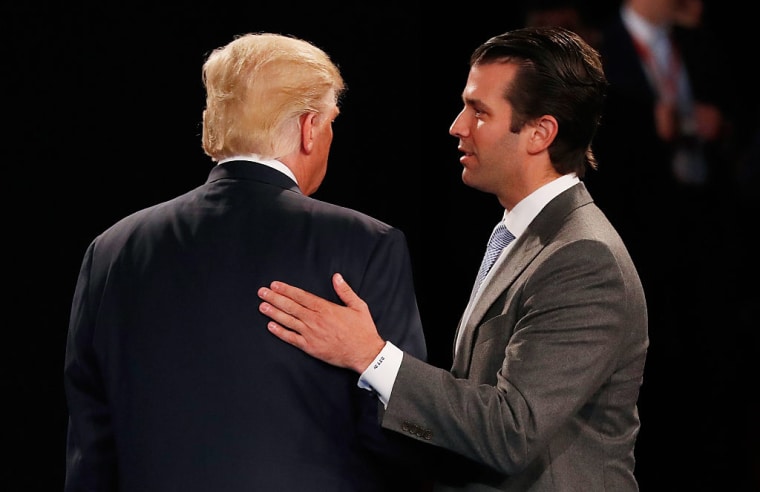 Donald J. Trump, Jr. has shared an email correspondence from June 2016 showing his attempts to secure damaging information on Democratic nominee Hillary Clinton from a purported official of the Russian government.
The messages were sent between Trump, Jr. and Rob Goldstone, a British music publicist. Goldstone claimed that "the crown prosecutor of Russia" was offering "to provide the Trump campaign with some official documents and information that would incriminate Hillary and her dealings with Russia and would be very useful to your father."
Goldstone said that the "very high level and sensitive information" was part of the Russian government's support for Donald Trump's 2016 candidacy, a fact that has since been confirmed by CIA and FBI and dismissed by the current president.
Trump, Jr. responded enthusiastically to Goldsman's proposal. "If it's what you say, I love it, especially later in the summer," he replied. A meeting with Natalia Veselnitskaya, a Russian lawyer, was arranged four days later, with Trump Jr, along with Paul Manafort, Donald Trump's then-campaign manager and Jared Kushner, one of the president's top advisors.
On Twitter Trump, Jr. claimed that he was sharing the emails in the interest of "transparency." However, according to The New York Times's Clifford Levy, the chain was posted to get ahead of the newspaper before it broke the story.
When news of the meeting first broke, Trump, Jr. confirmed that he met with Veselnitskaya with the intention of retrieving damaging information on Hillary Clinton. He claimed that the meeting "ended up being primarily about adoptions."
Veselnitskaya claimed in an interview with NBC News Tuesday morning that she has no connection to the Kremlin and "never had any damaging or sensitive information about Hillary Clinton."