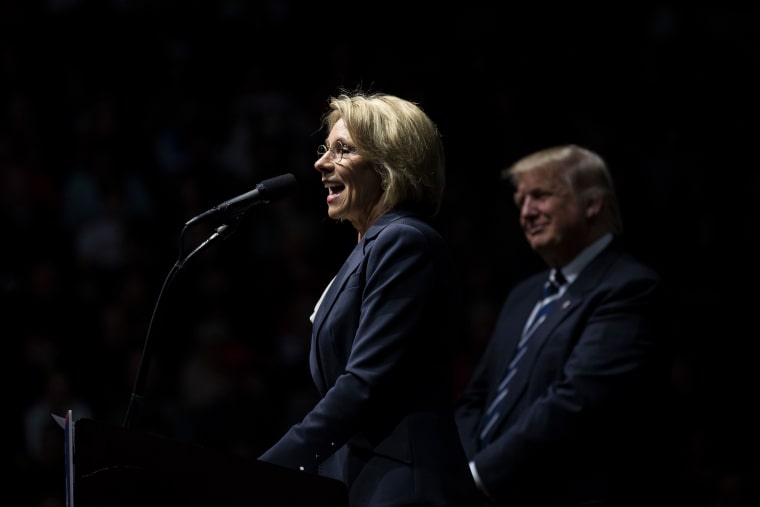 On Thursday July 13, Secretary of Education Betsy DeVos is scheduled to hear the "personal accounts" of members of Stop Abusive and Violent Environments (SAVE) who claim they were falsely accused of rape. SAVE has been accused of promoting misogyny by the Southern Poverty Low Center (SPLC) and called a "hate group" by campus assault activists.
Two groups with similar mandates, Families Advocating for Campus Equality and the National Coalition for Men – a long-running men's rights group – will also attend, according to Politico. Advocacy groups for victims of campus sexual assault like National Women's Law Center, Know Your IX, and End Rape on Campus have also been invited, according to Politico.
A new report in The Daily Beast explored the groups behind the planned meeting, which could decide the fate of the "Dear Colleague" letter, a 2011 guidance for campuses on sexual assault issued by President Barack Obama. Campus sexual assault activists say that the letter, which lowers the standard of proof required in disciplinary hearings for sexual assault, has made it easier for victims to come forward and forced institutions to take accusations more seriously. Groups like SAVE believe that the guidelines have led to "deleterious effects" on campuses across the United States. DeVos has not indicated whether or not she will uphold the letter's guidelines.
At least one key member of the Trump administration seems sympathetic to the men's rights cause: Candice E. Jackson, the acting head of the Department of Education's Office of Civil Rights. As The Daily Beast notes, Jackson has called the women accusing President Trump of sexual assault as "fake victims" and has rolled back the scope of civil rights investigations on campuses.
On its website, SAVE claims to advocate for both victims of sexual assault and the falsely accused: "SAVE is... working for evidence-based solutions to end sexual assault and domestic violence. However, the SPLC has accused the organization of targeting female victims: "The site trumpets as a "key fact" that "[f]emale initiation of partner violence is the leading reason for the woman becoming a victim of subsequent violence," even though a study shows that approximately twice as many women as men are injured during incidents of domestic violence."
Campus sexual violence expert Jaclyn Friedman told the Beast that SAVE and the other groups meeting with DeVos were "hate groups, plain and simple" that should not be granted an audience with the Education Secretary.
"They actively publicize the names of rape survivors in order to intimidate them and others into shutting up and taking it," she said. "They blame women for 'instigating' men's violence against them. They think victims' sexual histories should be fair game in rape cases. They outright lie about the realities of rape on campus."
"Make no mistake: if DeVos takes any of their advice, she will be enabling rapists. Period."