The Teenage Prowess Of Noah Cyrus
Surviving your adolescence is an art. And Noah Cyrus is an artist.
Noah Cyrus finally found her tribe where lots of wayward young people do: at an all-night diner. Crave Cafe in Laurel Canyon, California is very special to the 17-year-old rising pop singer. When she tells me about it from the couch of her messy Manhattan hotel room on a rainy afternoon, her face lights up like it's her dang birthday. The 24-hour eatery with vintage movie posters on the wall is where she met her best friend, Lucas, and some other members of their tight-knit L.A. crew, who she says she truly feels like she can be herself around.
It all feels like something from the cutting room floor from her song "Stay Together," a slow-marchy bop about euphoric Uber rides, cracked iPhone screens, and those debauched, magnificent nights we've all had, the ones that feel like they should last forever. "Before my friends knew it was called 'Stay Together,'" Noah says, "they would be like, 'Can you play the relatable song again?'"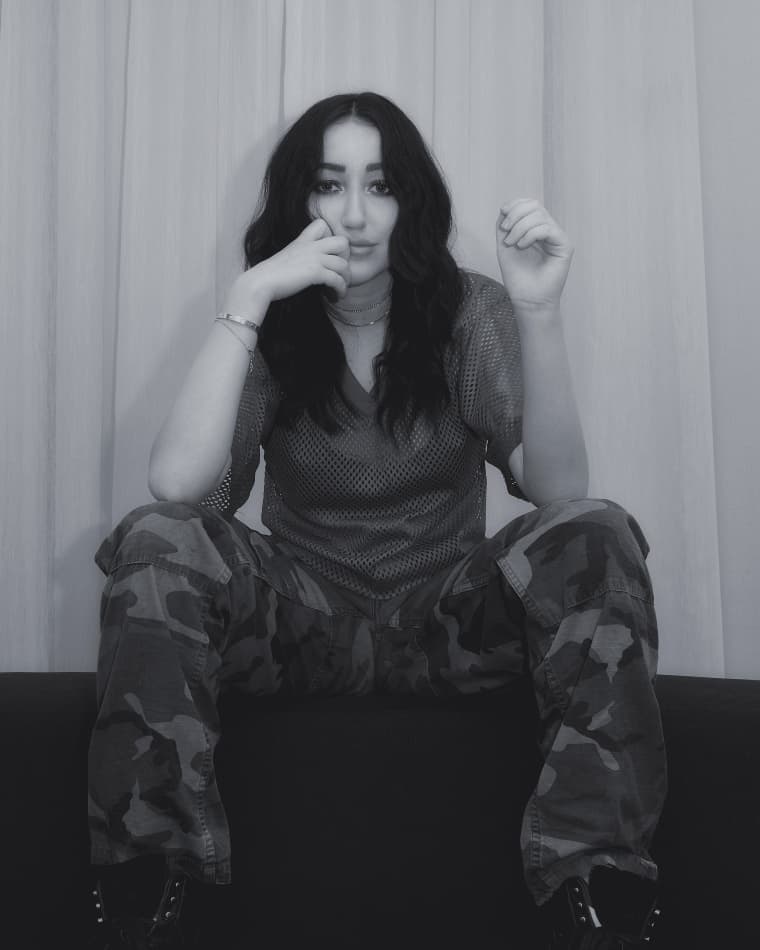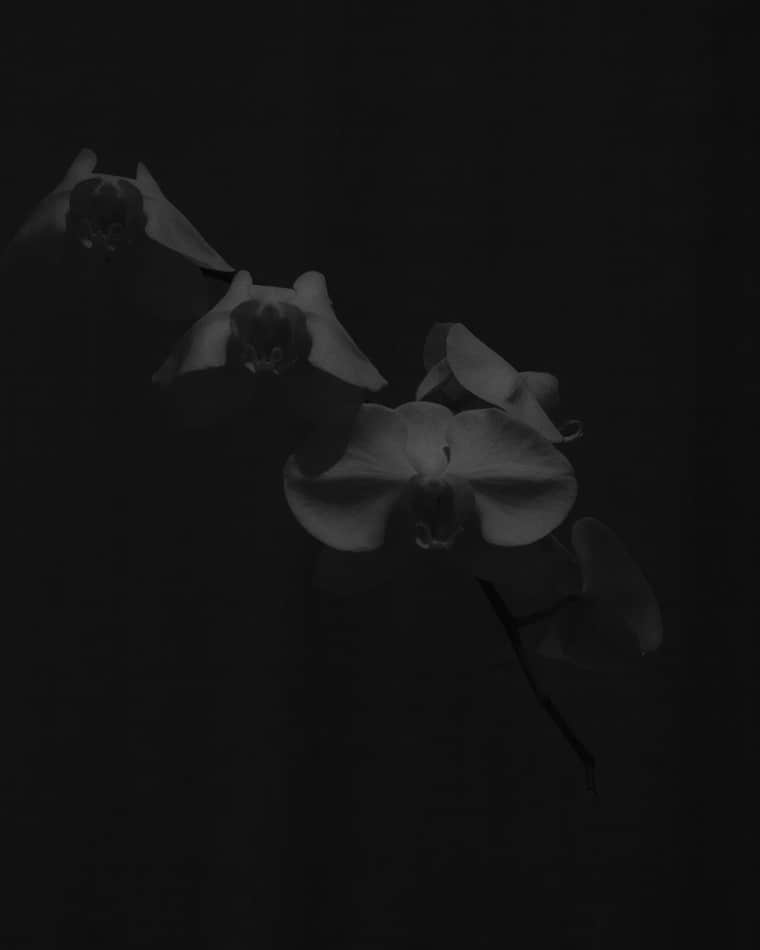 Relatability is one of Noah's biggest strengths. It's how she's been able to define herself to a public that may already think they know who she is. Noah is a Cyrus, as in Miley's sister and Billy Ray's youngest daughter. But Noah has spent the first few months of her fledgling singing career making secretly weird pop songs and performing them in stripped-down settings. By presenting a mostly unpolished version of herself to the world, she's proven she can really sing, and amassed a small army of fans to call her own. Everyone would like to think if they had all the available tools to become a famous artist, they'd be themselves; rooting for Noah is easy because she appears to be doing just that.
Still, it's easy to wonder if she'll face similar questions of authenticity that have dogged her older sister throughout her career. When asked about it directly, it's the only time Noah seems to be visibly uncomfortable during our time together. "I'm obviously really sensitive to that stuff," she says, tugging on her mesh sleeves and shifting on the room's purple couch. "That made me sad when people were being awful to [Miley] through the media. I hated that — she is who she is, and that's what I want for her. I get a little nervous for when that time will come [for me]. I mean, I'm not going to sit and worry on it, but I know it'll happen."
Noah is used to facing critics. As early as junior high, in her small school of performing arts kids, she was bullied by older classmates for everything: her family, her looks, her intense early fandom of Justin Bieber. She says she was lucky to have her brother Braison around to ward off the bullies. Following the speedy success of her first-ever single "Make Me (Cry)," a heartbreaking duet with U.K. artist Labrinth from November 2016, Noah disabled comments on her Instagram profile. "People said stuff about my face, my sister — someone told me I had a weird belly button, which I laughed at," she says. During a visit to Instagram headquarters a couple of months ago, she asked the company if she could turn off her comments forever. In early June, though, she turned her comments back on, after her growing fan base kept saying they wanted an open line of communication with her. Noah now individually "likes" all of the unkind comments that she sees — a form of light retaliation.
She hits hard against social media on one unreleased, piano-driven song from her debut album, NC-17. On the track, she rails against herself, and her entire generation, for wanting to live in a better world but being too consumed by apps and screens to do anything about it. I ask about the line "they say everything gets better/ until someone pulls the trigger," which Noah denies is politically charged. "There's one thing my dad taught me: don't talk about politics, because you'll never make anyone happy," she says. "Don't even go for it."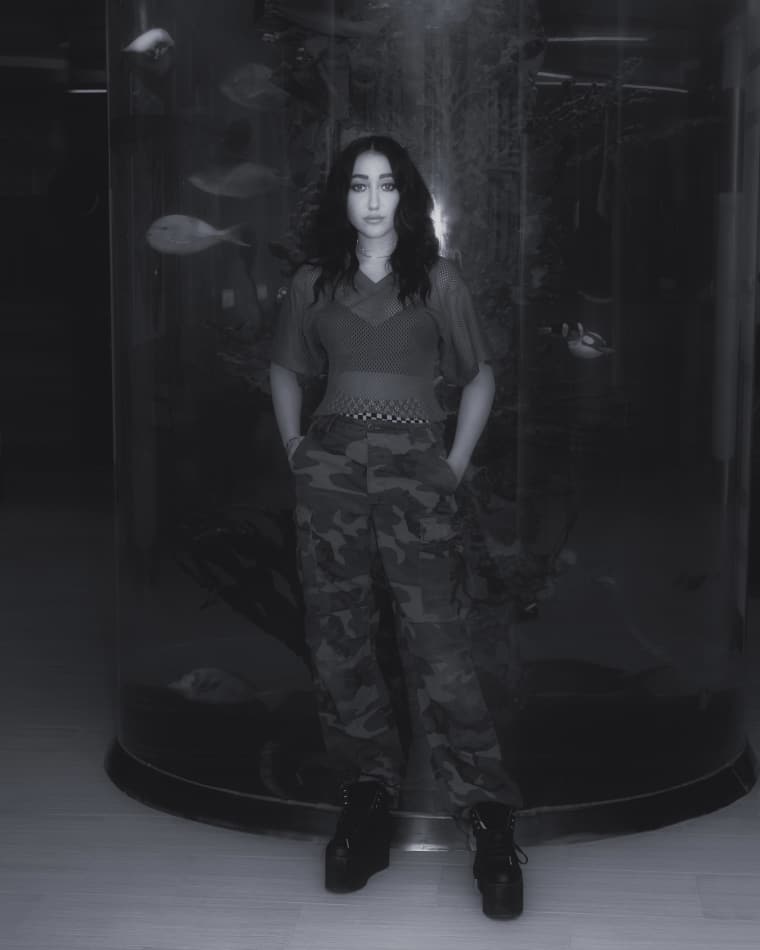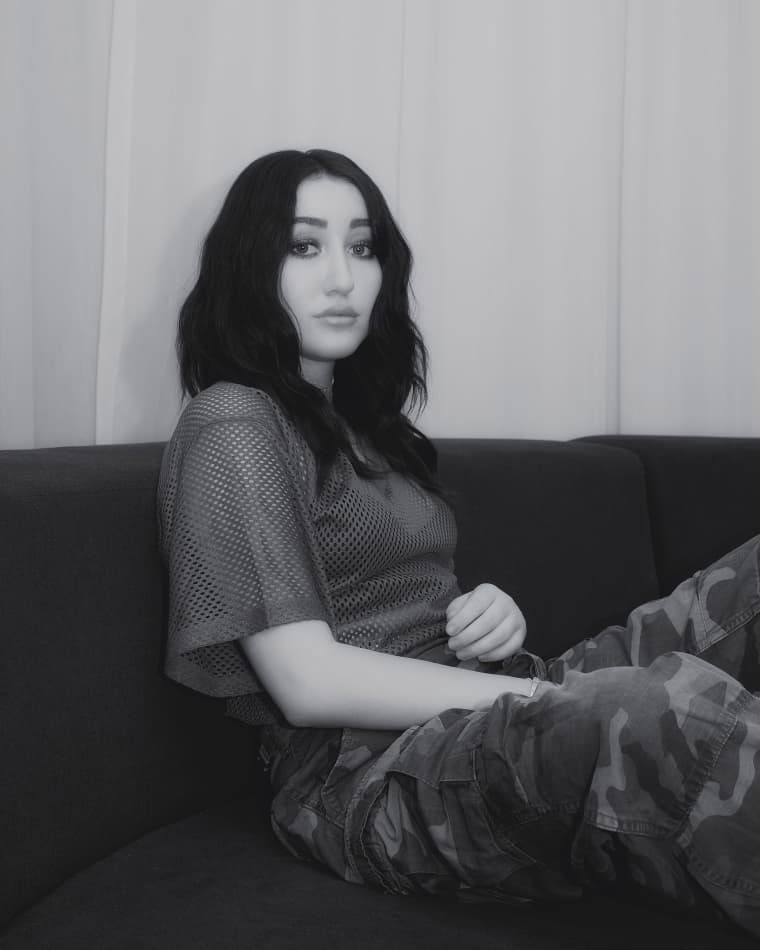 In the studio, she's found a partner-in-crime in Labrinth. She holds the 28-year-old in insanely high esteem, referring to him at various points in our conversation as a "security blanket," a "big brother," and a "musical genius." When Noah and Labrinth work on songs together, they sit next to each other the whole time, making every decision in tandem, an experience that has made Cyrus, who writes on every one of her songs, feel more musically confident. "I can totally make a song — just without touching the computer, because I don't get the computer part of it yet," she says, smiling wide.
Noah and Labrinth's creative partnership is another reminder that having a group of good, loyal people around is probably the most important thing a teenager with a booming music career and a crazy childhood can ask for. He contributes some fun adlibs to "I'm Stuck," NC-17's boot-stomping third single that sounds like a younger cousin to Kesha's "Timber." Noah also credits him for the ingeniously polarizing waterdrop-bloop on the chorus of "Make Me (Cry)." But it's her distinct vocal — hushed, but soaring at points too — that makes the track great. It's the kind of anthemic love song that's destined for the season finale of a primetime teen drama. Sure, Noah never went to "real" high school, but the TV version is always more interesting anyway.
From The Collection:
GEN F