Lana Del Rey's Instagram Is Real-Time Proof Of Her Genius
How eccentric social media posts help the queen of Hollyweird maintain control of her art.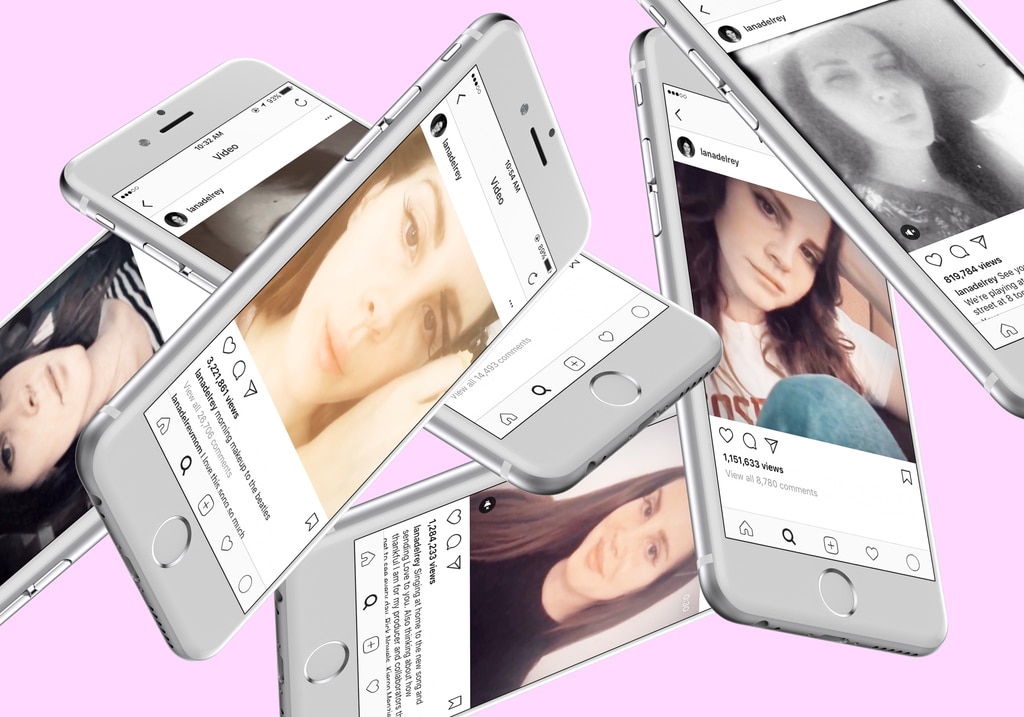 On March 20, Lana Del Rey uploaded an Instagram video soundtracked by Joni Mitchell's immaculate piano ballad "For Free." In the sparse 1970 song, Mitchell contrasts the newfound affluent lifestyle that followed her late-'60s success — "playing for fortunes," shopping for "jewels" — with the world of a street musician performing for the love of music alone. The lyrics are simultaneously sweet and quietly devastating, highlighting the desperate isolation that can be bound up with stardom. Del Rey filmed herself listening to it alone, in a car driver's seat, on a bright spring day. The video's frame was cropped to show part of her face, the "Yosemite" logo of her thrifted-looking T-shirt, and her tousled brown hair. With a sad smile, Del Rey sang along with the song's final line: "He was playing real good for free."
The 35-second clip fit in with many of Del Rey's Instagram posts in the run up to her fourth major label studio album, Lust For Life, due July 21. Often they've been playful, like a coquettish "Santa Baby" cover on Boxing Day, or last month, when she larked around a backyard with singer Marina Diamandis, in a clip edited to resemble an old home movie. Sometimes, she also uses the format to share new music.
Over the past few months, in grainy videos with an unstudied feel, she's previewed the stoned-out trap ballad "Summer Bummer" (f. A$AP Rocky and Playboi Carti), zoomed in on her full lips and sung along to the luxuriantly mournful "White Mustang," and shared nonchalant dance rehearsal footage for the strutting "Cherry." This April, she introduced a reflective new song called "Coachella - Woodstock in my Mind" in a lengthy caption, describing it as a "prayer for peace" amidst rising tensions between the U.S. and North Korea. In the video, Del Rey sang a cappella while surrounded by the tree trunks of California's Sequoia Grove. She wore an old cap that you'd find in any Goodwill off the 405, as well as a plaid jacket, and a dangling feather earring, which caught the breeze and brushed against her cheek as she sang.
Del Rey fans have gotten used to hearing her new music before it officially drops via leaks, which have plagued the singer throughout her time in the spotlight. She's admitted to being "discouraged" by this in the past, and it hasn't stopped happening. Lust For Life's gorgeous lead single "Love" surfaced ahead of its scheduled release this February, and the evocative, Joan Baez-esque "Best American Record," leaked a few days later (it's not on the album and looks like it won't get officially released, which is honestly a crime). But even if Del Rey hasn't been able to prevent leaks, she has at least become more adept at getting out in front of them. This year, she's tactically used social media previews to keep appetites for her new music at bay — as well as strengthening a close connection to her fanbase — without sacrificing control.

Lana Del Rey always said she was "fucking crazy," but her impromptu social media updates let us see how charming that eccentricity can actually be.
Maintaining ownership of her narrative is a critical move for Del Rey. Since releasing millennial pop's first truly timeless heartbreak anthem with "Video Games" and a polarizing first major label album, 2012's Born To Die, critics have questioned the authenticity of her body and general aesthetic. There seemed to be an obsession with exposing her success as somehow fraudulent, which was not just entirely unfair but clearly rooted in misogyny. Regardless, Del Rey began to move away from her self-described "Lolita got lost in the hood" persona, using social media to help signal a tonal shift in her image. After joining Instagram in 2013, her posts steadily began to feel more relaxed and spontaneous, and by the time she released her opiated Cali rock triumph Ultraviolence in 2014, she was wearing plain tees and ripped jeans, and actually smiling in pics. Del Rey opened a (now private) secondary account the following year, which was initially used to promote her third album Honeymoon, but quickly became full of truly weird posts, on topics such as the joy of "sunbathing and moonbathing." In September 2016, she filmed a firefly careering around a chintzy interior, and screamed when it veered off course. Del Rey always said she was "fucking crazy," but her impromptu social media updates let us see how charming that eccentricity could actually be.
There's always been a subtle wry streak to Del Rey's lyrics — "Brooklyn Baby" was as satirical as it was sincere, and "My pussy tastes like Pepsi-Cola" was never exactly a serious line — but there's an infectious playfulness in her recent music that's harder to deny. The new album's art shows Del Rey's gleaming toothy smile, and she winks and shimmies her way through the "Love" video. On Lust For Life she's collaborating with a fun and novel range of artists, from A$AP Rocky and Playboi Carti, to Sean Lennon and her "witchy sister" Stevie Nicks. Inevitably, it takes confidence to prominently feature other artists in your music for the first time, as she's doing here on album number four. But for Del Rey, somehow, letting down those boundaries now feels like "not that big of a deal." Embracing her quirkiness on social media has also enabled Del Rey to address real-world issues in a way that she hasn't in the past — albeit in her own Lana-ish way. This February, for instance, she encouraged her Twitter followers to join witches worldwide and cast a mass binding spell against Donald Trump.

For people that live on their phone, Del Rey is a more engaging artist than ever. But, truthfully, she's always demonstrated a keen knowledge of how social media can shape an identity. Way before "Video Games" went viral, everything that Lizzy Grant wanted you to know about Lana Del Rey was right there in her spiderweb-like Twitter stream of pop culture references. The account @throwbacklana collects a bunch of her early tweets, which were mainly pithy quotes from the likes of JFK (the theme of 2012's "National Anthem" video) and Allen Ginsberg (quoted in short film Tropico), as well as Goodfellas, Nas, Fran Lebowitz, and Jean-Paul Sartre.
One quote, tweeted in Spring 2011, seems to sum up her aims both then and now. It's taken from the 2000 movie High Fidelity: "What really matters is what you like — not what you are like. Books, TV, Films: these things matter." By the time Del Rey emerged later that year — all Jayne Mansfield finger waves and doorknocker earrings — it figured that her aesthetic was so fully formed. She'd worked out who she wanted to be with the help of the internet before she ever debuted her persona in real life. She's still obsessed with showing us things she likes and using other people's art to help explain herself, peeling back the layers just enough to keep us checking back for more.



---
Lust For Life is out on July 21 via Interscope/Polydor.