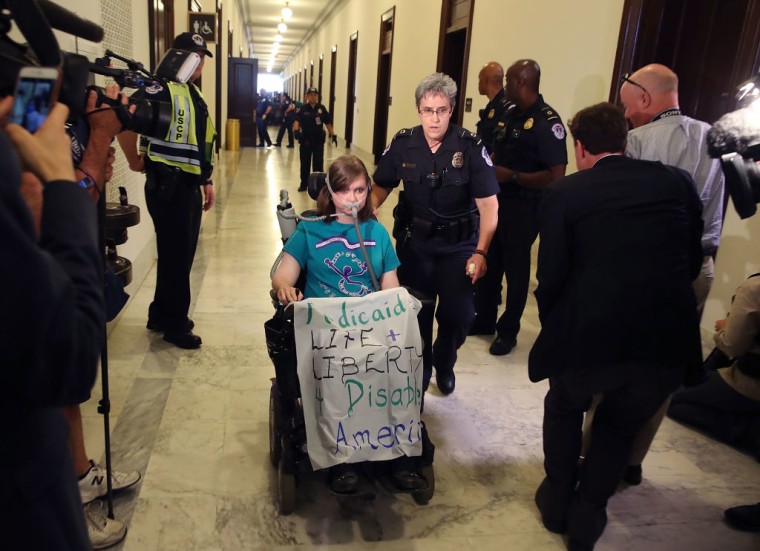 Laura Halvorson would rather be watching a Judd Apatow movie. The 33-year-old activist says she's a fan of his comedies, but hasn't had time for a Netflix session recently. Or a hike in Northern Virginia's accessible trails, or any quality time with her boyfriend. That's because the Washington, D.C. resident has been protesting with ADAPT, the national disability rights and advocacy group that has led the fight against the Republican efforts to repeal and replace Obamacare.
Halvorson, who lives with muscular dystrophy and uses a wheelchair, first heard about ADAPT in 2014. "I was disappointed that I had not heard about it previously, but in history, they omit disability history," she told The FADER over the phone from D.C.
ADAPT began to take shape in 1978, when a group of disabled Denver residents began protesting for accessibility in their city's public transport. Five years later, in 1983, ADAPT became an official entity and starting to spread across the United States; members met with politicians, proposed legislation, and protested when necessary.
When Donald Trump was elected, Laura was living in D.C., where the local ADAPT chapter had dissolved. "I was kind of waiting around for other people to start the chapter and it didn't happen," she said. During his campaign, Trump had promised to repeal Obamacare, which expanded the Medicaid program that poor and disabled populations rely on for health coverage in 32 states. Faced with policy that estimates say could kill tens of thousands of people, Laura got back to work.
Last month, ADAPT brought its decades of non-violent civil disobedience to the global media's attention. The group staged a massive sit-in protest outside the office of Senate Majority Leader Mitch McConnell, whose Obamacare repeal would have slashed $800 billion from Medicaid. Dozens were carried out by police and arrested. The images were transmitted around the world, and raised awareness on a never-before-seen scale.
Subsequent national actions — at least 40, by Laura's count — were only more dramatic, with shocking incidents of excessive force by police that pushed other political groups into the fray. "After watching the video of ADAPT getting arrested, I got really upset and I know DSA National was inspired by it," Chris Diehn, secretary of Denver Democratic Socialists of America, told Vox's Jeff Stein.
This week, the media proclaimed Republican efforts to repeal Obamacare all but dead. That conclusion seems premature as long as there's a Republican congress, and Laura knows that. "We know something else is going pop up in its place," she says, pointing to a proposed budget that would also slash Medicaid, and next week's procedural vote to partially or completely repeal Obamacare (ironically, the vote will take place on the 27th anniversary of the Americans With Disabilities Act).
It's not hyperbole to say that without ADAPT's efforts, President Donald Trump would soon be signing a bill that would have devastating effects for the health of the entire country for years to come. ADAPT helped change the healthcare conversation for the entire country, and with their plan for the future, could lead it to a better, more humane place.
---
LAURA HALVORSON: A lot of people were shocked that we got arrested, but in ADAPT, that's something you have to expect. Everyone who protests with us gets training on how to handle non-violent civil disobedience. We don't resist arrest, but we don't help them. It's been overwhelming to see my images and my friends' images in the media, but we really want people to know why we were there: the Medicaid cuts, specifically to home and community-based services. We want people to be aware of that, and advocate for it as well. A lot of people don't realize that being disabled can happen to anyone.
Members of ADAPT have helped write legislation called the Disability Integration Act. We're fighting to live in our own communities. It should be a right. If you're in an institution like a nursing home, your constitutional rights are not there. You don't have access to life and liberty. Studies have shown that it costs three times as much for a person to live in a nursing home as in their own community. Medicaid is required to fund the institutions, but it's optional for states to fund community-based programs. The Disability Integration Act would fix a lot of that, so that's our focus.
People think it's the worst thing in the world to be disabled, and it's really not. It's not us that's the problem, it's the lack of access in society, the fact that things are not universally designed.
A lot of our members were — I'm going to say liberated — from nursing homes. After I was in the hospital in 2014, I was put into a rehab facility, which is very similar to a nursing home. That was one of the worst experiences of my life. They're short-staffed, and usually don't have enough support workers who are the people who get you out of bed, help you get ready, and they give you a bedtime. I'm 33! I don't want to be told when to go to bed! If you look back even further in history, in the '70s before the regulations, you had these institutions with 50-100 patients to a single nurse aid. They were neglected horribly, and we don't want to go back to that. If you look at how the Better Care Reconciliation Act [the Obamacare repeal-and-replace legislation, or BCRA] was written, there wouldn't have been enough funding to go around, and you would see facilities more than likely end up like that.
When I was in that rehab facility, I felt like I was losing my will based on how depressing it was. And that's very common. Right now I'm at risk of going to [a nursing home]. The past couple of months, my abilities have diminished, and the progression is moving pretty rapidly. Living in the community, you can get self-directed care, and you can choose who you want for your personal care attendant.
If you're in an institution like a nursing home, your constitutional rights are not there. You don't have access to life and liberty.
An important thing to point out is that disability rights intersects with [movements such as] gay rights, with black rights. Not every disabled person is a white man. I love the quote from Alice Wong: "My existence is resistance." That sums up how I feel. Just existing is a form of protest because people think disability is a dirty word. From the way we phrase things in society, to how the media represents us. People think it's the worst thing in the world to be disabled, and it's really not. It's not us that's the problem, it's the lack of access in society, the fact that things are not universally designed.
I'm disappointed that Republicans seem to put party before people. As far as Democrats, when they talk about Medicaid, a lot of them talk about disabled children and omit disabled adults from the conversation. So we try and educate on the Hill about the Disability Integration Act but we're still getting resistance even from Democrats on it. It's slow-moving. When you see the effects of the Medicaid cuts in the BCRA, there should be no question that members of both parties should support the Disability Integration Act.
For some people there's despair, but we have a saying in ADAPT: "don't agonize, organize." I don't have a lot of energy because of my muscular dystrophy, but every time I have an ounce of energy now, I use it towards either advocacy from home, like Alice Wong, or at an action in D.C., if my health permits. But there's a lot you can do from home, like contacting your legislators. There's a lot of money in politics. We're going up against Citizens United and the hospital lobbies, but I can't just sit there. I have to fight to the best of my abilities and hope that we win.