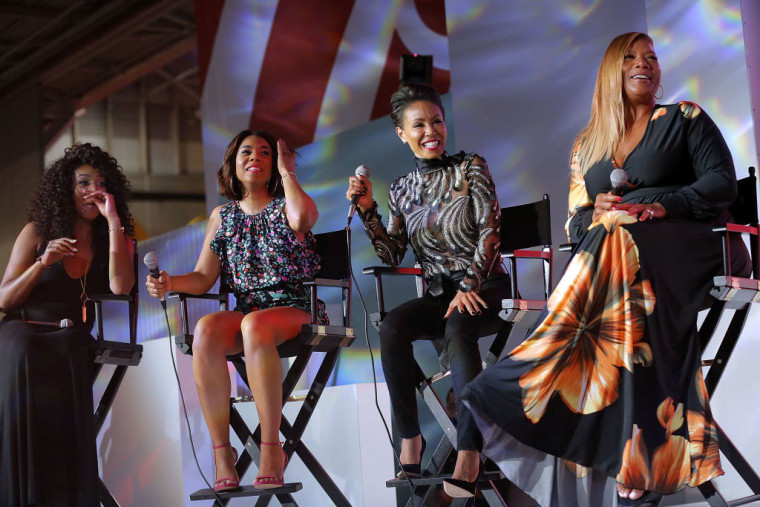 Girls Trip had a huge weekend, debuting at No. 2 behind Christopher Nolan's Dunkirk in a weekend filled with big releases. The movie — starring Jada Pinkett-Smith, Tiffany Haddish, Queen Latifah, and Regina Hall — grossed $30.7 million in its first weekend, according to Box Office Mojo.
As diversity in Hollywood and remains a pressing issue, Girls Trip demonstrates that representation on-screen can mean box office success. The Malcolm D. Lee-directed film significantly outperformed other recent comedy releases such as Rough Night, which made around $8 million in its opening weekend and has made over $21 million to date.
Girls Trip also joins other recent box office smashes with primarily, or completely, Black casts and crews, including Moonlight, Hidden Figures, and Get Out. Hidden Figures had a budget of $25 million, and made over $230 million while in theaters. Similarly, Get Out was made on a $5 million budget and made $250+ million. (Girls Trip had a $28 million budget and has already made back that in its opening weekend.)
According to Box Office Mojo, the crowd that went to see Girls Trip was largely made up of women, who comprised 79 percent of the audience for the movie's opening. 59 percent of the audience was Black, 19 percent was white, 17 percent was Hispanic, and 3 percent was Asian.
Girls Trip follows four women as they head to New Orleans for Essence Fest to rekindle their close college friendships. The movie has received rave reviews since its release and currently has an 89 percent rating on Rotten Tomatoes. Watch the trailer for the movie below.