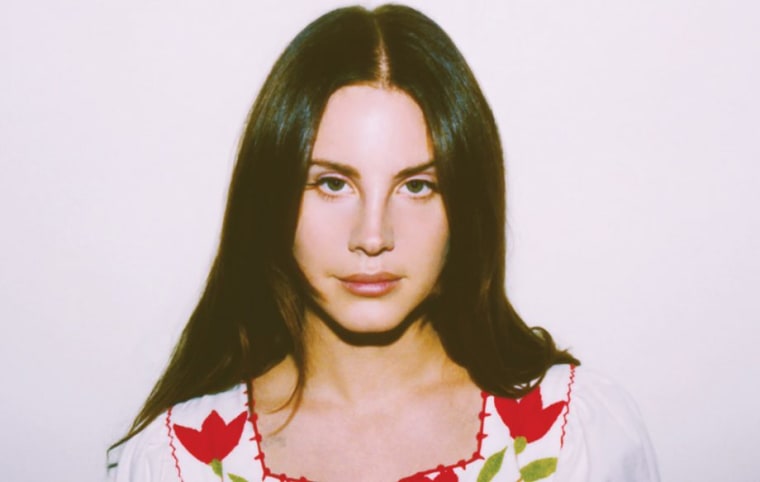 I spent my Sunday (sort of) cleaning my apartment and listening to Lana Del Rey's new album, Lust For Life. After many spins, I've decided my favorite is "Get Free," an amalgam of influences and interpolations and inter-references to the sprawling Lana universe. Intricately layered with analog synths, seagull cries, and organ, the song is a pact between Lana and herself, a gorgeous-sounding promise to unapologetically rid her life of unnecessary darkness. It's the album's final track, and maybe the most spiritually uplifting LDR song to date.
People have been saying it recalls Radiohead's "Creep," and that's definitely true; the verses have the same murky, blue-tinted melody as the 1992 mega-hit. (Lana would love "Creep," as it's a disenchanted, epic-sounding anthem for misfits.) But "Get Free," like the rest of Lust For Life, sounds like a whole lot of things, all at once. With the line, "I wanna move/ Out of the black (out of the black)/ Into the blue (into the blue)," Lana riffs on Neil Young's classic "Hey Hey, My My (Into the Black)" — meditatively reversing the song's "It's better to burn out/ Than to fade away" into a life-affirming message about persisting amidst hard times.
"Sometimes it feels like I've got a war in my mind/ I want to get off, but I keep riding the ride," Lana sings, sharply alluding to "Ride," the 2012 Born to Die cut with the spoken-word intro, which states, "I've got a war in my mind/ So, I just ride." But on "Get Free" she advances the story: "I never really noticed that I had to decide/ To play someone's game or live my own life/ And now I do." As Lust For Life's finale, "Get Free" solidifies the album's mission statement, which is that Lana will always be Lana, but she reserves the right to make life changes, to feel proud of what she's accomplished, and to sing about being happy and free, for once.