Fire Flames Hardbody Karate starts with a Sade cover and only gets loopier. "Loony Goon," featured in the video above, buzzes my brain like a nostalgic hybrid of early Kreayshwawn-core and the good parts of bloghouse; "Life Changing Love" is pitch-perfect chunky dance music, as is "No Attachments"; I have no idea what you call "War" — broken Sega?
Cult Days is Saba Moeel, a musician, visual artist, and designer — check her site for a good three dozen pieces of merch connected to this album alone, plus a bunch of shirts for her husband and fellow multi-hyphenate artist KOOL A.D. (buy his book).
"Scientists will tell you that Artificial Super Intelligence is set to arrive in 2025," Moeel told me, "but this fire flames mixtape proves otherwise. I don't want anyone to fear the future, because I've seen it in bits and it's lit." She also drew this incredible Lana Del Rey / Daria mashup. I don't know what more you people could want.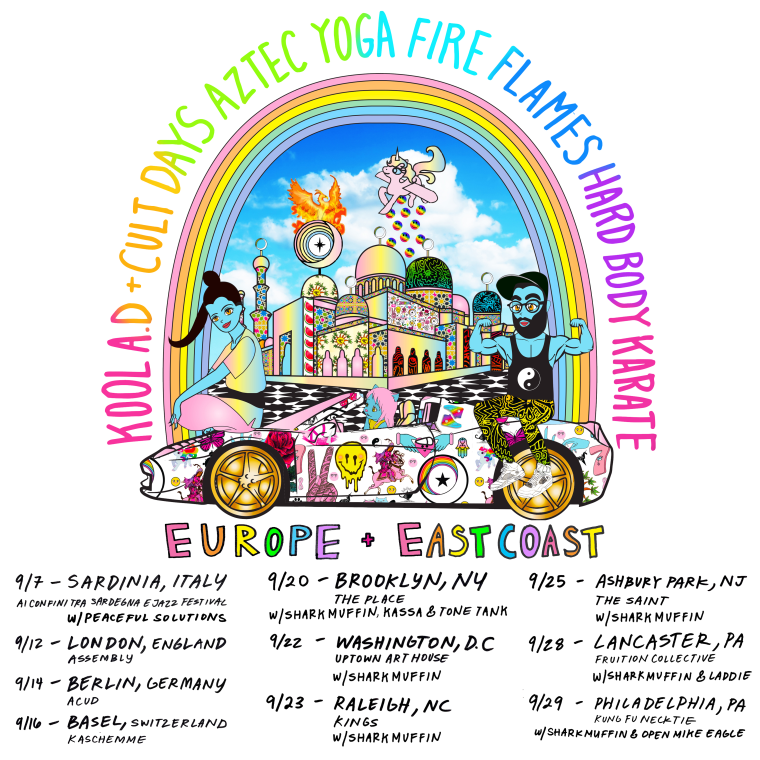 Kool A.D. + Cult Days Aztec Yoga Fire Flames Hardbody Karate Tour 2017

Europe

September 7: Sardinia, Italy: Ai Confini Tra Sardegna E Jazz Festival, with Peaceful Solutions
September 12: London, England: Assembly
September 14: Berlin, Germany: ACUD
September 16: Basel, Switzerland: Kaschemme
East Coast

September 20: Brooklyn, NY: The Place, with Sharkuffin, Kassa, & Tone Tank
September 22: Washington, D.C: Uptown Art House, with Sharkmuffin
September 23: Raleigh, NC: Kings, with Sharkmuffin
September 25: Ashbury Park, NJ: The Saint, with Shakmuffin
September 28: Lancaster, PA: Fruition Collective, with Sharkmuffin & Laddie
September 29: Philadelphia, PA: Kung Fu Necktie, with Sharkmuffin & Open Mike Eagle