FADER Mix: Suicideyear
A blend of eerie-dreamy electronic sounds with Southern trap staples.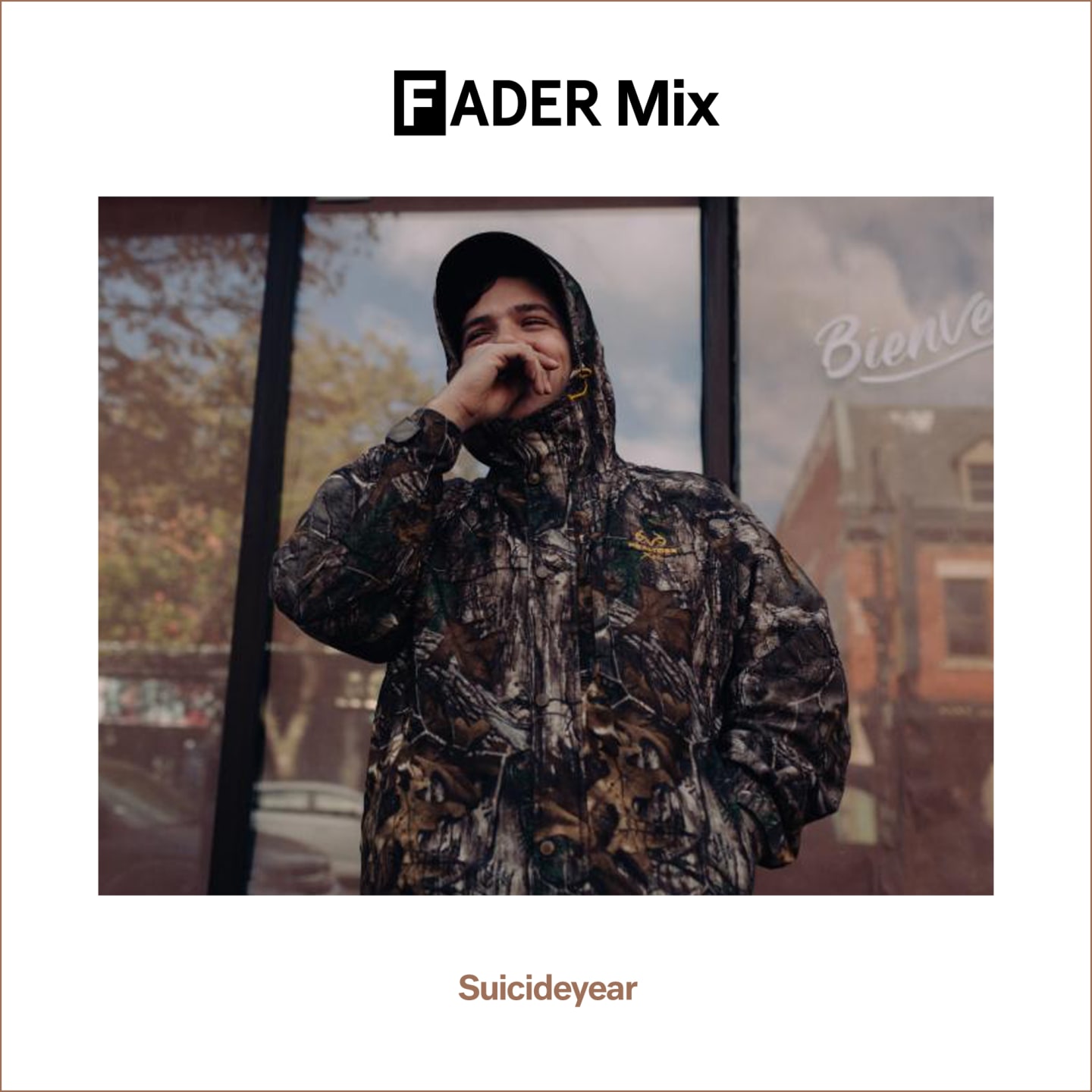 New Orleans-based producer Suicideyear is back with a new EP, Hate Songs, out now on U.K. label LuckyMe. You may recognize his trademark eerie synths and dreamy hi-hats from Yung Lean's 2013 track "Hurt," which helped propel the Swedish rapper to stardom, but Suicideyear has proved himself to be more than a one-hit wonder in the years since, with releases on OPN's Software label, amongst others. Having recently wrapped a series of shows with label-mate Jacques Greene, it's safe to say he's no stranger to tour life. But to Suicideyear, Louisiana will always be home.
In his FADER Mix, he skillfully blends his signature electronic sound with Southern trap staples such as Travis Porter, Lil Boosie, and 21 Savage. "I'm proud to be from Louisiana," a sample intones, seamlessly transitioning into an innovative "Self Control" bounce remix, which is a fitting sonic nod to the home state FrankOcean also shares. "Ain't no place like this in the whole world."
Listen to the mix below and find out what Suicideyear thinks makes the sound of the South so distinct.
Where are you right now? Please describe your surroundings.
I'm currently in New Orleans, Louisiana, sitting in my room in St Roch. Eating some Rally's.
Tell us a bit about this mix — what do you imagine people doing while listening to it?
It's a mix of some new things from me and also outthepound, and a lot of music I've been listening to recently. I imagine people getting off of work to this mix if that makes sense hahaha or something involving the sun.
What's your earliest musical memory?
I think rinsing Outkast's "Ms. Jackson" and Enrique Iglesias' "Bailamos" really heavy the summer of 2000.
You rep your home state of Louisiana hard in your music and in real life. What inspires you most about the sound of the deep South?
The thing that inspires me most about the sound of the South would be the production back in the day: Bangladesh, Timbaland, Mannie Fresh, [and] DJ Paul had the craziest drum programming at the time and [are] even some of the first to use string instruments in rap.
What projects do you have coming out this year?
I'm releasing a new EP called Hate Songs with LuckyMe [on] July 28 and then another tape with outthepound later in the year.
What's something you wish you could go back and tell yourself when you first started your career?
I'd say pace yourself! In all contexts possible, and also disable Soundcloud comments.
What's the last book you read that had a big impact on you? And why?
Can't even lie, haven't read a book [in] full since high school lmfao.
What's your favorite dish to cook and how do you make it?
Crawfish, boiled with lemons, oranges, corn, onion, and mushroom. (Crab boil is rhetorical.)
Tracklist
Louisiana Ca$h - Bitch I'm From Louisiana Intro
Suicideyear X Outthepound - Pearls
Teezybaby - Nothin
Young Chop - Bank Closed Feat. Yb
Outthepound X Suicideyear - For You
Young Thug - Safe
Suicideyear - Spent Days Watching Horses Die
Young Nudy - Ea Feat. 21 Savage
Travis Porter - Do A Trick (Sucideyear Remix)
Murda Beatz - Novacane Ft Pressa
Suicideyear X Outthepound - 38
Smerz - Blessed
Chief Keef - You My Number One
21 Savage - No Heart Outthepound Remix
Bali Baby - I Miss You Prod. Suicideyear & Outthepound
Ripp Flamez - Sunshine
Suicideyear X Outthepound - For Us
Janet Jackson - Empty
Suicideyear - Kushhhhh
Future - Seven Rings
Suicideyear X Outthepound - Yuro
Frank Ocean - Self Control (I Nolia Got To Leave Suicideyear Bounce Edit)
Shoreline Mafia - Musty
Lil Boosie - They Scared