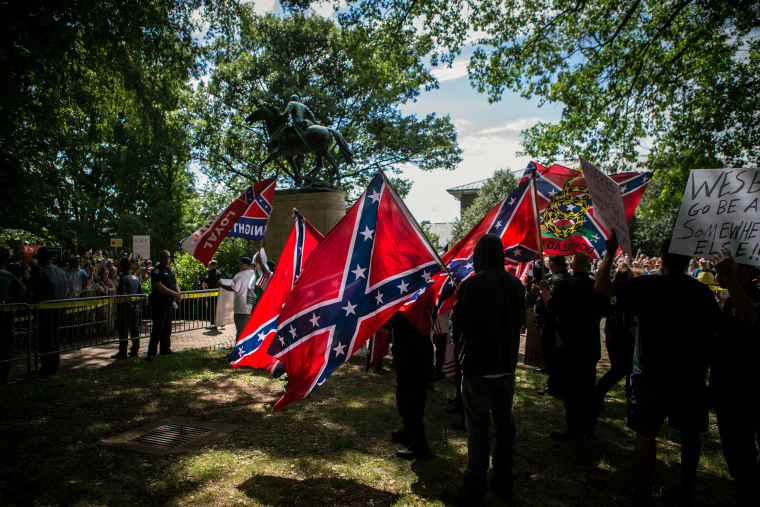 Last night, thousands of white supremacists gathered at the University of Virginia in Charlottesville, Virginia for a "Unite the Right" rally. With flaming torches in hand, the demonstrators chanted Nazi slogans as they marched through the campus toward the statue of President Thomas Jefferson. Virginia Governor Terry McAuliffe declared a state of emergency after counter protestors at the scene violently clashed with the white nationalists.
The alt-right rally was supposed to commence today at Emancipation Park near the statue of Confederate General Robert E. Lee, but police declared an unlawful assembly and forced everyone to leave the grounds this morning. Neo-Nazi Richard Spencer was originally scheduled to speak at the demonstration. Charlottesville mayor Mike Signer referred to the rally as a "parade of hatred" in a statement posted on his Facebook page.
CNN reports that in preparation for the rally, Virginia deployed 1,000 members of law enforcement and first responders. According to The Washington Post, the Charlottesville Police Department has been working directly with the Virginia State Police and Albermarle County law enforcement agencies. In a statement to the press, the Virginia National Guard stated that it will "rapidly respond and provide assistance to local law enforcement if needed to keep citizens safe." Donald and Melania Trump spoke out against practicing hate on Twitter.
A series of alt-right protests have been happening more frequently in Charlottesville because of the City Council's decision to remove remnants of its controversial past such as monuments associated with the Southern Confederate nation. Those in opposition to the plan argue that the preservation of white history in America is at stake. Following the demonstration at UVA, one photograph of the Neo-Nazis has transformed into a meme.
Update, 8/12/2017 7:30pm EST: NPR reports that three people have been killed and 35 people were injured from the car crash at the Nazi rally in Charlottesville, Virginia.
Update, 8/12/2017 8:20pm EST: Barack Obama has posted a response to today's events on Twitter.
Update 8/12/2017 11:55pm EST: The Hill reports that the U.S. Justice Department has reportedly opened up a federal investigation into the incident involving the deadly car crash. The following statement was released to the press: "The Richmond FBI Field Office, the Civil Rights Division and the US Attorney's Office for the Western District of Virginia have opened a civil rights investigation into the circumstances of the deadly vehicular incident that occured earlier Saturday morning. The FBI will collect all available facts and evidence, and as this is an ongoing investigation we are not able to comment further at this time."