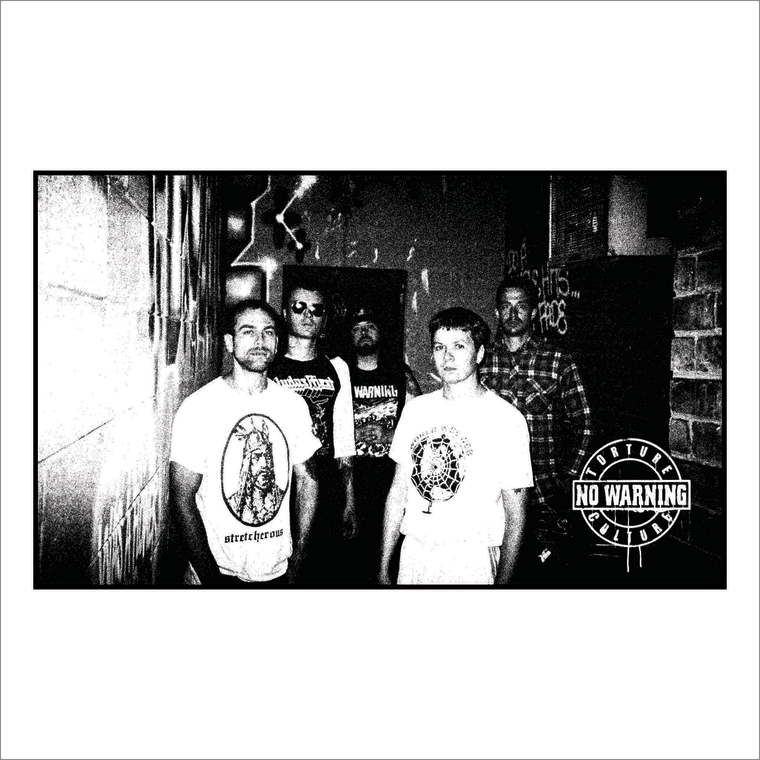 No Warning wasn't just an early '00s incubation chamber for beloved hardcore bands, even though its members went on to play in Fucked Up and Terror. The group itself was a standard-bearer of the Toronto scene thanks to releases like 2001's self-titled debut EP and follow-up album Ill Blood, which affirmed No Warning's legacy in the years following its 2005 split.
Thirteen years after the release of its second album Suffer, Survive, and the year after a hometown reunion show, No Warning are back in full effect with a new single "In The City," premiering today on The FADER, taken from the upcoming LP Torture Culture. "In The City" is toxic sludge-coated thrash transmitted from a dive bar in a John Carpenter dystopia. As rising cost of living and gentrification stack psychic pressures on urban dwellers, the song's palpable rage feels timely, and so all the more cathartic.
Over email, No Warning's Ben Cook further contextualized the song:
We have attempted to express the condition of the human mind that is an outcome of being brainwashed by corporate controlled social media, through a modern and classic feeling hardcore album. Kind of like the scene in Clockwork Orange, when Alex has the lid locks over his eyes and is being forced to watch horrific footage over and over again. We are trying to manifest that torturous feeling; that in a time like this even if you want to look away you cant escape the propagandized media, especially amidst the thick of an overpopulated garbage pumping world. The evolution we have experienced both mentally and physically, and the day-to-day panic and anxiety that we feel is actually a result of our own species' selfish and repulsive impulses.
No Warning tour dates
9/8 – Los Angeles, CA - Union (w/ Terror)
9/9 – Berkeley, CA - Gilman Street (w/ Terror)
9/10 – Santa Cruz, CA - The Catalyst
9/11 – Anaheim, CA - Chain Reaction
9/12 – San Diego, CA - Soma
9/13 – Mesa, AZ - The Nile
9/15 – Dallas, TX - The Door (w/ Bitter End)
9/16 – San Antonio, TX - The Korova (w/ Bitter End)
9/17 – Houston, TX - Walters (w/ Bitter End)
9/21 – Chicago, IL - The Bottom Lounge (w/ Down To Nothing)
9/22 – Louisville, KY - The Art Sanctuary (w/ Down To Nothing)
9/23 – Detroit, MI - The Ritz (w/ Down To Nothing)
9/24 – Rochester, NY - German House (w/ Down To Nothing)
9/25 – Montreal, QC - Le Foufounes (w/ Down To Nothing)
9/26 – Brooklyn, NY - Brooklyn Bazaar (w/ Down To Nothing)
9/27 – Cambridge, MA - Hardcore Stadium (w/ Down To Nothing)
9/28 – Philadelphia, PA - Underground (w/ Down To Nothing)
9/29 – Charlotte, NC - Rabbit Hole (w/ Bracewar)
9/30 – Atlanta, GA - The Masquerade (w/ Bracewar)
10/01 – Tampa, FL - Transitions (w/ Bracewar)
All dates with Backtrack, Twitching Tongues, Higher Power and Vein.