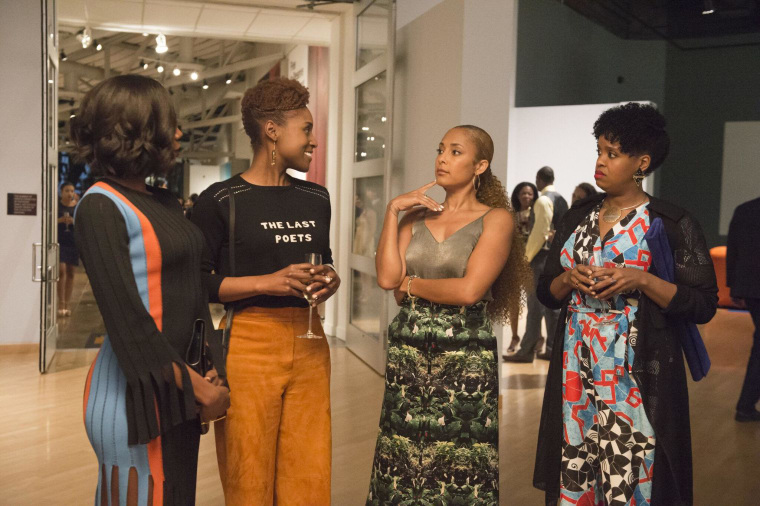 If you've ever experienced the joy, intensity, and satisfaction of watching HBO's Insecure, you know that Ayanna James thrives where narratives and visuals intersect. This costume designer and fashion stylist is the force behind all the show's obsession-worthy looks: the iconic text-heavy apparel that Issa dons (the "Niggas" sweatshirt by Omondi, for example); Lawrence's transformation from scrub to daaaamn; and the perfectly crisp, office-ready looks that Molly regularly rocks. James goes beyond what looks good; her work demonstrates her gift of interpreting a character's emotions, life experiences, and growth with carefully selected and constructed apparel.
The Jamaican-born West Coast transplant — James reps the East Coast heavy, having lived in Toronto, New York, and Florida — explained over the phone that timing had a lot to do with her transition into styling. But so did hard work. "My style is really based on my mood, and my mood these days is all about work. I don't really get too many opportunities to be stylish," she said. But a scroll through her Instagram suggests that she's downplaying her own looks — there are yacht pics and carnival photos that'll make your jaw drop.
Below, Ayanna James's perspectives on dropping out of college, meeting Issa Rae, and supporting black brands.

When did your interest in styling manifest?

It manifested in 2011. I had a blog at that time and people were hitting me up to go to speaking events and I was invited to Art Basel — I was having a conversation with a friend and I was like "What's going on with my life?" He was a stylist from New York and he was like, "You're a stylist." And I'm like, "I haven't styled anybody! What are you talking about?" And he was like, "Trust me, you are." So there were a couple months where I was just figuring stuff out and then I was like, "Alright, let me try on this styling hat." The moment I said it, I saw a tweet from a stylist that I was following saying, "I need an assistant." So I responded to that tweet, she brought me in for an interview, then hired me on the spot. So that's how I broke into styling — through assisting.
What was that styling experience like?
She fired me a couple months later. Honestly I was terrible — I just had no idea, it was a completely new world that I jumped into. I was figuring it out as I went along. As a stylist — I know from experience — you don't have time to train people. She didn't have time to train me, but I learned a lot from working with her. From there I just reached out to anyone I knew in the industry — you could've been a groupie, a bouncer at a club. I was just like, "Hey, I started doing this, I really like it, I wanna do more, so let me know if I can help."
I just took every single type of job and it led me to meet a young lady who was doing costuming for TV. She got a project and asked me to come assist on that. I loved it, so I was actively searching for more work as a wardrobe PA, costuming jobs. That led me to Issa's co-producer from her production company, Deniese Davis, we were working a lot on little sketches, smaller projects. Then Issa started producing more series after Awkward Black Girl, and she knew about my styling work, but that I was actively looking into costuming. She had a couple projects that I worked on with her and right around the time that that ended, HBO greenlit the pilot for Insecure. The rest is history.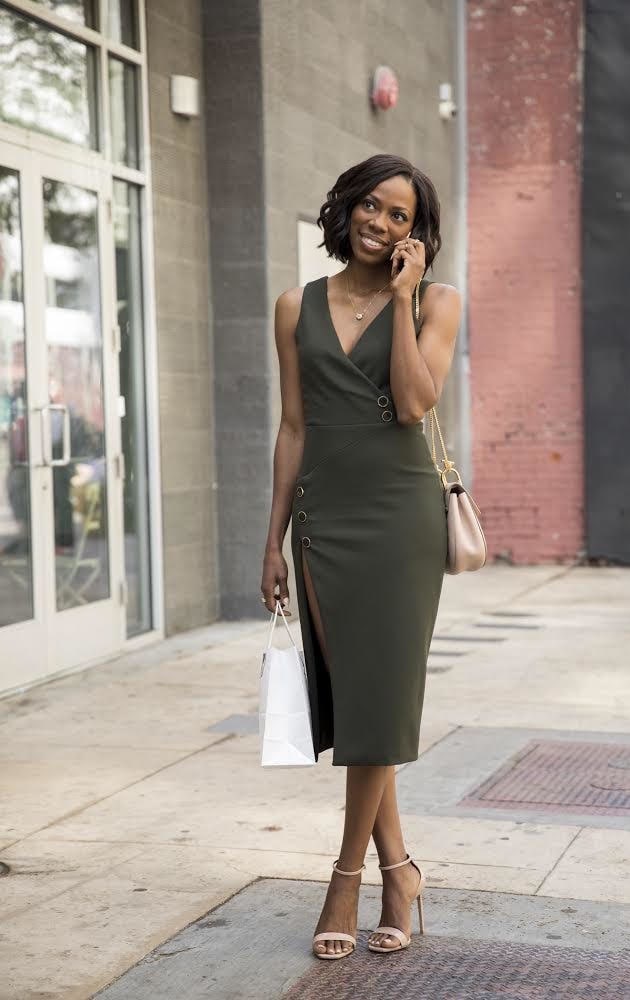 Can you speak about the process of shaping the Insecure characters' style?
Right out of the gate when we shot the pilot episode, it was myself and the executive producers — Issa, Melina, and Prentice. I did a presentation, then got feedback about what Melina wanted to do and see as a director, what Issa wanted to see and convey as a storyteller, and then combined all of that. I get the background story on all the characters from Issa, then Melina will say, "I want to shoot it this way, this is how I want the scene to feel." Based on that, I'll know if this is a very intense moment, or a fun moment, or a sexy moment and I can create a look. I'll bring it in and have a show-and-tell and do fittings. We really work together: my styling, Melina's direction and vision, and Issa's storytelling — that's how we shape it.
How do you define the characters' looks?
Where we are now, Season 2 Episode 6 — Issa's tryna hoe, Lawrence is trying to figure out his life. Now, Issa's wardrobe is a lot sexier, but in her own awkward way. She's never always going to get it quite right. She's the type of girl that tries, sometimes she gets it, but most times she doesn't. Like the most recent episode where Issa is at Daniel's place, I got that top from Opening Ceremony. Some people love it, some people hate it, some people are like, "What the fuck is she wearing?" and some are like "Oh my god, that's so avantgarde, Issa you're amazing." That's her, in a way she's like our Denise Huxtable in 2017.
Lawrence went from being a bum on the couch to actively dating. Also, he's a tech guy, so he's not walking the streets in Girbauds and Jordans. He's still kinda quirky — he went to Georgetown — this is a character that we really don't get to explore often. He's stylish and urban, but palatable for corporate America.
Then we have Molly, and everybody loves Molly's wardrobe. She wears the wardrobe of a girl that goes to New York Fashion Week, or like an editor at New York Fashion Week. She wears Stella McCartney, she wears Cushnie [Et Ochs] — we want her to have the dream wardrobe every girl wants, both at work and at home.
The We Got Yall Staff have their own unique style and vibe. Frida is your bohemian chick, she probably did a year in the Peace Corps she wears t-shirts with, like, Frida Kahlo on it and teddy bears. She's that girl, you know who she is — she brings her animal to work. This is what I do with the writers and executives, throw out ideas like, Is she that person? Is he that person? That's how we figure out the wardrobe. That gives all of the characters depth and you feel like you're in a real world, because nobody dresses like a commercial.

So who's your favorite to dress?
They're all my favorite. I love Molly because I know I can go blow a couple grand and put a great look together. I love Issa because I get to find amazing t-shirts for her. I love Lawrence because Jay Ellis looks great in a dress shirt and suit, and I love how I can put a spin on that and make it street. I love Daniel because he's a producer, but not that typical hip-hop producer wearing a million chains and a Jordan sweatsuit. I love each of the characters because they each pull something out of me creatively.
What was one of the most satisfying looks you put together for the show?
Definitely Issa's "The Last Poets" look, when they were at the [California African American Museum] — that whole scene was satisfying because they all looked really freaking good. I loved that scene. Costume-wise, the girls looked amazing, the background looked great, and then I custom-designed the waitstaff to have ankara print vests and bowties — that was fun! That scene was definitely in my top five favorites.
You do a wonderful job of highlighting black-owned brands through your costuming. Would you like to shout out a few?
Sammy B Designs, she's responsible for the "Yardie Tee" that Molly wears before her parents' wedding renewal. Almasika Fine Jewelry for all of Issa's jewelry — she has diamond encrusted cowry shells that are turned into earrings and necklaces. It's so beautiful to me. OXOSI, a boutique in New York that works with African designers, they bring high-end, couture African labels here to the U.S.