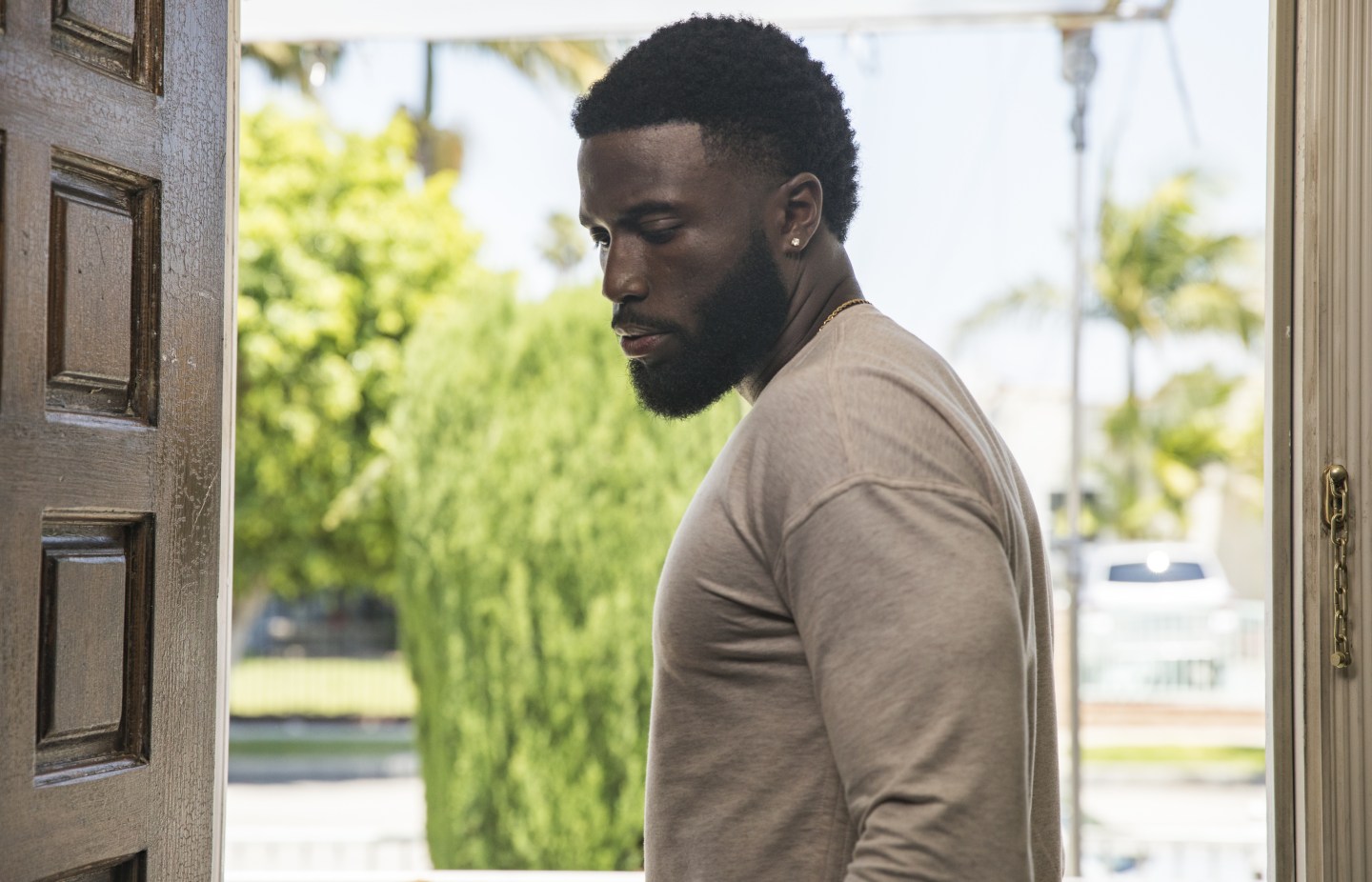 Issa Rae's relatable and important HBO series Insecure has divided timelines, group chats, and families into #IssaHive and #LawrenceHive. Throughout all their ups and downs, there is someone else we should be rooting for, the smooth and charming producer Daniel King.
This season, the onscreen chemistry between Issa and Daniel heated up with passionate embraces and hurt-tugging lines after Daniel let Issa back into his life. In the show's latest episode, Daniel's involvement in a blowjob-gone-wrong provided one of the series's most talked about and memorable moments so far.
Y'lan Noel, the Queens and Stone Mountain, Georgia raised actor who plays Daniel, is one of the show's most striking fresh faces. He trained at both Morehouse and NYU's Tisch School of Arts and previously starred in the Fuse drama Hustle. Noel told The FADER that he's starting to see some public support in his character's corner. "I was out in Chicago for my birthday and people were coming up to me like 'we're rooting for you!,'" he said.
The young actor explained how Insecure gets relationships right and what being on the show has taught him about love and himself as a person.
---
Daniel King is back! A lot of people are talking about that last scene with you and Issa.
Daniel got caught up in a powerful soul-snatching moment. I think he was under the impression that they were having fun and that Issa was down for whatever.
Earlier in this season, Daniel forgave Issa. Why do you think he did that? Especially considering what she said to him last season.
There's a lot of reasons. I feel like he's just a savant. He's just a lot more healthy than I am. Emotionally healthy and mature. Also, I think he has a goal in mind and Issa is someone he wants. Those things that she said to him, I don't think they packed that much of a punch. His desire to be with her is much stronger. I think the brotha has thick skin. He's willing to wait it out.
For you, she would've had to be outside with a boombox?
Exactly. I would have needed an Aaliyah open letter with mascara stains, I would have needed a scrapbook with memories, patchwork of our times together and a solid commitment to never doing any ridiculousness again.
I read that you had originally auditioned for Lawrence.
I read for both of them. But Lawrence was the person I was more interested in playing at first. We only had the first script. Lawrence, even though he was sort of a bum, I felt like he reminded me of where I was at that time in my life to be honest. I didn't have my own space and independence. I was in a transitional time , in the same way Lawrence was. I was trying to figure out what was next. Daniel seemed a lot more confident and more in his bag than I was. It didn't vibrate with me at first.

Well, which character do you relate to right now in your life?
Daniel. He's kind of offbeat the same way I'm offbeat. He's too quick to forgive people that he really likes, romantic or familial. I'm the same way. He's sincere. Now, my favorite character is Chad. He's hilarious. The way his mind is set up he has different tangential thoughts and he's saying it all. He says the things that I'm thinking. He can talk about Issa's edges. That's Chad. [With] Issa, I relate to her search. I relate to her trying to figure things out and probably taking the wrong turns to do that. She doesn't know she's searching.
People like seeing you and Issa together. They don't want her to "mess it up."
Me personally, I'm not so mad at Issa. What got under my skin last season was that she wasn't honest. One thing I do dislike, are cowards. People who aren't honest with other people and that's what she did to my man. So I wasn't feeling her. But this season, she told my mans exactly what she was feeling. When she was triggered into it being more than what she wanted, in that scene when he comes to pick her up, she was honest and that shows growth. So I applauded her for that. A lot of people were like, "just be quiet let it rock." Nah, if somebody was telling me that, you just did me a favor.
The show sparked a lot of conversations about relationships. What's one of the most important issues it exposed for you?
It showed me that a lot of people rather not expose much in order to save somebody's feelings. I was talking to this dude and he was like "if my girl ever cheat on me, don't tell me" and I was like "what?! Let me know immediately." I feel like when the people in Insecure are honest, the characters learn the most. This show has grown my cynicism a little a bit about relationships just because the way men and women responded to the fact that Issa was cheating on her boyfriend.
You're pretty lowkey on social media. Is that intentional?
It's organic. I like social media, it just doesn't agree with me. I'm just a monk, I'm like a recluse. I like it for other people though. I'm not interested in people being interested in me. They'd be mad at me. It would be pictures of wheatgrass smoothies and National Geographic polar bears. It would be the weakest Instagram known to man.
Is it true that you requested "March Madness" as the song for the first love scene with Issa?

[Laughs] Yeaaaaah. Because you feel like you're on the moon or on another planet when that song comes on. That's where you want to be when you're doing something like that. It's futuristic. You play that song and then tell me why.
What's the biggest lesson Insecure has taught you?
Be honest. You ain't gotta lie to kick it.