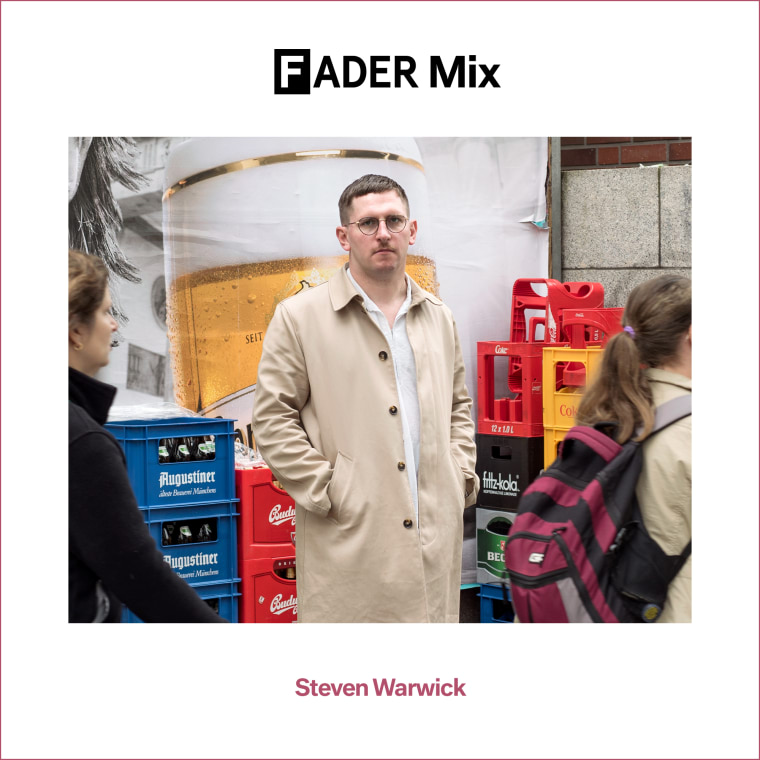 Steven Warwick is a British artist, writer, and music producer based in Berlin. In the past he's put out music as Heatsick, but his most recent release was under his own name. Nadir, an album of ambient- and club-referencing sounds punctuated with spoken word passages, came out on PAN at the end of 2016.
One of the record's tracks — an ominous number called "The Mezzanine" that explores the psychic space of the shopping mall — caught the ear of New York writer and curator DeForrest Brown, who invited Warwick to collaborate with him on a project with the concept of the mezzanine at its heart. That resulted in Elevator to Mezzanine, a multi-media art exhibit created in collaboration with ISSUE Project Room that will culminate in a performance at Secret Project Robot in Brooklyn on September 23.
Warwick's FADER Mix, then, is a soundtrack to this "faux retail space." It's a brain-tickler, for sure, spanning lounge-y soul pop from South African singer Letta Mbulu to nervy rap from Metro Boomin, Young Thug, and Future. As well as plenty of wriggly instrumentals and curious muzak to boot.
Listen below, and scroll down for a catchup with Warwick.
Where are you right now? Please describe your surroundings.
I'm in my studio just south of Tempelhof Park, which is a former airport. Looking out of the window I can see the A100 motorway, and lots of cars buzzing by. There's no internet in the studio. It's good for clearing your head/working.
Tell us a bit about this mix— what shaped it?
The mix is called Mezzanine Life (Relax It's Only a Crisis Pt. 2) and is deliberately muzak-ey in places. It's a soundtrack to a faux retail space that we have conceived and will present on September 23 at Issue Project Room. I guess the mezzanine makes me think of an area you aren't supposed to be on for a long time, but that we do seem to be lingering on, waiting for a change or an update.
What is Elevator to Mezzanine?
Elevator to Mezzanine is a cataloguing space formed by DeForrest and myself in 2017. It's a collaborative project. For the Issue event at Secret Project Robot, we have made a look book and style journal with Ilya Lipkin and Enver Hadzijaj, who are a photographer and art director respectively, featuring a fashion shoot of Enver's clothing designs [for] Lonely Days QED alongside an essay called "The War on Style" and texts about gestures on the mezzanine.
The show at SPR will be a performative installation working with dancer Stacy Smith set up like a faux retail space, which you can inhabit and enjoy a concert performance and choreography. We were interested in how high street stores have CDJs and what that means, so we decided to flip it around. Elevator to Mezzanine will also do an exhibition at Cleopatra's project space in Greenpoint, where we show the look book and some photos and a blow up airbed/duvet that resembles a bedroom, but it's also very much a club set. There's a lot of fun and humor involved to keep things playful.
How did you and DeForrest Brown come to collaborate on this project?
DeForrest invited me to do something at Issue as part of his curatorial residency. I had just released Nadir and there is a track on there called "The Mezzanine," and he had just been reading Ametora about Japanese designers redesigning American preppy wear and was struck by the phrase "cataloguing America." I wanted to make some new work so we started going back and forth over the last year.
What have you learned while working on it?
That the last [two] projects I've worked on have both been about cataloguing! I'm very excited by working on this as it's all new for me and is very much a project which is fluid so it's interesting to see where it will go and how to mold it and reconfigure it.
I really enjoyed Fear Indexing The X-Files, your book with Nora Khan. How did/does that inform your work as an artist?
Writing about The X-Files and the time period of the '90s when I was a child was really interesting, as upon re-visiting it I noticed that it's also quite conservative, but I didn't notice that at the time and it made me wonder how much that had informed my world view as a child. So I started to think about how ideology fills up the space. I think the '90s was a very interesting period as there was so much public display of previously more private gestures or affairs — also with the return of the conspiracy theory. My work tends to deal with language so writing is definitely part of my practice and I really enjoyed articulating that with Nora. I guess I am fascinated with how things are catalogued even if I hate taxonomy.
What's your earliest musical memory?
My dad used to sing songs whilst making a cup of tea, swinging the teapot around, but would always get the lyrics and titles wrong. He used to run a bike repair store which doubled as a practical joke store.
What's the last book you read that had a big impact on you? And why?
The Mezzanine by Nicholson Baker. DeForrest recommended this to me and I guess it must have made an impact as I keep making work with references to it. It's very obsessively written notes and recollections of a workers' lunch break and spending it in the mall and going to the mezzanine. The endless details make it quite psychedelic to read.
What's your favorite dish to cook and how do you make it?
I'm quite lazy about cooking so I usually make a salad, always the same with spinach, apple, walnuts, capers, goats cheese, maybe some lambs lettuce and then salt, pepper etc. it tastes good, is nutritious, and is simple to throw together. Perfect.
Tracklist
David Sylvian & Ryuichi Sakamoto - World Citizen
Jack Nitzsche, Barre Philips - Cops and the Club (Cruising OST)
Jay Boogie - Featherweight
Musica Jao - Lotteria Jao
KiRk - Nie ma co silić się na naturalność
HSBC - Unreleased (instrumental)
Steven Warwick - Low Ceiling (Remix)
Cloud One - Flying High Pt.2
Steven Warwick - Unreleased (instrumental)
Julius Eastman - Joy Boy
Letta Mbulu - Down By The River
Coil - Natural Gas
Puto Anderson - Gritos do Infinito
Metro Slammin feat. Young Thug & Future - Chanel Vintage
Aaron Carl - The Mirror
Mercedes Bentley Vs. Versace Armani - DJ Maxximus Dubplate Remix
Morbid Angel - God of Emptiness
Mark Snow - X- Files Theme (Terrestrial Mix)

Upcoming dates
Elevator to Mezzanine
September 23 @ Secret Project Robot, New York
October 8-15 @ Cleopatra's, New York
Fear Indexing The X-Files book launch
September 30 @ Printed Matter, New York
Steven Warwick
October 4 @ The Lab, San Francisco
October 5 @ Yale Union, Portland
October 11 @ Le Laboratoire, Boston