Lunice Is Live
The Montreal producer took some time away after TNGHT went on hiatus. Now he's back with an immersive new solo project for a distracted planet.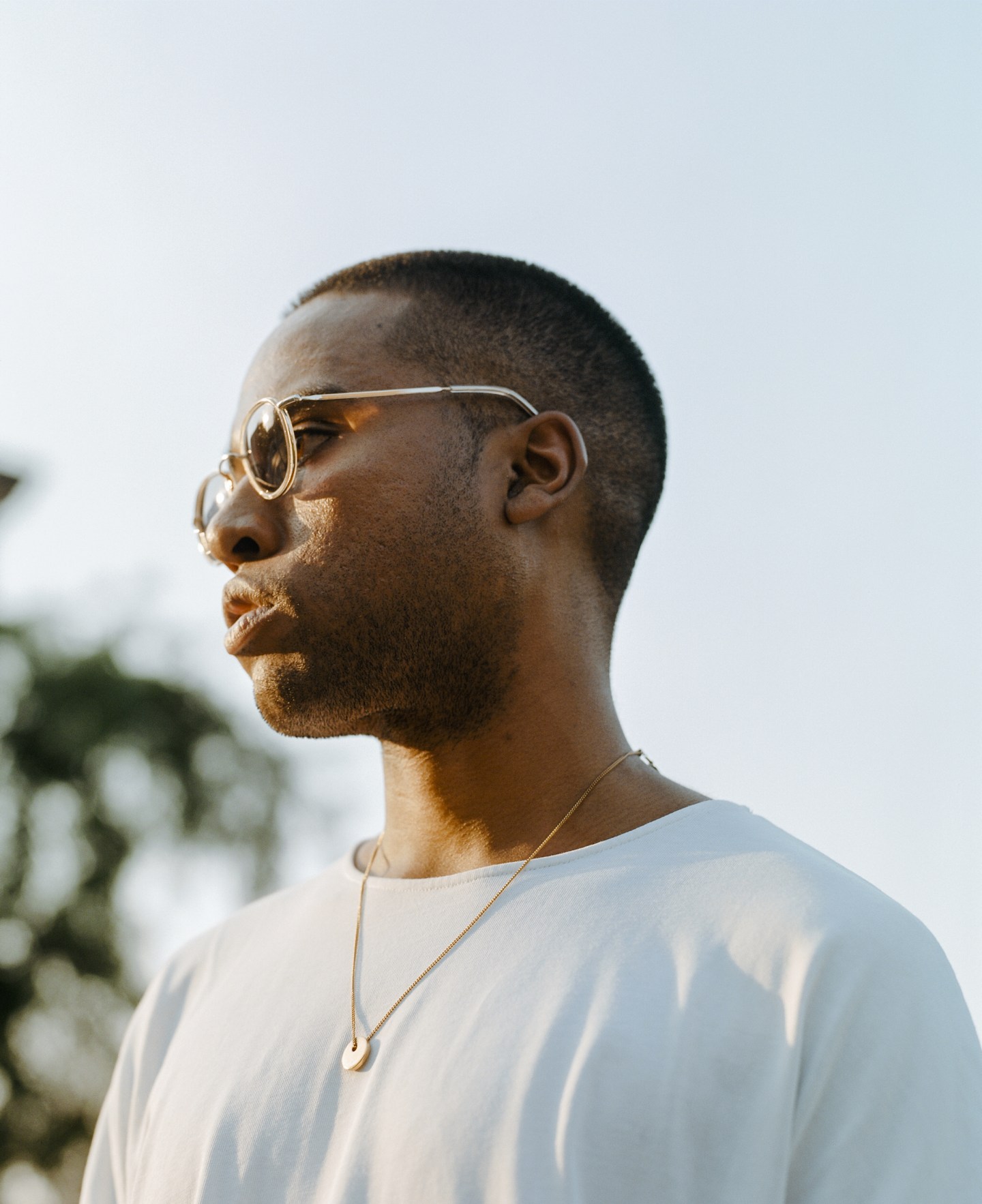 In Lunice's downtown Montreal apartment, everything is where it should be. Outside, it's a sweaty late summer afternoon, but as I enter the 29-year-old producer's home, a soothing odor greets me. ("Aesop," Lunice tells me, misted through a diffuser). Instinctively, I kick off my Doc Martens before I notice my host's velvet house shoes. Upstairs lies an open concept area: Lunice's designs for a jacket, made with Nike, are strung above free weight equipment. A massive balcony overlooks the city — somewhere in that horizon lies the neighbourhood of Lachine where Lunice Fermin Pierre II was born (and where as a teenager he discovered breakdancing, graffiti, and Fruity Loops). There are mid-century modern shelves against every wall. They're stacked with flowing succulents and beautiful objects like an church incense chalice, which Lunice uses in his live show, and a bong designed by ex-NASA scientists, which he rips from before we sit down on his couch. "I like to age with anything I buy," he says, beaming as his dog, a Whippet named Winston, wedges himself us.
The same fastidiousness that went into his apartment also contributed to his debut album CCCLX ("360" in Roman numerals), a resplendent hip-hop project out now on LuckyMe. You don't have to listen too closely to CCCLX to hear the connection to TNGHT, Lunice's project with Hudson Mohawke, which gave the EDM-rap sound of its day a volatile, untested steroid in 2011, and caught the ear of Kanye West, who enlisted TNGHT to co-produce "Blood On The Leaves" from his album Yeezus. But CCCLX's grand space opera is laser-focused on Lunice's biggest asset, which dictated the composition of each song: his unique talents as a live performer. Lunice, a demonstrative speaker, touches his temples as he discusses his path to the album. "It was always very, very clear to me," he says.
TNGHT announced an amicable hiatus four years ago. "We knew that there was going to be some kind of electronic trap wave coming," Lunice says. "We didn't necessarily want to be part of it. You can't control when you end up crossing over into mainstream culture, and we wanted to make sure we have a foundation, a set of skills, so we can back it up for when we do." So he went dark on social media, and began observing the currents of culture, attempting to "piece patterns together" from different trends. "The first thing I told myself [after the TNGHT hiatus] was I didn't want to make an album," he says. But bit by bit, his vision for a new project swam into view.
CCCLX was fleshed out and recorded in hotel rooms around the world while he was on tour, but Lunice bunkered down for most of it in Montreal, where the low rent attract artists at every level of their careers. In 2015, Madonna asked Lunice to open for her European dates of her Rebel Heart tour, and he broke his longstanding rule not to leave Montreal for more than two weeks. He came back feeling even more confident that he could make CCCLX whatever he wanted. This was thanks in part to a pre-show ritual Madonna made artists and crew on her tour take part in. As they stood in a circle, Lunice told me, "she just said, like, 'None of this matters.' That was so liberating."
The music of CCCLX is just one component of a system Lunice conceived of: CCCLX is also stage design, lighting, merchandise, and visuals, a multi-sensory experience designed to immerse fans while aspiring to timelessness. But are either of those things possible in our age of distraction, where half-read headlines form entire opinions and albums become white noise for surfing social media? Lunice is aware of the challenge he faces, but as he explained from his couch, he's always analyzing how to properly take it on.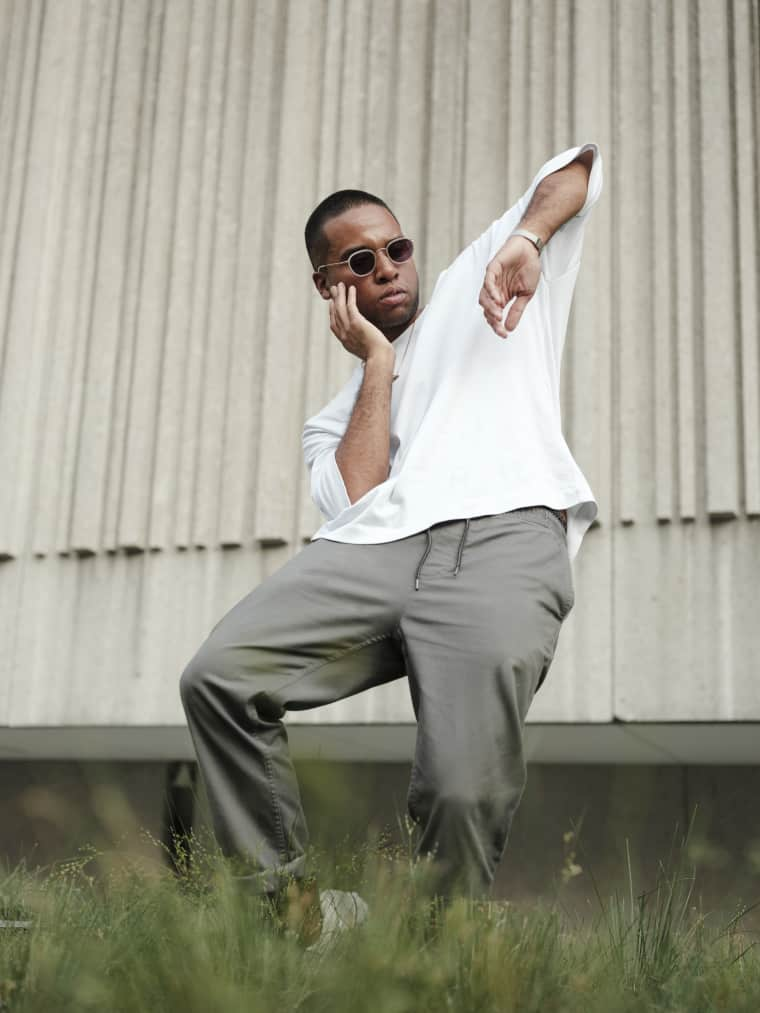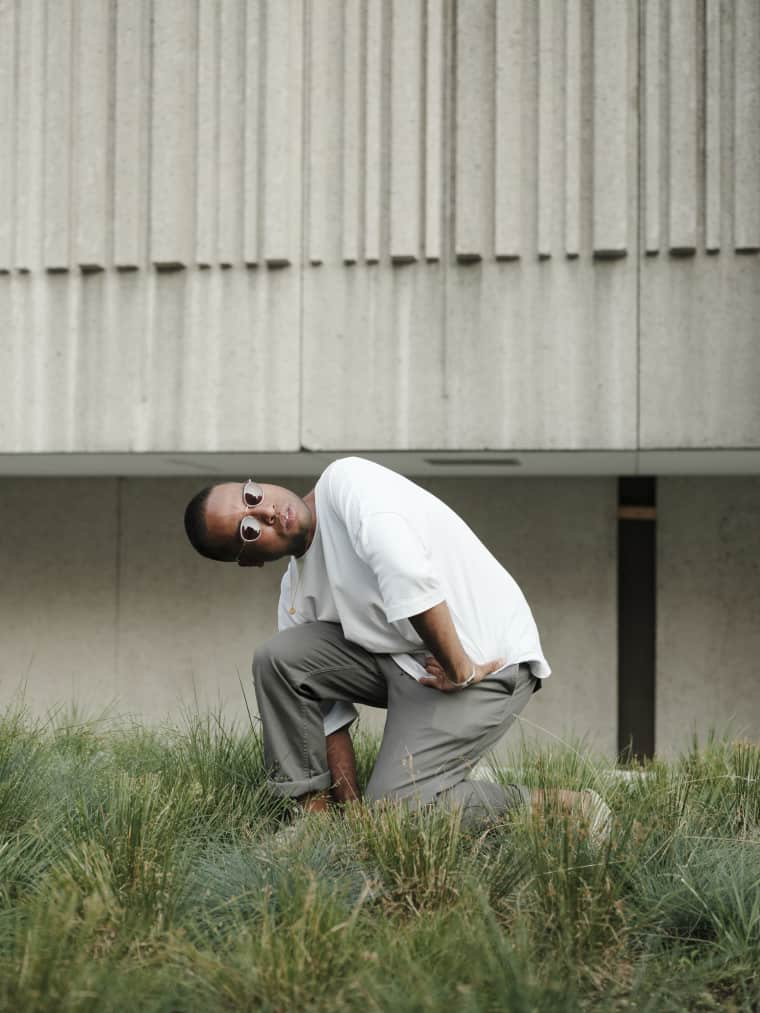 Did being surrounded by hip-hop from a young age — graffiti, breakdancing, and eventually production — give you an appreciation for being immersed in an idea or culture?
I think that just comes from my personality. I become obsessed with anything that makes me curious. But anything I express will come from what I've learned out of hip-hop. I'm never going to fucking let go of that culture because that's where I grew up and everything — from the way I dance to the way I play out the music — is all coming from the nature of how hip-hop always wants to push and innovate.
Were you still keeping up with rap when you left social media?
At a recent show, I just played all the recent stuff I came across that one night. [Mimes using a phone] Trippie Redd's dope, Famous Dex I'm already a fan of, Ski Mask The Slump God, man, he gets it. I check interviews as well because I always like to [know] their personality and then [I] follow them longer because their personality is what evolves throughout time and [affects] their music. So if I can't really get into them through an interview then it's like, Maybe not. I'll see. I like the song but…
I thought when I was going to come out with the album, I was going to be like, OK I'm back on the internet! I'm going to search everything, all the time! I just don't want to. I've lost the ability to have FOMO. I love missing out. When I told people I was finding myself, It was a preventative measure for when I'm back in the hyper-interactive platform of the internet. It was in the most positive way possible, and I'm ready now, because I know myself enough to not get distracted and lose myself.
Were you over-thinking or second-guessing yourself while making this record?
No. Every time I was about to get into that loop, I would stop making music and go play pool or something, and then come back with a whole different perspective. The drafts came when we started doing the mixes, that's when we got many different versions.
When I was seven or eight, I would go to the canal in Lachine and fish. The rush of catching something was unlike anything I had felt as a kid. My candies, my Legos, my toys, all of that felt more like pleasure. This felt more like happiness. Right now I feel we're at the peak of information where we can get everything we know at our fingertips, and because of that it resulted in this instant pleasure, releasing dopamine, like getting a hit of a drug. Patience is so important to me because the only way for you to find true happiness is with time. I'm not saying I found it now, but I know I can in time.
"Patience is so important to me because the only way for you to find true happiness is with time." —Lunice
The next day, Lunice is at the headquarters of the music and arts festival POP Montreal, contained in what used to be a high school. It's the day before one of two homecoming shows for him, but for today the focus is the nuts and bolts of music production. In a room decked out to resemble a gymnasium — bleachers, orange "basketball" balloons on the ground, jerseys of previous festival headliners hanging in the rafters — Lunice delivers a talk on the creation of CCCLX's lead single "Mazerati." He seems a little nervous, but is still charismatic in front of a crowd of aspiring producers who scan Lunice's mile-a-minute conversation style for his secrets: they get technical stuff, but also learn about his beginnings as a producer making "9th Wonder style beats." It was the "cloud-rappie type stuff" he made on MySpace, he later tells me, that landed Lunice in Rustie's top friends list. That opened a line of communication to LuckyMe, the U.K. electronic crew co-founded by Hudson Mohawke, that Lunice was already a fan of. Along with his own renowned local collective Turbo Crunk, Lunice brought some of LuckyMe's members to Montreal for its first North American show. Over time, that led to an ongoing partnership with the label, and together they shared two EPs in 2011, Stacker Upper and One Hunnid, that established Lunice's affection for Southern hip-hop, Japanese RPG melodies, and an intensely buffed sound. "It's a fanboy's dream," he says, laughing, of his relationship with LuckyMe.
Together with Turbo Crunk/LuckyMe associate Jacques Greene, Lunice cameoed in Azealia Banks's "212" video the same year he made his LuckyMe debut. In the clip, he leads the firebreathing Banks in the cutest of conga lines, which provided a brief glimpse of his natural amiability — crucial for an artist who loves to collaborate. "I've noticed that people just end up liking me for me, as a human being," he says after handing out his (real) email to a sharply dressed Congolese man, eager to "build," when we're a block away from the Symposium. "I've had people come up and say, 'I really like your stuff, but you're just a good human being in your lifestyle.'"
CCCLX was designed to lean into Lunice's sociability. "With [this project], I'm trying to bring back the intimacy of human connection," he says. "Drop Down," for example, was made "for the voguers," an obsidian anthem with a gothic pulse featuring Le1f and co-production from SOPHIE. Lunice hopes that for his live performance of "CCCLX III Costume," his prog-influenced, ceremonial track with Mike Dean on guitar, he'll be able to incorporate a wardrobe change, which would give his light director the opportunity to create some visuals on his own. "It's a very small team, but we're so tight and multi-skilled," Lunice says after chatting with fans who attended his talk. "I'd like to have my crew have their moment in the show as well."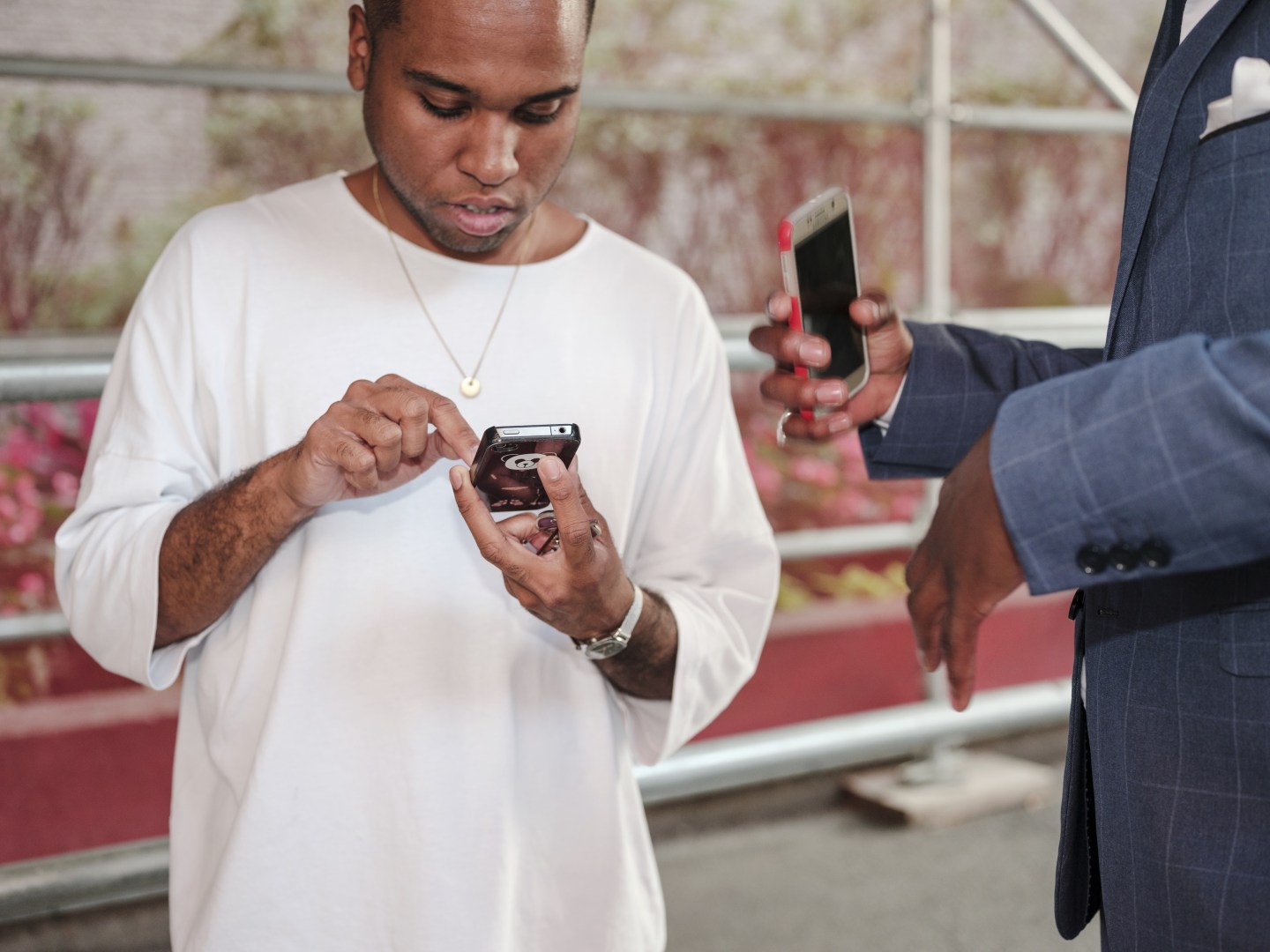 How did the features on the album come together?
Around the time TNGHT was doing a lot of shows, labels were very interested in our production. That gave me the opportunity to meet with a lot of people: 2 Chainz, Big Sean, Anderson .Paak. I had all these artists in mind, but the logistics of booking a major artist [in L.A.] is very different. You would have to catch the artists and just make something in that moment.
I chose to respect that kind of structure and [switched] my attention to Montreal [when I was making CCCLX]. I was looking for another group of kids really putting stuff together, because I had started to lose track of what was happening. That's when [Montreal-based manager] Shane Guenin hit me up on Twitter about a kid called C.J. and I checked him out. I brought him and Speng Squire to the studio and we talked for hours before even getting into any kind of music. I felt like it would come across a lot more honest because [producers] all want to have features on our records, but we all end up sounding like we're dependent on the feature. So I wanted to come off more like, This is us together.
How did your dancing and movement develop for CCCLX?
The first thing I was thinking about was, What's the most effective thing that people know me for? Because I'm very honest with myself, I know it's not necessarily the music, but the stage presence. I miss the wonder of things from stage [performances]. You want to go see the stage and be like, What's about to happen? Vegas used to be full of magicians! Where are they?
So I started the album project based on the whole way I play my show out. That was the first stepping stone into figuring out my own sound, because my sound would be a result of how it's performed. All the [sonic] changes in my album are because I thought about [things like] the lighting direction and how I would be onstage, little cue points. I'm considering using scented hazers because as it gets into the atmosphere you can almost taste it.
A lot of the album is also catered to any kind of dancer, really. What I'm hoping to see is dance studios use a lot of the album to make their own routines like some have with my old tunes.
Hip-hop dance videos are blowing up now, and your videos for "Mazerati" and "Tha Doorz" are fresh in their interpretative moves, stage design, and cinematography. What inspires your stage presence?
I really started to contextualize the whole way I perform now around the time I came across this dancer called Andrew Wingheart. He did a whole choreography on TNGHT's "Buggin." That's been my inspiration for the different styles and movement — it very much comes from the way he does it.
[During the album's creation] I started experimenting with my presence on stage by by going to the front [during shows] and really connecting to one person and doing all these different moves at certain cues of the song. What was interesting about that is people would come up to me afterwards and say, "That rap song you played looked exactly like how it should feel." That's when I was taking it a lot more seriously. When I play Desiigner's "Outlet," I really perform it out because that's how I feel it should be visually displayed.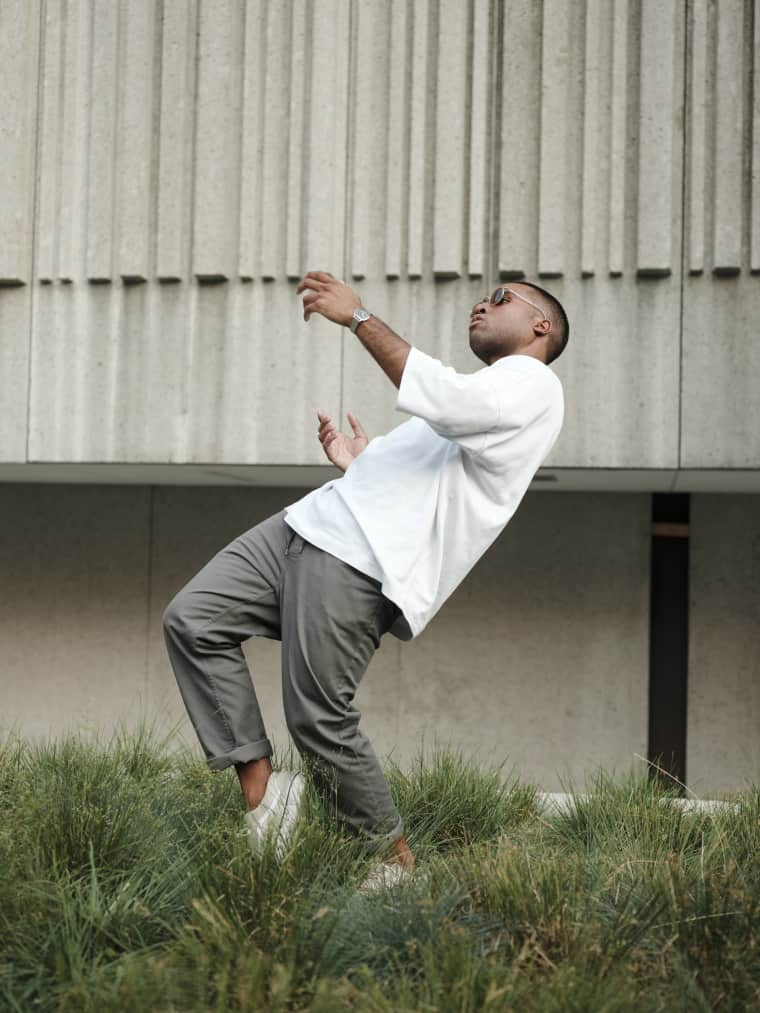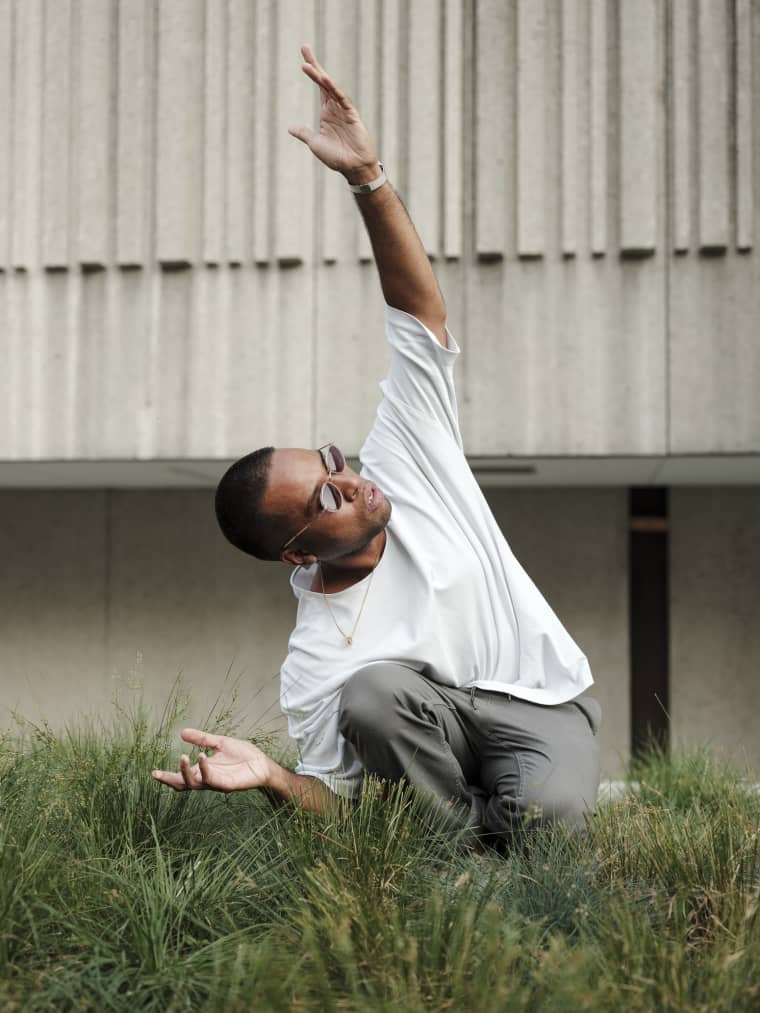 "Nothing is new is what I believe, but improvement is infinite. Same with my own work." —Lunice
As the sun sets, we take a downhill stroll from the POP Montreal headquarters to Lunice's studio, on the top floor of a slick commercial building. A paper divider separates his recording space from a cozy living area, with a couch, a long Persian rug, and two boxes of records. There's just one item on a small rolling clothes rack: a TNGHT jersey, handmade for Lunice by a fan, who gave it to him at a show. "It's got my birth year on the back," he says proudly, before the designer in him kicks in. "You can tell it came from the Been Trill days, right?" he says, as I notice the dust on the sleeves.
When TNGHT parted ways, Lunice says it gave him the chance to work on finding his solo style. This meant branching out to new places musically, and led to a writing session for Rihanna with songwriter Prince Charlez. "He taught me right then and there how pop structure works," Lunice says, as he sets up his computer to preview new music. He's coy with the new TNGHT material he and Hudson Mohawke have been recording, and instead he cues up an upcoming collaboration with legendary California producer The Alchemist, commissioned by Dutch clothing retailer Patta and Red Bull for a breakdancing competition called Red Bull BC ONE. I hear snippets of two tracks, one produced by Lunice, the other by The Alchemist, but both barrell and bluster with an energy that's at once futuristic and distinctly hip-hop. It sounds very tight, and Lunice seems to know it, hyping himself up the moment he pressed play, and miming his fingers against invisible piano keys as his song's barrelling drums take over. Soon, he begins to dance: "This part's for the pop-and-lockers," he yells over the thick, rich kick drums.
The next day, I watched Lunice perform for real. POP Montreal had arranged a record fair in a small parking lot near its headquarters, where a stage was placed a stone's throw away from tents and tables full of vinyl. It was the hottest day of my visit yet, and I joined dozens of fans and audiophiles in downing beers and slapping cold, wet hands on the backs of our necks. Lunice was right when he'd told me "The stage is my playground" the night before. Far from the messianic postering other men at his artistic level are prone to, he leads the turn-up by example. Instead of melodramatic Moses-style arm raising or clumsy fist pumps, he becomes a human flourish, his slick dance moves perfectly coordinated to the rhythms and emotions of his set. He frequently invites the audience to participate in his performance, whether it's actual physical interaction, like a dap, or even just a sly look that seems to say, That was dope, right??
Lunice, like the rest of us, will have to wait to see what the enduring legacy of CCCLX is, if any. But his quest for substance, both onstage and off, is as solid and lasting as marble.
What have you learned about what makes a piece of art timeless?
Whether it's music, art, clothing, or whatever, it's something that they stripped whatever it is down to its core, the foundation of of what makes the piece work. I keep my genre description very specific to just rap music because it's a good starting point without having to be like, "Well I make wave-bubble-rap." That's going to end the next week and you're done! If the piece doesn't come from a cyclical pattern in nature, then I can't see it being timeless, because it can't repeat.
I have really dirty shoes that I love the look of because they never look the same if you wear those same shoes and [keep making] them dirty. It creates this kind of permanent [sense of] time, and I just love it. Nothing is new is what I believe, but improvement is infinite. Same with my own work.
In terms of figuring out what makes things timeless or a hit or even just a good song, it's not up to the person making it, it's the people's reaction to it [that decides]. You can figure out different tricks to make things feel more cyclical, so I focus on what would give it higher chances of it becoming what I need it to be. [But] I refuse to think that you can just come out the gates and say, "These are the most amazing piece of jeans you can wear." You didn't decide. You can't decide. That's what trends generally are, and they come from people forcing things onto culture. They might initially like it but as they move on through life they might just forget about it because it was forced on them. But if they get into it themselves they keep it forever because they chose it.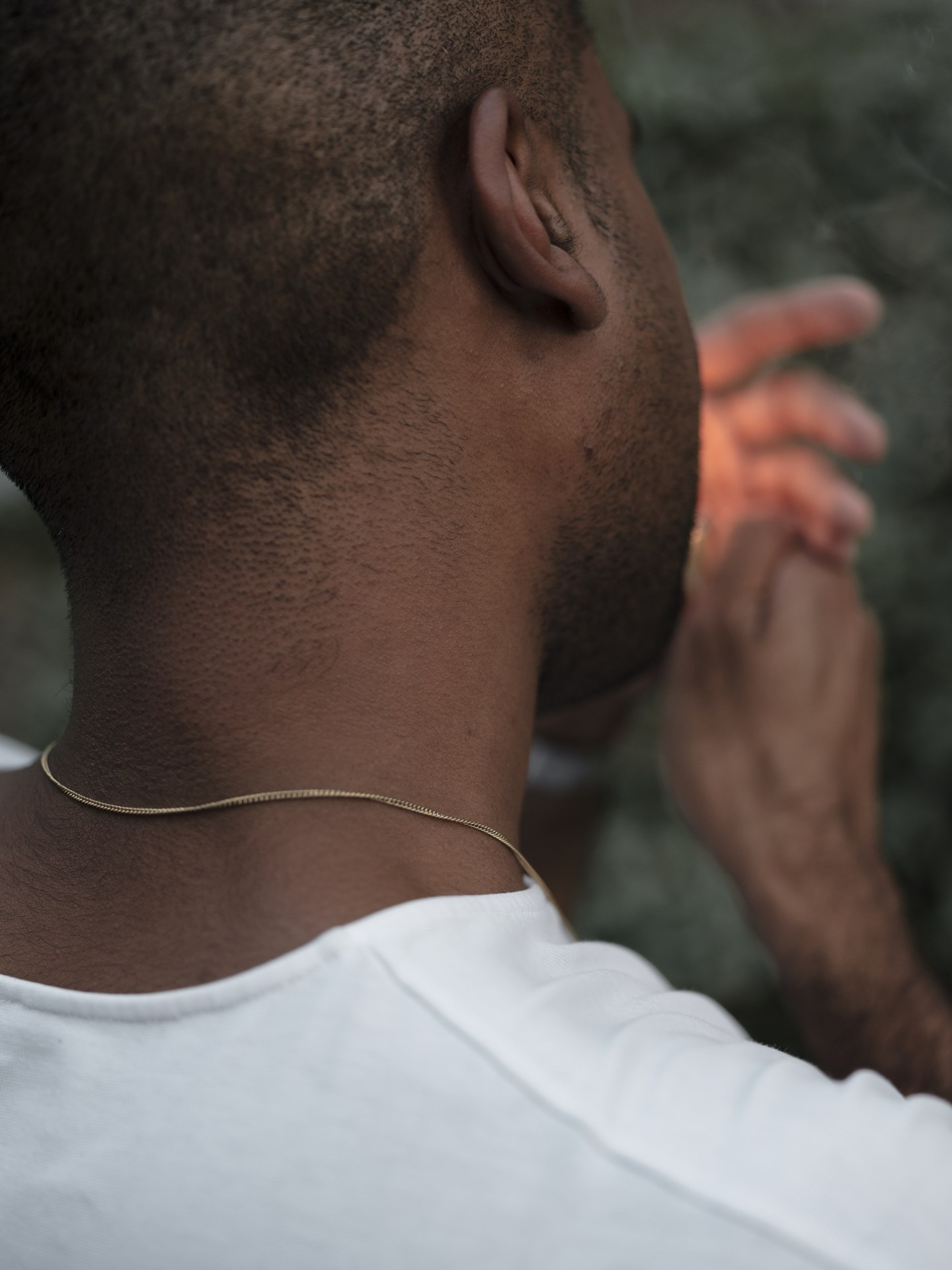 CCCLX is out now via LuckyMe. Watch the "Mazerati" video below: