It's Britney, Bitch!
12 artists (and Britney) celebrate 10 years of Blackout.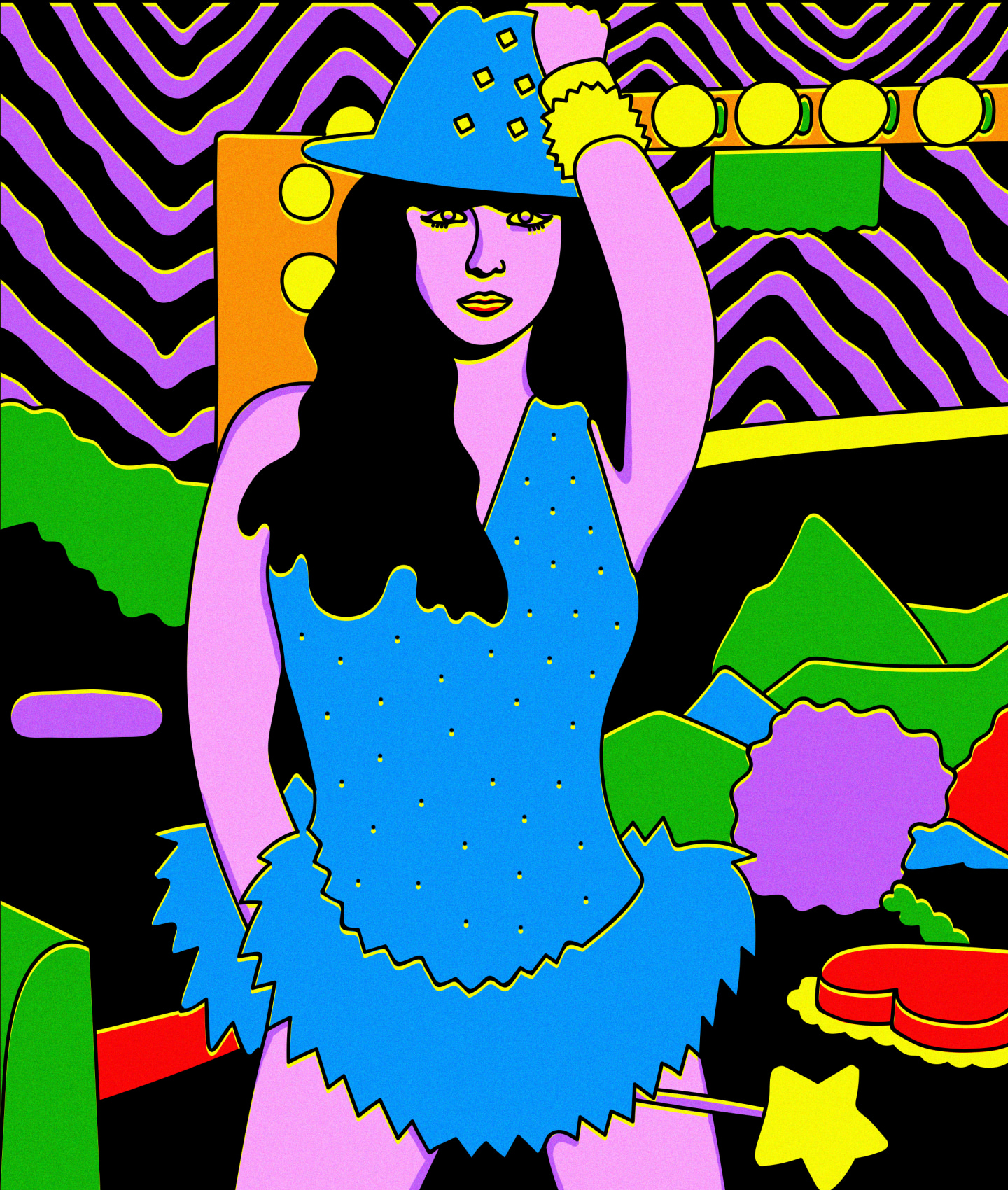 In 2007, Britney Spears went through the toughest time in her life. The invasive photos of her public breakdown, as well as her nervous VMA performance, are uncomfortable and unforgettable pop cultural touchstones. But the album she created in the middle of all that is the most important album of her career.
Blackout is a darkly pulsating coalition of club and hip-hop electricity, upheld by Britney fans as proof that their favorite singer isn't just a trendsetter and a cultural icon but a true artist. Songs like "Gimme More," "Piece of Me," and "Break the Ice" are sexy and forceful answers to the manipulative media and her untrustworthy inner circle at the time. They're also incredibly fun to dance to.
To honor the decade since its creation, 12 of Blackout's most influential creators and biggest fans — and the Legendary Miss Britney Spears herself — spoke about secrets from the recording sessions, the album's legacy, and how Britney has shaped the last 10 years of pop music.
Britney Spears, living legend
Blackout was the first time I worked with Danja, and he gave me the opportunity and freedom to work with more urban sounds and influences. It really inspired me! I also got the chance to sing more and stretch my voice in ways I hadn't done before. The magic of Blackout was actually pretty simple. It just wasn't so thought out. I just did what I felt and it worked. Sometimes less is more I guess.
I still perform "Freakshow" in my Vegas show — it's one of my favorite songs that was never released as a single. It's so much fun and it gives me the chance to get the audience involved. Oh yeah — it's sassy. And I love sassy!
I've always been a huge fan of Britney. When I was younger, I was obsessed with all of the first two records, and when [Blackout] came out, it was the first time a lot of my friends became fans too. This was the first time that Britney had become globally cool. The sound of this record was so fresh to me — she went with some really interesting producers on that record, and the combination of all of it was pretty next level. I remember thinking that the songs felt very ahead of their time. They could still be on the radio now.
Growing up, you know, I remember I didn't have MTV or anything, so I remember watching the "...Baby One More Time" video, I think on the news or something? Like on the British news, they were reporting that at the time, like it was a scandalous but next-level pop video. I just wanted to be her basically, so I think she was my first big pop icon. She's the icon I grew up with, more so than Madonna or Cher, or anyone like that. Britney was that person to me.
Danja, pioneering producer
I didn't think about "pop music" while creating Blackout. I was into dance music and EDM at the time, but it wasn't mainstream yet. I was just going to a club in Miami a couple of times to see the atmosphere. Everyone was bouncing around to Benny Benassi's "Satisfaction" and Tiesto, literally in a trance. I was like, That's it. If my music doesn't make you feel like that, what are we doing? I didn't think about anything other than bringing that essence to popular culture.
Have you ever seen this pretty pop queen on a bassy scrunching track? It's like caramel — rich, almost unbearably sweet, but so good at the same time. That was what I was intending to do. I wanted you to make a mean mug face when it came on. So like on "Get Back," one of the bonus songs, it was gritty and like a videogame — drums distorted a bit, grimy synthesizer bass that had a nasty characteristic, a nice melodic bassline. The bass sounds even had tones. That's what I would use to make the groove, not the 808 or smooth sub-basses. Even in "Gimme More" — just that "vroom vroom" sound — everything was distinct and had characteristics.
There was not a lot of pre-planned thoughts while going into the studio — we were just going with the flow. We were able to create without any distractions, or anyone giving us any real direction. That's why I think the part of Blackout that I was a part of ended up being what it is. We were free.
She might have been going through more in her personal life than what we knew at that time, and it got a little crazier when we were deeper in the project. But throughout the whole process, she was very present, attentive, and interactive. She was one of the easiest people to get things done with — she would sit there and sing no matter how many times we had her do it over, and just get it done.
You would know how she felt about a song by pure body language; she didn't have to say anything. She would still be nailing the lyrics and the melody, but she would be in there really dancing. You hear stories of Michael Jackson doing full-on choreography while recording some of his songs and it was the same thing with her. I was just making sure I made grooves that she could dance to, something hard and edgy with hip-hop undertones. Once I realized that was what she wanted to do, that's where I stayed.
If you listen to radio now and hot tracks on iTunes, every pop artist has some kind of hard 808 hip-hop urban appeal, and for pop female acts, she started that. She made it OK to bounce a bit, to talk shit, to have harder basses and drums. And it all started at CLUBSPACE in Miami.
Maria Minerva, DIY trailblazer
In the late '00s, all the innocent impulses of Swedish pop were falling into the background, and the exhibitionism and dark urges that had been suppressed started coming to the forefront. Blackout was full of musical influences that you'd never heard in pop before then. It's only a small step from Blackout's electro-house bass to the wobbly U.K. garage or a dubsteppy bass which is everywhere in pop these days. There are several tracks on the album that use that. There's also a mix of Danja rapping and dance beats — and that [combination] became the main language of pop music five years later. In that way, it was 100 percent ahead of its time.
"Get Naked (I Got a Plan)" is definitely my favorite track — that was kind of an anthem for me and one of my oldest friends. He was a gay guy in Estonia, and there's a long and painful history for LGBTQ people where I'm from. I would see all these young gay boys in Estonia who were listening to Britney, so she was in the background for our generation growing up. That was in the back of my mind [when I riffed on "Slave 4 U" in the 2011 track "Another Time and Place"]. Even though I was not a native English speaker, those lyrics are ingrained into my brain.
I live in Calabasas [on the outskirts of L.A.], where Britney actually lived the year after Blackout came out. That's where she went to recover, and I can completely see why! It's like living in the wild wild west — there're horses everywhere, there's nothing going on. I really feel the spiritual connection, 'cause it's really a place where people go to not be found. So that's what I'm doing now, 10 years later.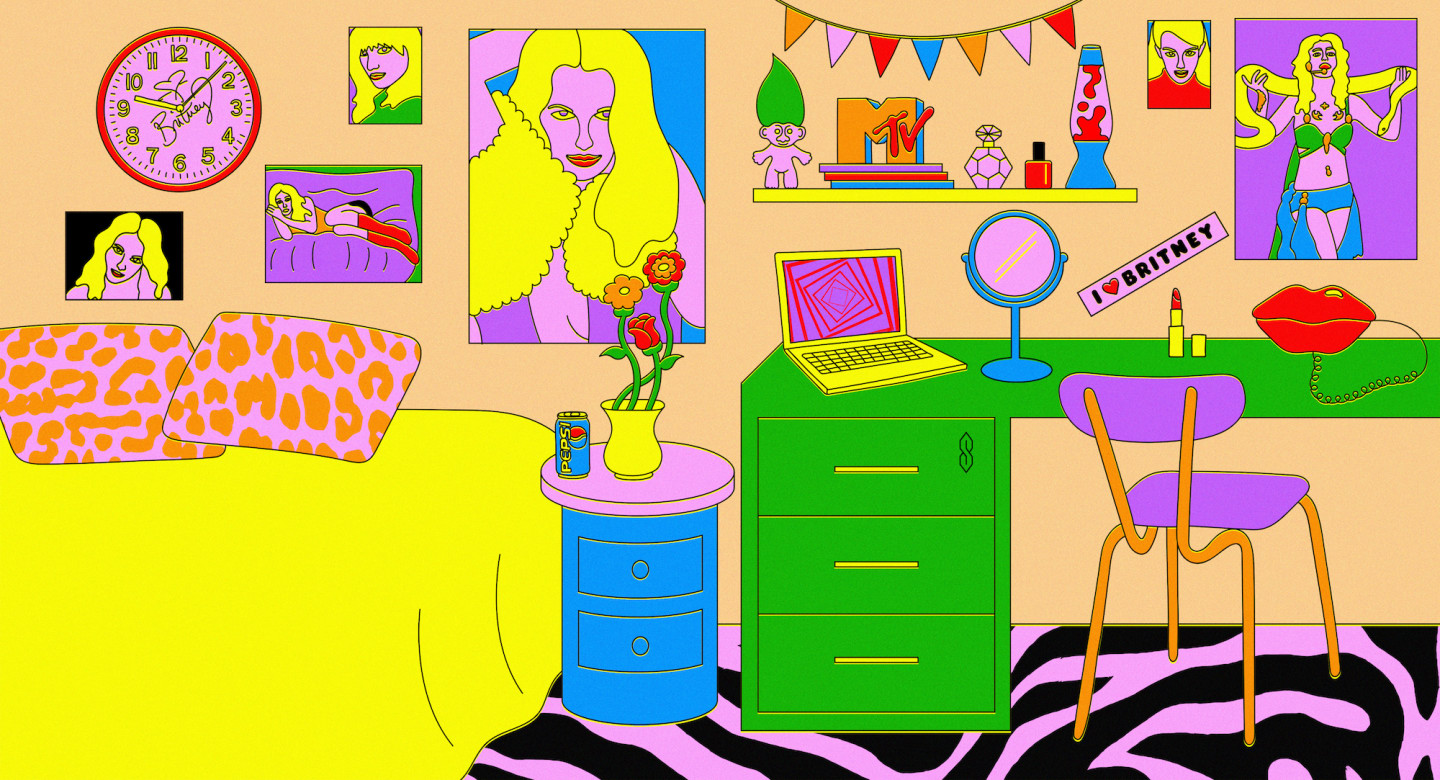 Keri Hilson, trusted collaborator
It was a tumultuous time. Paparazzi had literally cut through the bushes at the studio to try to get a glimpse of her and her child. They were following and harassing [her], so the security at every studio we worked in was super high. I felt really bad for her. But when Britney stepped in the studio, she was focused, and so pleasant to be around — even if we only got two hours of her, which would be the case some days. One time she got a phone call and disappeared out of the booth. She takes it so [seriously], and an artist that takes themselves seriously has to acknowledge when they are unable to give their 100 percent that day, to protect their art. I respect that so much more than an artist who would come in and bullshit you.
We were given the specific direction that she did not want the music to mimic her personal life. So we figured, OK, so let's create a fantasy world that she would be happy in. We did a few days at her home, and we also worked at The Palms studio in Vegas — we did a week or so there. We also worked at Conway Studios in Los Angeles. I would say we spent two weeks or maybe a month in Britney mode.
The songs that we created ["Gimme More," "Break the Ice," "Perfect Lover," "Outta This World"] were very much part of a time where we would get very little of Britney. She did not write on any of the songs that we did — we would create, and I would lay a demo while we awaited her arrival. I'm on the background of everything that we did, just because she wanted to focus on her delivery and her lead vocal. When we played her my demo of "Break the Ice," she didn't want to do the back- ground. Honestly, I think she said some- thing like, "it sounds like me anyway."
"Gimme More" happened at Conway — [Danja] had done the beat in his headphones, and we all had chills. I started [sings], "Gimme Gimme, Gimme, Gimme Gimme" over the low-end. It was just so easy! I believe it was Jim Beanz who came up with the line "It's Britney, bitch." We were joking around in the studio, andI remember telling him, "Do it, go do it, put it on there." I remember [Jim] being a little reserved about it, like, "How's she gonna feel?" But I was like, "That's how she's gotta feel!" It's cocky, and we simply wanted her to feel that way about this record. She had what I call the "fuck it factor." She had been pushed into it. And the "fuck it factor" is actually when an artist does something bold, 'cause it's like, "I know this is not conventional, and I know this is not why they love me, but fuck it."
Robin Carolan, head of Tri Angle records
Blackout inspired and continues to inspire pop music, more so than any other album in the last 15 years, even more so than widely acknowledged masterpieces, like Justin Timberlake's FutureSex/LoveSounds. It ushered in new ways of processing vocals that felt genuinely bold, bizarre, and at times made you feel disturbed and uncomfortable. It showed pop music could be disjointed, disorienting, and downright ugly, but still be fierce and classic.
If you ever wanna see a gay club truly explode, request "Gimme More" and wait for "It's Britney, bitch" to drop — a true declaration of survival and resilience. Ten years ago, magazines had prewritten Britney's obituary. No one had witnessed someone so famous come undone at the seams so violently and so publicly. The fact that she didn't die makes those three words feel so much more important now when you hear it today. LGBTQ people have always looked to their musical heroes to provide inspiration or strength. Protest anthems can be weapons or sometimes armor — but sometimes we also want these songs to strut and slap us in the face.
Nowadays everyone talks about pop music in serious terms, but when I was younger being a pop music fan, especially if you were a boy, could get you in trouble. It often meant you were a faggot. I was always defiant about my love of pop, but after Blackout came out, I refused to feel ashamed to talk about pop albums in lofty ways. Without it, there's no way I would have been so bold as to launch my label, Tri Angle, with a Lindsay Lohan tribute album knowing very well how it could open me up to ridicule. It was ultimately a middle finger to people who looked down on pop music, and other people (mostly straight men) telling me what was real.
Tinashe, deep-cuts expert
I've always been drawn to production that feels darker, dangerous or sultry. But at the same time, Britney has this sweet voice and brings this bubbly approach. She is able to intertwine that innocence and sexiness — she's walking that fine line, something I've always loved.
I sampled Britney's "Blur" on one of my first songs, "Can't Say No," because I just really loved that beat. It's a really underrated Britney cut, so I thought it would be cool to make my own version. I also didn't have access to my own beats at the time, so I was getting creative.
It was very surreal to work with her on "Slumber Party." When we were doing rehearsals, it was really cool to see her in her element. When she gets in front of a mirror you can tell she's super comfortable and that's really her zone.
Total Freedom, DJ innovator
When I first heard Blackout, I was more of a serious fan of Keri Hilson and Danja's, so I was really excited to hear their sounds written and produced for that pop icon. It was also Danja's first pop project without being a ghost producer for Timbaland. Blackout is like a demented toy — it's fun and very "Britney" and pop, but everything sounds a bit dark. At that moment in time, you didn't expect to hear chopped-up vocals on a pop song, even though that was something people in underground dance music were working on. Now, with the crossover between both worlds — like Major Lazer and their popularity — almost all pop music is slowed down, chopped up, extremely "cut and paste." Nothing is straight anymore.
The period of time when Blackout was released was the turning point of what social media and reality TV were going to become — cameras in everyone's lives, especially celebrities'. We were on the outside seeing this start to happen, and she was in the middle of it. In the face of everyone treating her not as an artist, but as a public mess, she had enough power and strength to make a record that was so incredible for its time.
"Why Should I Be Sad" at the end of the album, by Pharrell and The Neptunes, is still one of the most meaningful songs ever. It's really bittersweet — more so than any other song she made before that. With big pop acts, especially because there are so many hands on the project, it's hard to tell how much is orchestrated to sell a product, as opposed to artistic expression that happens to fall in line with the person's personal life. But that song in particular is such a beautiful way to end the album — she's turning her back on what everyone's expectations are of her. She's going through all this shit, but could get through it, live her life, and go off. I still listen to that song; it's just so powerful.
Julia Michaels, pop's new mastermind
Blackout was so influential. Not only production-wise, but for me as a lyricist "Gimme More" was super-influential. The talk-style verses which tell a very real story definitely shaped the way that I write and probably shaped the way a lot of people write. Britney is always ahead of the curve. Sonically, stylistically, always. Every album she's ever done has always been like that. She's a fuckin' icon.
I don't think people realize how involved she is in the studio. Pop instincts are so ingrained in her brain that you play a guitar and she will sing the most incredible melody. She'll have a concept ready, she'll have lyrics ready. I don't think people give her enough credit. They've seen her as "Britney Spears" and an incredible performer, dancer. I don't think they know that she can write. While we were working on Glory, literally everything she was saying sounded like the radio. We were like, "Yup. We're using that. Yup. That's done." It was incredible.
ASMA, exploratory producer
Sometimes when people think of pop music, they think of everything being perfect, on cue, hitting the right notes. On Blackout, Britney was disrupting that. The lyrics and production felt dirtier — the quality wasn't so clean — adding effects like the stutter on "Piece of Me" to emphasize the digital sound in her voice. Some of the decisions made on that album were so visionary for pop music. It's not like nobody did that before, but Britney doing it was like, Oh shit.
She can really blend darkness and cheesiness, or experimental and pop, in a way that's so seamless that you're in awe. As DJs, we blend worlds in different music constantly; there are so many other micro-worlds in between genres. I'm not a DJ who plays one genre — I play a bunch and see where the worlds collide and make sense together. That's super inspired by what she's done.
HAIM, proud members of the Britney army
DANIELLE: I think it's no secret that we love Britney Spears. We did a whole radio show dedicated to her and we played "Break the Ice," which might be my favorite Britney song. It feels like Britney really did what she wanted with this record, which is so refreshing for that time coming off a bunch of records where she was prim and proper. This record came out and it felt like she was being herself and not letting anyone tell her what to do.
ALANA: Making the rules and breaking the rules.
ESTE: When "Gimme More" came out, I remember standing in my room — I had just started at UCLA — doing my own choreo to the song in the mirror, just for me. With "Piece of Me," it reminded me of Michael Jackson's "Leave Me Alone." She was throwing everything that people said about her back into people's faces, and I loved that about her.
DANIELLE: Every line on "Piece of Me," it's like — she went there. She's so confident and irreverent. Honestly, I think she can really do no wrong. I love the fact that she's so strong in her convictions and does whatever she wants.
ALANA: Tom Coyne mastered the record and it's bombastic. Every song was so good. I love the fact that "Radar" is on this record and on Circus because it wasn't a single on Blackout but she was like, "Fuck it I'm going to make it a single on the next one." She just doesn't give a fuck, it's so cool. It's the coolest shit.