Lawrence Rothman has nine alter egos and says David Lynch saved their life
Listen to the synth songwriter's sad and soaring debut album, The Book Of Law.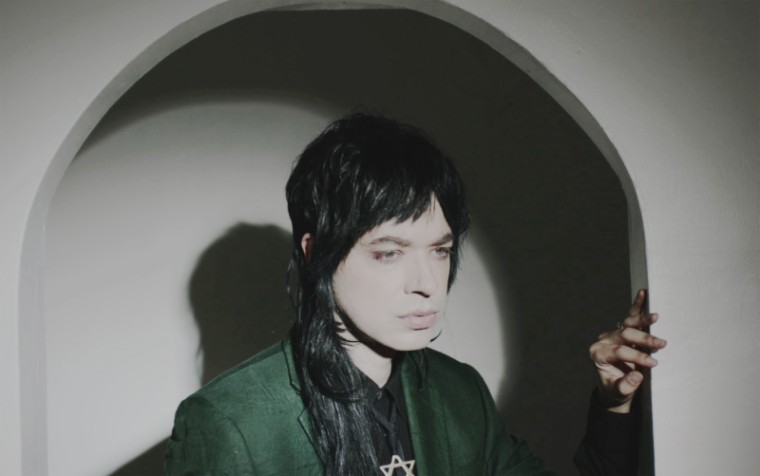 Laurel Canyon-based musician Lawrence Rothman's been fucking with their appearance since they were around 10 years old. They've been genderfluid their whole life, they explained recently, a few weeks before the release of their debut album, The Book Of Law. The record is an anguish-filled, fiery collection of synth tracks. Each song comes with an emotional and cinematic video, too.
Lawrence has been on the road with bands since he was 13, which was a pretty risky lifestyle for a nonbinary teen in the south. "I'm from a very poor area in St. Louis, and I'm Jewish, so that was just a bad mix," they explained, before recounting the time they got pistol-whipped in the chest and nearly shot in the head by two off-duty National Guardsmen in a club in Texas. They said it's not really any better touring Middle America these days, either. "I went Gummo," Lawrence said of their latest tour with Tei Shi. "I went to Walmart, got a sweatsuit, put on a mullet wig. Nobody fucked with me."
Most recently, ignorance has come at them from within their family. Lawrence had already finished recording The Book Of Law when their dad made it clear he didn't approve of the gender-bending, or their nine diverse alter egos — which, instead of explaining, you should experience through these videos. The confrontation affected Lawrence so much they stripped the record of its vocals and rewrote them, this time without hesitating to spill their entire, despair-wrought soul. Listen to The Book Of Law below, and read a conversation with Lawrence about the tumultuous recording process, and why everyone should have a mantra.
Listen to The Book Of Law:
Tell me about the concept for The Book Of Law.
LAWRENCE ROTHMAN: I kind of dove in. Originally I wasn't going to do that, but I had this moment where my dad turned into like, the biggest bigot in the world about my gender fluidity and my imagery. The record was done, and then I erased and re-did the vocals after this thing with my dad. At that point I was like, Fuck this. I'm just gonna spew my thoughts to pop songs. It's how I've felt inside all these years. If the hipsters don't like it, I don't give a fuck.
And how did the recording go?
I'm a control freak. I wanted to do everything organically, even though it sounds very electronic. Everything was tracked to old tape machines — the old, vintage equipment inspired the sound of the whole thing. Weirdly, just because of the hard work of me engineering every morsel of the record, there's this level of exhaustion in there. And because of the exhaustion, mixed with my father being a fucking prick from hell, there's this air of sadness. It's sort of the soul of the whole thing.
I worked with Justin Raisen, who produced Angel Olsen and Sky Ferreira's records. I brought him in to produce, and he's a fucking maniac. That led to drug ODs [for others in the camp], fist fights, jail, police getting called on him by record companies, threatening to cut a guy's neck off on Thanksgiving...so we had to do most of the record pretending we weren't working with Justin. My wife wouldn't let me go near him. The record company was like, You can't work with Justin Raisen. It was bizarre.
I have this crazy studio. I'm a solo artist, but I didn't want to play everything, that's kind of boring to me. I like the energy of humans laying down tracks to tape, sort of old school. And I was like, What if we did it where I somehow got all of my idols to come down and we fuck it up? And Justin's crazy — he was like, "Make your crazy dream list." And every name I wrote down, Justin got to come down to the studio. We got Kim Gordon, Duff McKagan from Guns N Roses, Pino Palladino who played on D'Angelo's record. It was fucking nuts. And it's at my place, too, so I had all these people rolling through. It was fucking awesome. Having Kim Gordon and Duff McKagan together was so, like, illegal.
I didn't want to feel so sad, but I was tired and someone was putting me down. I looked up to my dad, and the fact that he was just such a dick about not being open to things, that I haven't talked to him since — it's just weird. He bought me my first musical instruments. If you can't even trust your own family members, who can you trust? You're just here on earth alone and you will die alone. Regardless if you're surrounded by family or not, everyone exits by themselves. Even while you're here, it feels like you're kinda always by yourself no matter what. And you only have yourself to rely on. That was sort of my biggest realization. I think that's why I obsess and micro-manage everything, because I feel like I only have myself to rely on and trust. Hopefully it won't harden me too much, but I definitely feel like all I got is myself — and all nine of my different alternate egos as my friends.
There are definitely times in your life when that feeling of being this bubble unto yourself is especially strong.
I mean, you can let yourself down. It took me to be like, You only have yourself, to realize you gotta appreciate yourself because if you don't, then you go to that dark place.
Do you have a mantra?
I do. I think what saved my life, as cheesy as it is, is transcendental meditation. I went to a Barnes and Noble talk with David Lynch in 2013, and he did his whole TM explanation. And I was like, I need to try this, and I walked up to the guy he was with and told my story, and he said "Come to the David Lynch house and we will give you a mantra." So I went. Normally it's like $1200. Basically, David Lynch's transcendental meditation saved my life. If I don't do it two times a day I sink, you know? It was the biggest gift anybody could probably ever give me. If I could do it for other people, I would.
Meditation really helped me, also. There's something about sitting with yourself that's really healing. Do you feel that way?
It's better than any prescription drug. And I've been on them all. And I've weaned myself off of all of them because of TM. But yeah, it's weird. Everyone's into this spiritual stuff now, but I'm like, Dudes! Take it seriously so it works! Get a mantra!