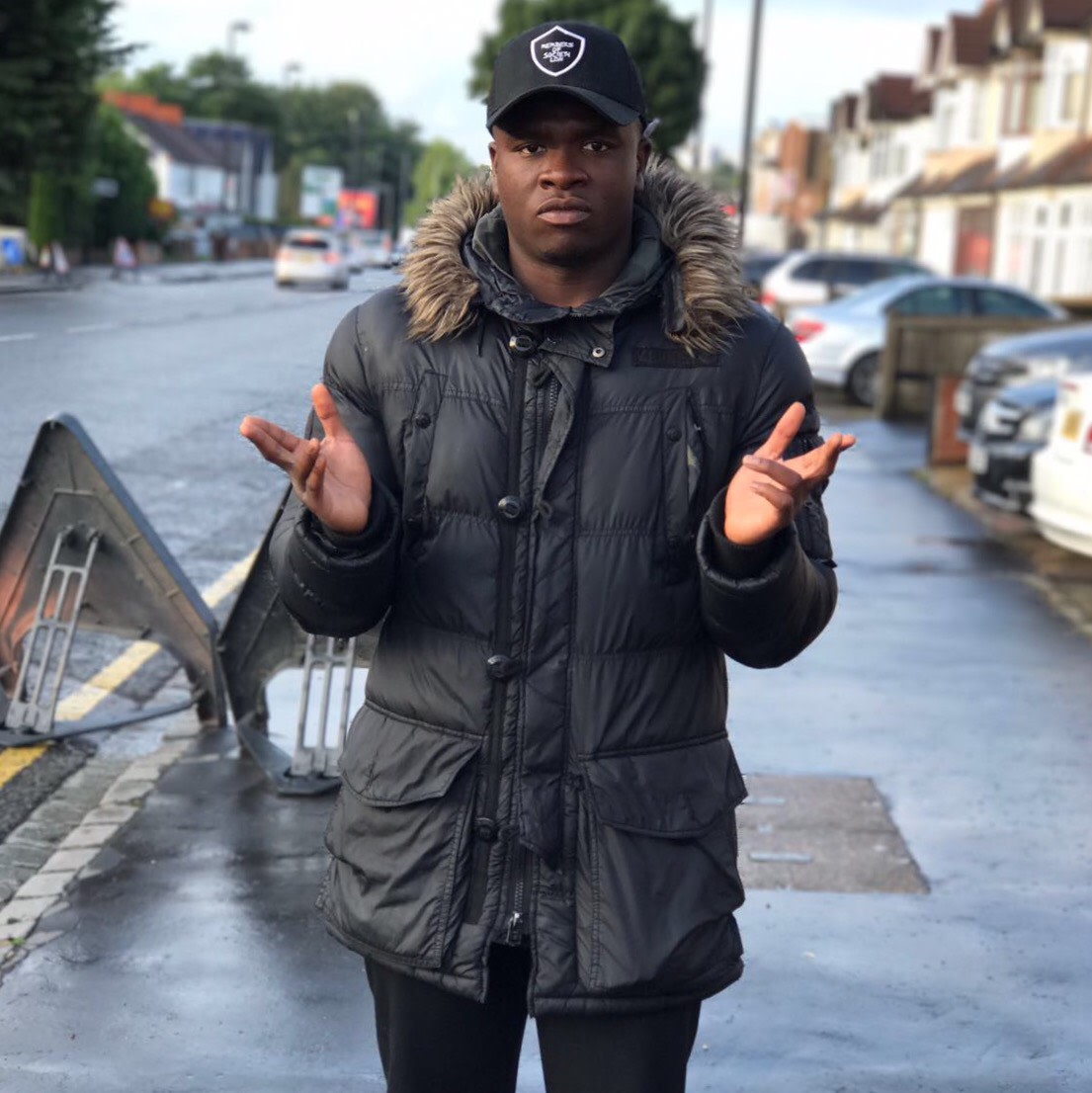 In U.K rap and grime, appearing on radio station BBC 1XTRA's Fire In The Booth is a rite of passage. MCs like Stormzy and Bugzy Malone have racked up millions of YouTube views for their heated freestyles on the segment, which is hosted by London scene mainstay Charlie Sloth. But an appearance this August from London comedian Michael Dapaah — in character as aspiring MC Roadman Shaq — has become Sloth's show most beloved moment to date, going viral in a way that few U.K. rap memes have.
After Dapaah's appearance on the show, his tongue-in-cheek chorus, "Man's not hot/ Take off your jacket," started to be heard everywhere in the U.K., from school playgrounds to club cloakrooms. One iconic line particularly delighted the masses in its silliness: "The ting goes skrrrahh/ Pap pap ka ka ka/ Skibiki pap pap/ And a pu pu pudrrrr boom/ Skya/ du du ku ku dun dun/ poom poom." In the months since, the internet has produced countless memes and jokes that revolve around Shaq's hilarious bars, and the vaguely familiar absurdity of the sounds that he's making.
Originally, the character was one of the hard-hustling characters that Dapaah plays in the addictive #SWIL (Somewhere In London) web series, which he also writes and produces. But "Man's Not Hot" has introduced Dapaah to a far broader audience, and at the time of this article's publication, his 1XTRA appearance has over 10 million views across Facebook and YouTube.
Dapaah has kept the momentum going. Seeing the way DJs had been dropping his skit into their sets — as well as the raucous crowd reaction that would typically follow — he released the freestyle as an official single under the more bossed-up moniker Big Shaq, and cracked the U.K. Top 40 this fall. This October, Dapaah unveiled a lighthearted video for the track, where Shaq and his crew flex in their heavy jackets on Miami beach. In a cameo filmed at the BET Awards, DJ Khaled proclaims Dapaah's character a "legend."
People love the idea of supporting a perceived underdog, and in Michael Dapaah, a hardworking 26-year-old from inner-city London, they found one. In a recent conversation with The FADER by phone, the comedian seemed as determined as his character, but in a far more believable way. Friendly and open, and using words like "thankful" and "grateful" often, Michael Dapaah spoke about idolizing Oprah, his hopes for future collaborations, and why Big Shaq is, like him, just a black boy with a dream.

---
You've just got back from the BET Awards. Are you surprised at how Big Shaq has taken off in the U.S. as well as the U.K.?
I'm more overwhelmed — not surprised — by the reception globally. Since the end of the last year we've had a strong U.K. following, so we expected it to do well here. I work very closely with my creative partner [Marv Brown]. It's definitely a team effort, and when I say it's a team it's also the fans. I don't want people to ever feel like they can't reach me, and I'll reply back to messages, all of that. I think once you keep that connection going, they like to support you. Without the supporters, you're nothing. But the fact that [Big Shaq's freestyle] caught alight in so many different places around the world? That was what we were taken aback by. If anything we're more thankful than surprised.
What does your family think of the work you do?

Being a second generation Ghanaian growing up in Britain, obviously the first generation's mentality is different. But I realised very early on that [comedy] was a passion of mine, so at certain times there have been loggerheads.
I think for [my family] it's about making sure that whatever I'm doing, I'm making good money and looking after myself, and once you're able to show it's possible then they're cool innit. 10 years ago, I wouldn't be able to do what I'm doing now. I'm just thankful to God I live in a time I can do what I'm doing, capitalize from it, make money, and enjoy what I do. My faith has always supported me in my ventures, so boom.
How planned was Big Shaq's freestyle? Did you know exactly what you were going to say, and how you were going to say it?

Some of the bars were written prior [to the Fire in the Booth appearance], then some were me in the moment. When I'm playing any of my characters, I totally go into the realm of the character. That's when I'm able to come up with the most creative stuff, and I believe that's what connects with the audience. "The ting goes skrrra/ Pap pap ka ka ka" — I didn't plan that. It was more like when I was in character, that's what came out as Shaq. It was Shaq's emotions. He went in there to prove himself like literally, "This is me, this is what I'm about bruv, lemme give you that fire."
"I don't believe that comedy needs to be a mockery of anything. You've got to remember, the characters that I play are some people's actual lives"
The thing that I really like about your characters — not just Big Shaq, but also the Ghanaian Uber driver and the east London traffic warden on your web series #SWIL — is the way you find humor in someone without mocking them.
I'm very observational in my comedy and what I create with the characters that I'm blessed to play. I don't believe comedy needs to be offensive, and I don't believe it needs to be a mockery of anything. In all my content I don't really swear or use profanity, because I believe comedy can just be pure. I try to find the balance of taking what I've observed or what I think is going to be funny, and portraying it in a way which relates to a mass audience. You've got to remember, the characters that I play? They're some people's actual lives.
So that idea of success is the thread that brings it all together for you?

150%, because everyone is chasing something different. Shaq's main ambition is to bring himself off the roads. I know there are a lot of young males in London that find themselves in the position of someone like Shaq, and if you watch the watch the web series #SWIL you'll understand his story that little bit more. You'll see Shaq going and trying different things because he no longer wants to live that street life.
Who are your inspirations?

Mo the Comedian. He's a good friend of mine, to be honest he's more like an older brother to me. I love Stevo The Mad Man, he's got his own style, then obviously the Eddie Murphy, and the late, great Bernie Mac, who's probably my favourite comedian of all time.
So is it always the comedy before the acting for you?

Yeah, but I love producing. I really like Tyler Perry, I think that his work is amazing. Oprah Winfrey as well, she is a don. I love that woman because it goes back to her story: being able to go through all that rejection and trauma, and she still rose up and became the biggest mogul on television. It's not for the money, it's her love for creativity and pushing the boundaries, and that's what I love.
What's next for you and Big Shaq?

We're not stopping. There will be a lot more work. Some people have seen Big Shaq live, but a lot of people have been wanting to see just a proper [comedy] show [from me]. I definitely want to give it to the people; I owe it to them. Obviously with Big Shaq now exploring this new comedic genre of music, there may be another single too.
Is there anyone who you want Big Shaq to work with?

Big Shaq's on the big ting, you get me? DJ Khaled, Dizzy Drake — Drake's a big fan of Shaq! Then obviously the U.K. [MCs], you know I love J Hus, Stormz of course, Wretch 32, Krept and Konan…there are loads of people from the U.K. who I think are amazing; whether or not they'd [rate] Shaq's work is another thing. And obviously shout out my guy in America, Lil Yachty. You might see something from Shaq and Yachty one day.
You're one of the few comedy acts in the U.K. who capitalized on viral fame by releasing a single so quickly. Was that always the plan?
I just have to thank God for the people that I work with. We like to spot opportunity and just take it. I saw the way the meme [went viral] and recorded the track straight away. It was always in my heart to record the song [for a single], but I just didn't know when I was going to do it. You can't plan these things.
How do you deal with people criticizing you for being a parody act who's getting such success in the music world?
It just makes me know that I'm doing something right. Anybody that has stepped out and become a success, in whatever field it is, people are always gonna have something to say. It just comes with the territory. I don't focus on that. If I look at the grand scheme of things, the ratio is probably 99 or 95% positive to to one or five per cent negative. So overall, I'm blessed. I just tell people, "listen. Instead of being bitter about it, take inspiration and go and do your own thing." How you gonna be bitter? What's the point? I'm just a young black boy, who like a lot of young black boys, is trying to do something out here. Trying to create history. Trying to do something epic. You get me?