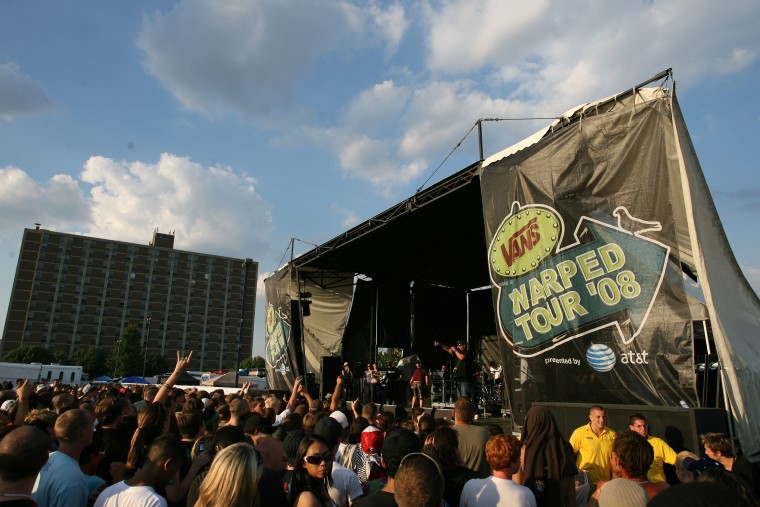 Vans Warped Tour make its final cross-country trip in 2018, the festival's founder Kevin Lyman announced in a statement on Wednesday.
"Today, with many mixed feelings, I am here to announce that next year will be the final, full cross-country run of the Vans Warped Tour," he wrote. "I sit here reflecting on the tour's incredible history, what the final run means for our community, and look forward to what's to come as we commemorate the tour's historic 25th anniversary in 2019."
Over the course of its 22-year history, Warped Tour grew from a small showcase of indie punk bands to a nationwide traveling tour that attracted around 500,000 people a year. The festival helped launch the careers of bands like Blink-182, Fallout Boy, Paramore, and others, and expanded to include hip-hop and pop acts that found huge success, such as Eminem and Katy Perry.
Controversies have also followed Warped Tour. Lyman faced backlash for partnering with pro-life organization Rock For Life and allowing Army recruitment tents at the festival. Speaking to Billboard in early 2017, he said, "We couldn't get the pro-choice groups out until we had a pro-life group out here. That's been the thing to stir it up a little bit. That's what punk rock was always about."
In 2015, the tour also stirred up controversy for its inclusion of Jake McElfresh, who performs as Front Porch Step, to perform in Nashville, despite allegations that he had solicited nude photos from underage fans on social media.
Lyman concluded his statement: "The enduring spirit of the Vans Warped Tour remains as bright as ever, continuing to inspire creativity and ambition in new and exciting ways as we prepare for a 25th anniversary celebration in 2019."