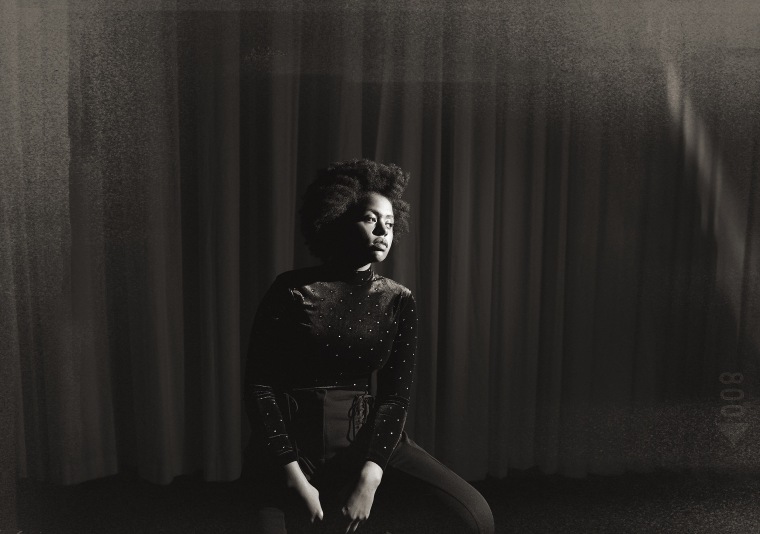 "If you go to Central Park tomorrow, from 11 a.m. to 2 p.m., I might not be there, but my brothers and sisters will be," singer-songwriter and veteran busker Victory Boyd told me last week, before wowing me with a live rendition of "Cheap Love," a defiant and soulful gem from her forthcoming album, The Broken Instrument. You may even have heard her sublime singing from one of her beautiful acoustic videos, which have earned millions of views. Her voice is beyond.
The Boyd family — all ten of them musicians — comes from Detroit, where John Boyd, Victory's father, founded the Boys & Girls Choirs of Detroit. In 2007, when Victory was 12, the Boyds moved to North Bergen, a New Jersey township right outside New York City. As the Perfect Blend Group (now Peace Industry Music Group), they performed on subway platforms and on the steps of the Met, before realizing that the acoustics in the Minton Tile Arcade, adjacent to Central Park's Bethesda Fountain, were ideal for their choral sound. Now they sing there every morning.
Last year the Boyds played for JAY-Z, and he subsequently signed them to Roc Nation, on which Victory's debut solo EP, It's a New Dawn — and her first album, coming next year — are set to be released. She's obviously very psyched about the big-name co-sign, but she's most excited about getting her songs into the world. And here, it begins; the It's a New Dawn EP is debuting today on The FADER. Listen below, and read a chat with 20-year-old Victory, now 20, about her musical beginnings, and her big break.
You're a member of a very musical family. When did you start singing?
VICTORY BOYD: I have four brothers and four sisters. When I was 4 years old, I started singing in the Boys & Girls Choir of Detroit, which is a choir that my parents founded. That was the start of my career. And I say "career," because even though I was four years old, I took it very seriously. My older siblings were singing in the choir, so it was something that I really aspired to and was really grateful to do. I definitely wanted to prove that I was born to do this, and that I should be given a shot. Technically I was too young to join the choir, but my parents broke the rules for me.
How does it feel now, 16 years later, to be releasing your first solo EP?
It's exciting! The name is It's a New Dawn, which is my favorite line from Nina Simone's "Feeling Good," which I cover on the EP. It's actually the song I sang for JAY-Z when he signed me and my brothers and sisters and our family. That song has been a constant thing for this new journey. There's also a cover of "Overjoyed" by Stevie Wonder, which I sang on the subway back in June, and a gentleman by the name of Dr. Boyce Watkins videotaped me singing it. He posted it on Facebook, and it got over 2 million views in, like, two weeks. It was crazy. That song also holds a special place in my heart.
"Believe in Love," the first single, I wrote after my [forthcoming full-length] album was done. I was like, But I have this one last great idea! I need to get it out! I went on a mini tour with Van Jones, and I felt like a fish out of water because I'd spent so much time in the studio, and it was a completely different dynamic. After I got home from one of the stops on the tour, I stayed up all night working on the song. When they heard it at the label, they loved it.
What's the significance of the full album's title, The Broken Instrument?
There's a song on the album called "Broken Instrument." It's hands-down the hardest, longest song I've ever written. It's like a fifteen-minute song that I broke into three parts. It's a trilogy.
The story of the broken instrument is a metaphor. You think of instruments as something of value — I paid probably a thousand dollars for this guitar right here, and that's on the cheap end — they go through a lot of craftsmanship to just come into existence. It was inspired by the fact that I found an instrument in the trash on a street corner in Brooklyn, and I was like You don't throw instruments away!! It was broken, so whoever owned it, was like "Well, it's broken, I'll throw it out." Like, No! The idea is that there are similarities between the story of this instrument and human life: we're valuable — sometimes we're broken, but that doesn't mean we're not valuable anymore. It was so long and so deep at first I didn't know how to make it into a song, it was just a poem.
What was it like playing for JAY-Z? Are you a big fan?
I didn't grow up on his music, but I was still a fan of him, you know? I am a fan of who he is, and what he stands for, and his family, and what he represents as a black entrepreneur and trailblazer. Meeting him and having the opportunity to perform for him was really something special.
He was super nice. He was just kind! So kind. And gracious. He's encouraging. He'll tell us, like, "You have the right to believe that you can do anything!" Just really big stuff. And I'm like, Wow, you're JAY-Z and you're telling me that! He believed from the start that we were really great people. That was really special.