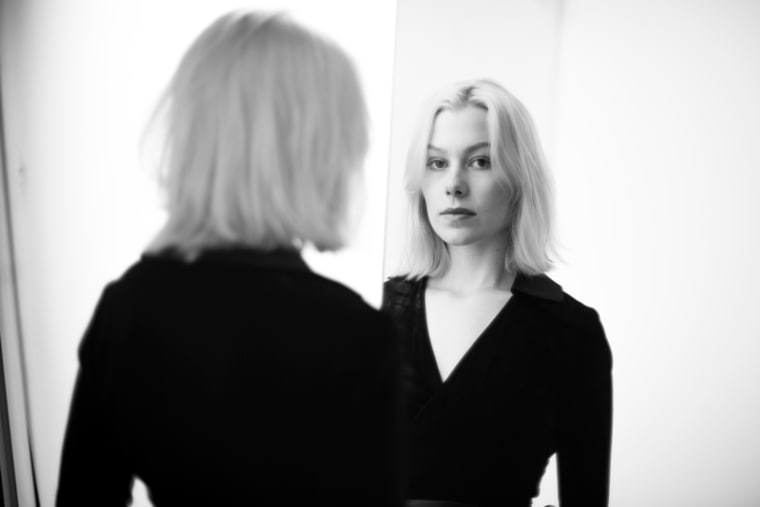 Phoebe Bridgers is officially one of our favorite breakout artists of the year — the L.A. songwriter blew it out of the water with her debut album, Stranger in the Alps.
Phoebe's found a perfect harmonizer in sad folk veteran Conor Oberst, who sings on "Would You Rather," a quietly beautiful song about childhood fears. Premiering today is a collage-like, semi-animated video for the track, directed by Phoebe's brother Jackson Bridgers. In the clip, Phoebe and Conor communicate via a pair of television screens.
Phoebe wrote over email about the video, "I wrote this song about my brother. I thought it only fitting to have him make the video, and yeah, I think it's perfect."
"I wanted to represent the almost telepathic bond between siblings that Phoebe and Conor sing about with televisions because sitting in front of the TV was one of the main places we bonded as kids, second only to long road trips," Jackson wrote to The FADER. "This song beautifully shows that knowing someone means knowing all of their darkest and most gruesome childhood fears and nightmares, but friendship and time can turn those negative emotions into something useful. As we get older and grow as artists, I'm glad this friendship can manifest itself in new ways, even as the nightmares and fantasies of our childhood fade away."
Watch below, and check out Phoebe's just-announced 2018 tour dates, too.
Tour dates
Dec. 16 Los Angeles, CA @ Lodge Room Highland Park (SOLD OUT)
Feb. 3 Santa Ana, CA @ Constellation Room
Feb. 5 San Diego, CA @ Soda Bar
Feb. 6 Tucson, AZ @ 191 Toole
Feb. 8 Dallas, TX @ Three Links
Feb. 9 Houston, TX @ White Oak Upstairs
Feb. 10 Austin, TX @ Antone's
Feb. 12 Birmingham, AL @ Syndicate Lounge
Feb. 14 Nashville, TN @ High Watt
Feb. 15 Atlanta, GA @ Aisle 5
Feb. 16 Asheville, NC @ The Mothlight
Feb. 17 Raleigh, NC @ King's
Feb. 20 Washington, DC @ Rock & Roll Hotel
Feb. 21 Philadelphia, PA @ World CAfe Downstairs
Feb. 23 Brooklyn, NY @ Music Hall of Williamsburg
Feb. 24 Boston, MA @ Great Scott
Feb. 25 Burlington, VT @ Higher Ground
Feb. 27 Montreal, QC @ Belmont
Feb. 28 Toronto, ON @The Velvet Underground
Mar. 1 Pontiac, MI @ Pike Room
Apr. 4 Salt Lake City, UT @ Kilby Court
Apr. 6 Denver, CO @ Larimer Lounge
Apr. 7 Omaha, NE @ O'Leaver's Pub
Apr. 9 Kansas City, MO @ Recordbar
Apr. 10 St. Louis, MO @ Blueberry Hill Duck Room
Apr. 11 Louisville, KY @ Zanzabar
Apr. 13 Columbus, OH @ The Basement
Apr. 14 Cleveland, OH @ Beachland Tavern
Apr. 15 Bloomington, IN @ The Bishop
Apr. 18 Chicago, IL @ Lincoln Hall
Apr. 19 Madison, WI @ The Frequency
Apr. 20 Minneapolis, MN @ Turf Club
Apr. 24 Vancouver, BC @ The Cobalt
Apr. 25 Portland, OR @ Doug Fir Lounge
Apr. 27 San Francisco, CA @ Bottom of the Hill