Tyler Childers is telling love stories for a place
On his breakout album Purgatory, the Appalachian native writes towards home.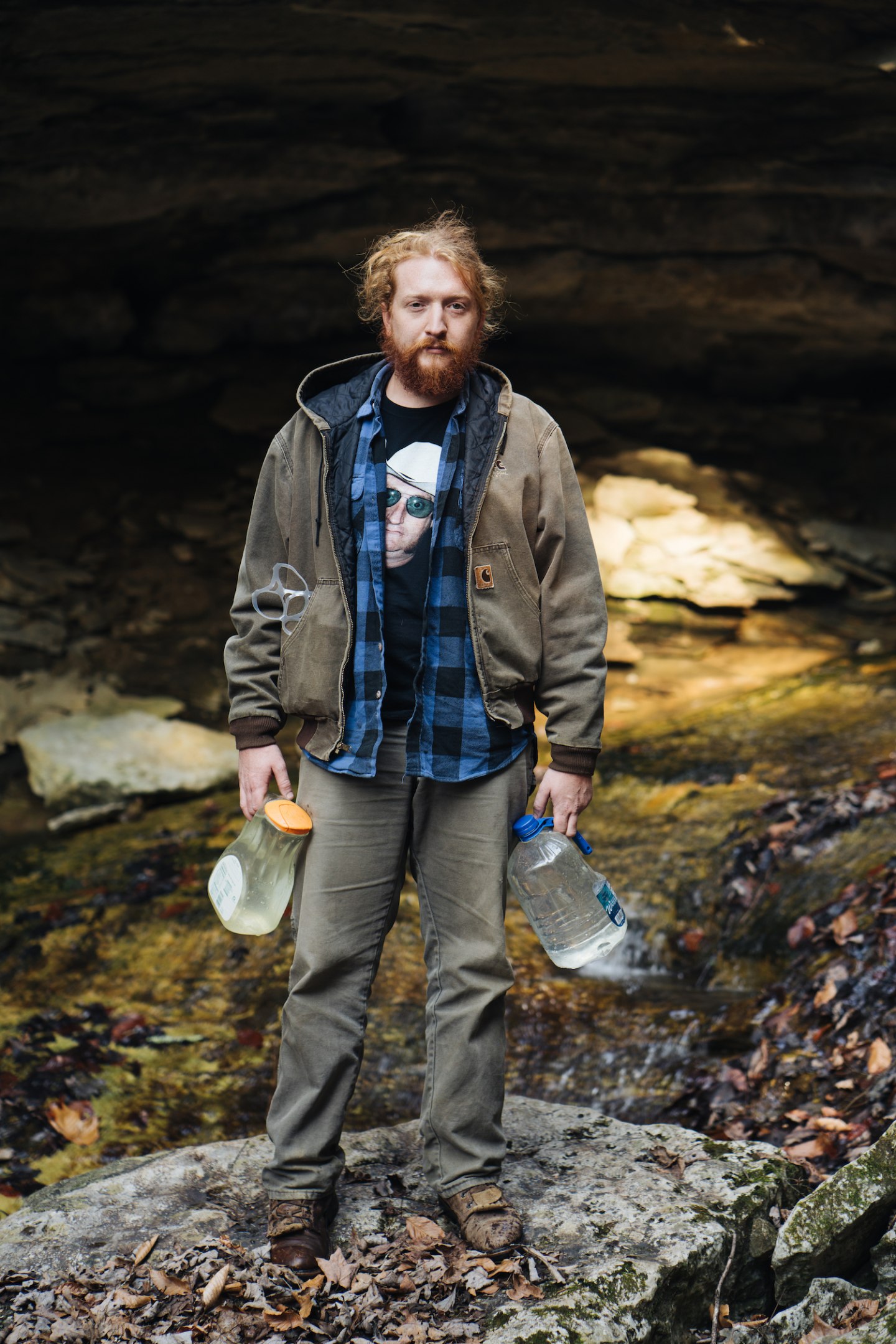 Another Country is FADER's showcase of the folk, country and bluegrass artists that often go unsung around these parts, with an emphasis on new approaches to a classic American sound.

Another Country is produced in partnership with Jack Daniel's Tennessee Whiskey. Live freely. Drink responsibly. JACK DANIEL'S and OLD NO. 7 are registered trademarks. ©2017


---
"The first thing that comes to your head is probably the only thing you should say. If you have to sit down and spend ten minutes trying to have something genuine, it may not be all that genuine." Tyler Childers has a frank but gentle way of speaking. You can hear the poet in him when he talks, even over the phone.
"I'm always chewing on something," he tells me when I ask if he's taken a break from writing. Now 26, Childers has worked steadily towards his present moment since before he was of legal drinking age. In 2011, he self-released his first record Bottles and Bibles, a collection of bluegrassy ruminations and cutting lyrics that maintains the intimacy of a living room show. He's since released two live EPs, but it's this past summer's Purgatory, which taps into the love and suffering that surrounded Childers while growing up around Lawrence County, Kentucky, that put him on the Billboard charts for the first time. The songs on Purgatory are lush and immediate, a delicate balance that he worked to hone in the studio with acclaimed producer/singer-songwriter Sturgill Simpson and engineer David Ferguson, famous for his work with the likes of U2 and Johnny Cash.
It's been somewhat of an adjustment. Childers prefers to write at home, but his rising profile means that he now spends a good deal of his time touring the US and Europe, so he's had to adapt. He mentions his song "Follow You To Virgie", written about a friend's grandma, by way of example: "I used to sit around the house and it took forever before I could get through a song. I'd be crying and thinking about Mamaw Johnson. I didn't play that out until I was ready to get up in front of somebody and play that, you know?"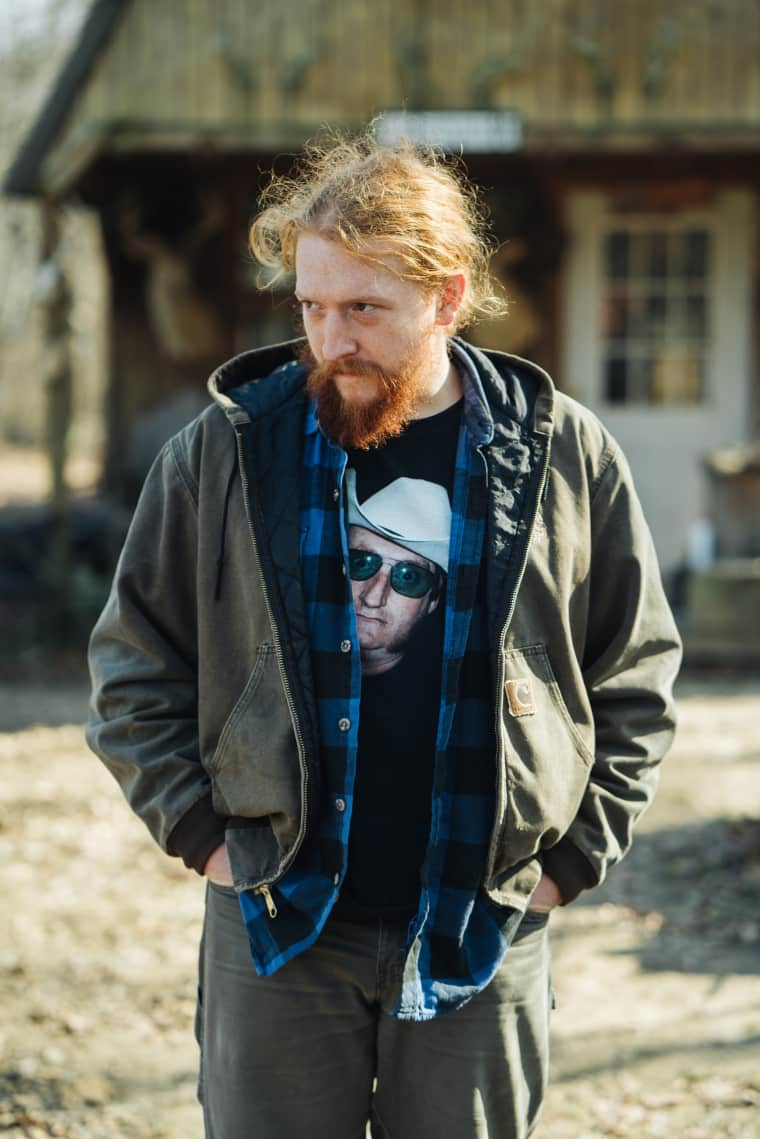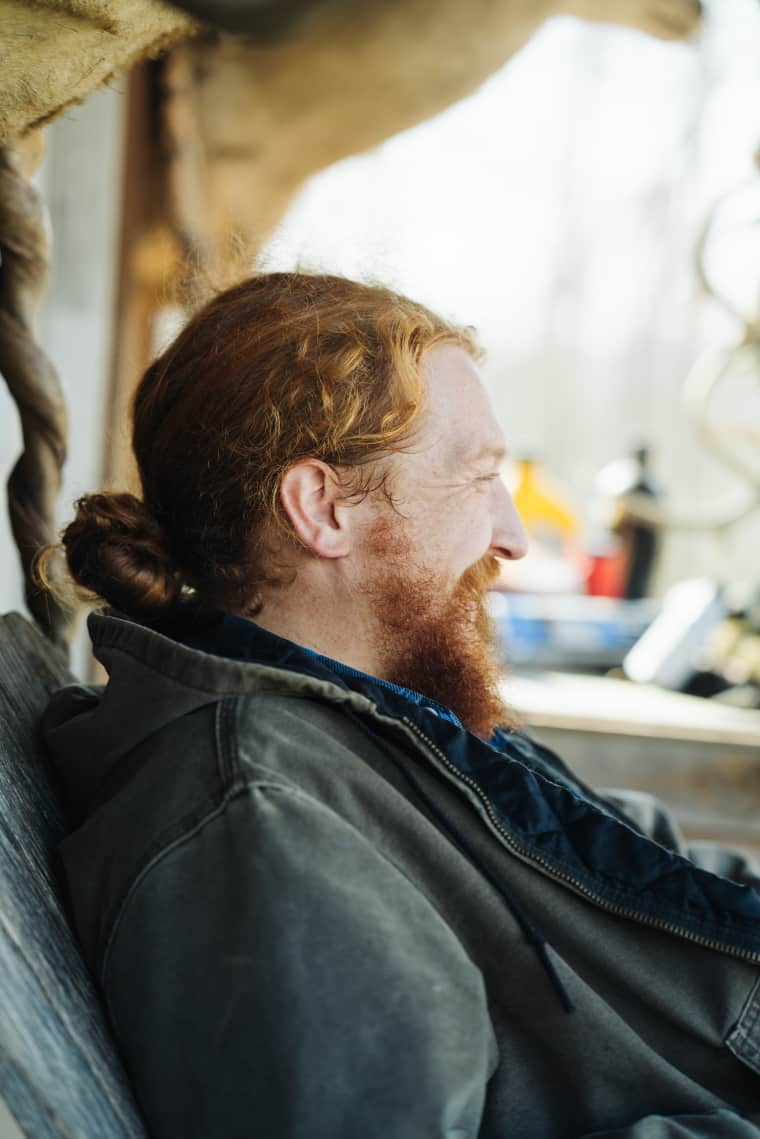 Though touring has made it difficult to reach this solitary, reflective place, writing has always been a somewhat active process for Childers, who first learned to tell a compelling story by listening to the people around him. It's a tradition planted when the region was settled, and one of the things Childers admires about the place where he cut his teeth. "Storytelling in Appalachian culture—it runs deep. You have these communities and families that, for a long time, were isolated, and if you did have time off after working to keep everything going, you'd sit around and just yak, just talk and tell tall tales and flat-out lies and try to one-up the guy who just told a story."
Raised in a Baptist family, he says he's always been drawn towards religious texts. What he read in his extensive time at church was as moving for him as the stories he heard out on the porch. "I grew up and explored other religious texts and kind of opened my mind to some form of spirituality. Those ponderings, mixed with—" he laughs—"chemical experiences, I suppose, all came together …" He trails off. "'Born Again' is a love song. It's just these two people—two forms of energy—meeting and losing each other and finding each other again and coming together and being the same thing." He says this matter-of-factly, as if it's totally ordinary. Maybe that's because it is, though that doesn't diminish its strange power.
"It's like, you'd have to be crazy to go out there. You can't make it. And then we did."
He winds these intense narratives through threads of fiddle and slide guitar, the band's instrumentation radiating heat like blacktop in a southern summer. The vitriol of a cocaine-filled night sits shoulder-to-shoulder with a man's tender promise to run across a river to get to his beloved. There are moments of yearning for purity, and then backsliding into vice. "Do you reckon He lets free will boys mope around in purgatory?" Childers half-questions, half-pleads on the title track over a battering honky-tonk wind of banjos and guitars. This music is pure fervor and only half-truth, but it manages to keep an ear to the ground. Childers has reimagined the love story as something more epochal than two individuals, something rooted in home.
"Where I grew up, I feel lucky to have been from there. The culture in general is rooted with a strong sense of family; of kin; of place, geographically; of tradition. There's a resilience, a strong will to make it. I mean, heck, it was settled by a bunch of outcasts that didn't fit in. We were the first west, really, in this middle-ground outlier area, and it's like, you'd have to be crazy to go out there. You can't make it. And then we did."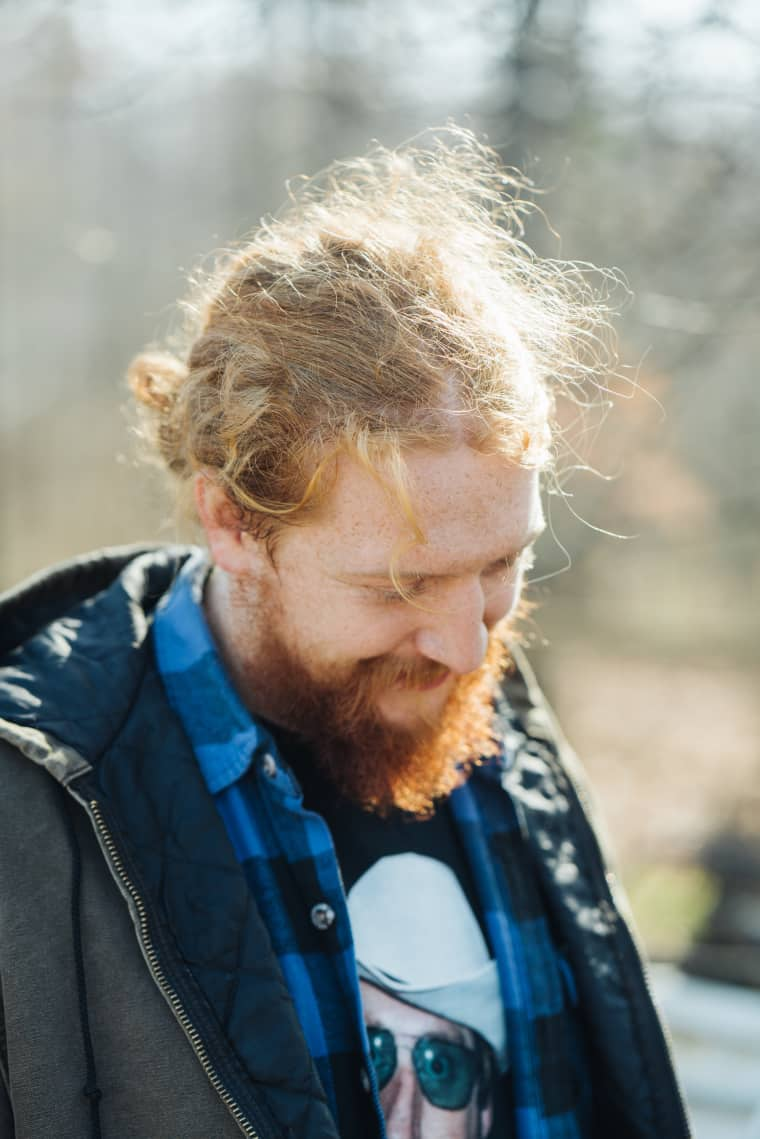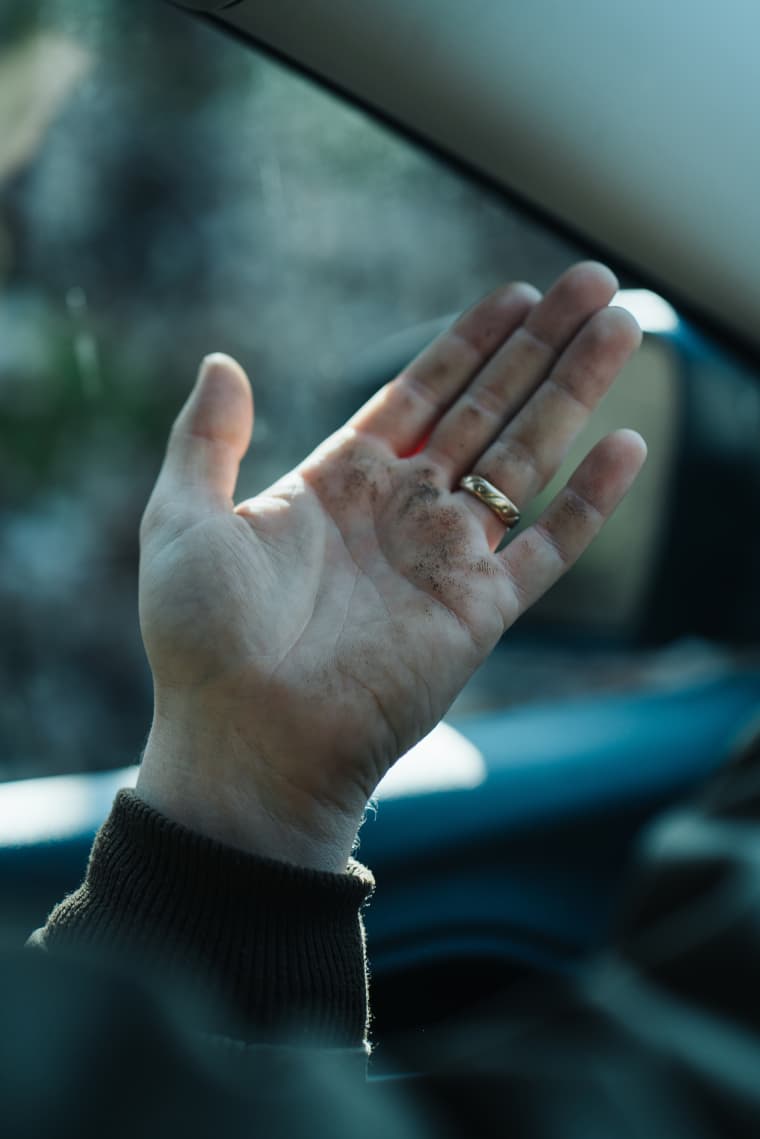 One form of resilience Childers has found lies in the region's small but supportive music communities. Back when he was 18 and working odd jobs to make ends meet, he started playing out between Lexington, KY and Huntington, WV, where he says "there's not this sense of dog-eat-dog and cutthroat. If you're good, then you're good." In spite of his growing platform, he hasn't severed connections with the places that raised him. "Both scenes have incredible artists that are making really good, honest, quality music," he tells me, citing recent tourmate and West Virginia native William Matheny, whose music walks a peculiar line between Americana and power pop. "Even though it's changed and I'm not chilling up at open mics anymore, the platform that I've been blessed with is … Hopefully we're just buddies helping each other out, you know what I mean? If William gets big in Japan or something, he'll take me with him."
When I ask how he stays grounded now that music has become his full-time job, he pauses to let out a sigh before telling me, "Well, my wife keeps me in check." The final and quietest song on Purgatory is for her. "Lady May" features just one lulling guitar and a voice whose honesty crackles up at the surface. "I ain't the toughest hickory that your axe has ever felled / but I'm a hickory just as well / I'm a hickory all the same," he sings, forthcoming even through the veil of metaphor. It's these raw moments that set Childers into conversation with his forebears, candid writers like Ralph Stanley, Merle Haggard, and Hank Williams. Still, none of this is anything that he's necessarily planned. As for his vision moving forward: "Well, I have a lot of ideas of what I don't want. This whole thing's kind of really going organically. I've been open to ideas and trying things out and will just keep trying things out and let it go where it goes."
"Purgatory is hell with hope."
While the history of a place may be less tangible in the abstract, hearing it in the voice of someone raised there is sobering. "We've been taken advantage of and exploited and watched our wealth of natural resources go off in trains and down rivers to go to other places and really not seeing nearly as much—half as much—of what's been taken out of our area brought back. And as natural resources are leaving the area, there's less and less job opportunities, cause once you've created an economy that's based on taking stuff away, when everything's taken away, then there's no more jobs left." Childers has seen this scarcity turn personal, manifesting in deeply felt desperation in his communities. "There are a lot of people out of work, a lot of people that are taken advantage of, some pharmaceuticals and cookies. People get hurt doing manual labor jobs and…there's plenty of people just floating around with these strong, strong drugs taking over their lives. Um, I don't know how we got on that. Where did we start at?"

It's a dark moment. But he circles back quickly. "The whole entire album is a love story, from the beginning to the end. Purgatory is hell with hope. It's a love story of a place that's kind of in a low spot right now, but there's hope."
Purgatory is out now. Tyler Childers is currently on tour — check the dates below.
12/27/17 - The Grey Eagle - Asheville, NC
12/28/17 - Cox Capitol Theatre - Macon, GA
12/29/17 - House of Blues Myrtle Beach - North Myrtle Beach, SC
12/30/17 - Georgia Theatre - Athens, GA
12/31/17 - The Fillmore - Charlotte, NC
1/5/18 - V Club - Huntington, VA
1/6/18 - V Club - Huntington, VA
1/18/18 - John Dee - Oslo, Norway
1/19/18 - Twang - Södermalm, Sweden
1/20/18 - Folk Å Rock - Malmö, Sweden
1/22/18 - Prinzenbar - Hamburg, Germany
1/23/18 - Privatclub - Berlin, Germany
1/25/18 - Het Zonnehuis - Amsterdam, Netherlands
1/27/18 - Rotown - Rotterdam, Netherlands
1/29/18 - Komedia Studio - Brighton, United Kingdom
1/30/18 - London Omeara - London, United Kingdom
2/1/18 - Jimmy's NQ - Manchester, United Kingdom
2/3/18 - Tron Theater - Glasgow, United Kingdom
2/11/18 - Space - Evanston, IL
2/20/18 - Music Hall of Williamsburg - Brooklyn, NY
2/21/18 - Bowery Ballroom - New York, NY
2/22/18 - Wolf Den at Mohegan Sun - Montville, CT
2/23/18 - The Sinclair Music Hall - Cambridge, MA
2/24/18 - Higher Ground - Burlington, VT
2/27/18 - World Cafe - Philadelphia, PA
3/1/18 - Rock and Roll Hotel - Washington, DC
3/2/18 - Stage AE - Pittsburgh, PA
3/3/18 - Magic Bag - Detroit, MI
3/4/18 - The Horseshoe Tavern - Toronto, Canada
4/28/18 - Stagecoach Festival - Indio, CA
5/19/18 - Ryman Auditorium - Nashville, TN
5/20/18 - Ryman Auditorium - Nashville, TN