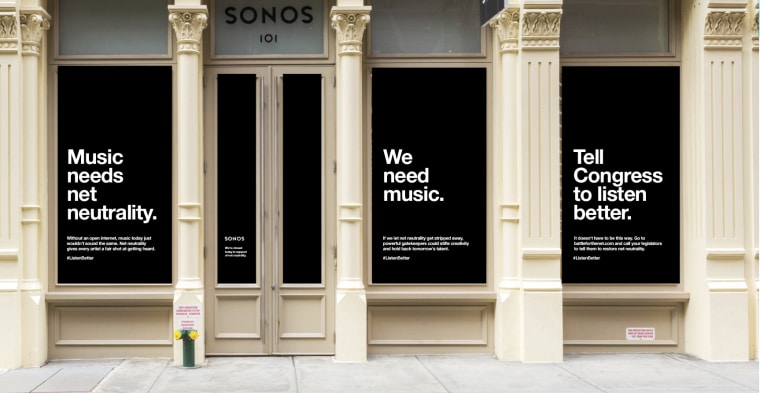 Sonos, will be closing their Flagship Soho store on January 28 to send a message to congress to save net neutrality protections. They chose the night of the Grammy's, often dubbed "the biggest night in music" because for Sonos, free internet is directly related to protecting music.
"Without an open Internet," reads the windows of their Flagship store, "music today just wouldn't sound the same. Net neutrality gives every artist a fair shot at getting heard."
Net neutrality is still in peril after the FCC ruled to end Obama era protections. The end of those protections could mean the end of a truly open internet. After the vote, members of congress began working to overturn the FCC decision. As of January 15, Democrats announced that they had secured 50 votes to overrule the decision. They need one more vote in order to pass a senate resolution disapproving of the FCC decision.
Mucisians, like Fall Out Boy have expressed their support for the initiative via their social media, which can be seen below. Sonos and others encourage Americans to call their congressperson and urge them to protect net neutrality. They have partnered with Battle For The Net, a website that is fighting against the end of net neutrality protections.
"Sonos was built on an open internet. We thrived because of it, and we want to help others thrive too, " wrote Sonos' Head of Social Impact, Deji Olukotun. "Without Net Neutrality, the internet is not an open playing field and we risk losing access to music and artists that have the potential to help us listen better. We recognize the vital role music's biggest night plays in celebrating artists and their work – and as the awards return to NYC for the first time in 20 years, we felt that now was the perfect time to make a statement using our flagship store in Soho. Congress should act now to repeal the FCC's awful new rules. The future of music depends on it. We cannot allow the voices of independent artists to go unheard."