When I FaceTimed Dertbag founder Philip Post, he was sitting in the bedroom of his Connecticut home, rolling a blunt with meticulous care. We'd only shared a brief hello before he asked me how my day had been going, but I was more excited to hear how he was feeling — he'd recently made his New York Fashion Week debut, spent the last year working with Kanye West on his Yeezy line, and just passed a decade at the helm of his own blossoming, beloved clothing line.
In 2007, he started Dertbag, a streetwear line that merges Connecticut prep school flare with fresh prints and designs, and he now owns and operates his own atelier in Bridgeport, Connecticut, just blocks from where he grew up. Since its inception, Dertbag pieces have been sported by the likes of Tyler, The Creator, Earl Sweatshirt, and Kanye West. Post's line hangs at big and small clothing retailers worldwide, like Dover Street Market and Tokyo's Min-Nano, and in 2016 earned shelf space in Barneys.
Everything Dertbag has achieved is the byproduct of many man-hours and hard work, most of it self taught. When Post first launched the brand when he was only 13 years old, he began to learn Photoshop, Illustrator, screen printing, how to code and create his own website, how to find manufacturers, and how to maneuver through a daunting production process. He shot all his own lookbooks and created his own visuals.
He's more than just a designer — he's a beat-maker, an illustrator, videographer, photographer, painter and more — and his clothes lie at the intersection of all of his points of artistry. "I make a beat, then I paint the colors that I see within music I make, and that influences a collection," he says to me over the phone. "Everything is interconnected with what I do."
For the first time, Post presented a selection of Dertbag pieces on a runway during New York Fashion Week, as part of a rising designer showcase. Featuring over 28 looks that featured a variety of pieces new and old, including hand-painted Air Force Ones, denim jackets, wildly printed suits, cropped hoodies, and his memorable Kanye-approved sweatshirt.
A few days after his presentation, Post spoke to The FADER about executing his first fashion show, how he has grown as an artist over the past few years, and his goals and aspirations for his brand, and himself.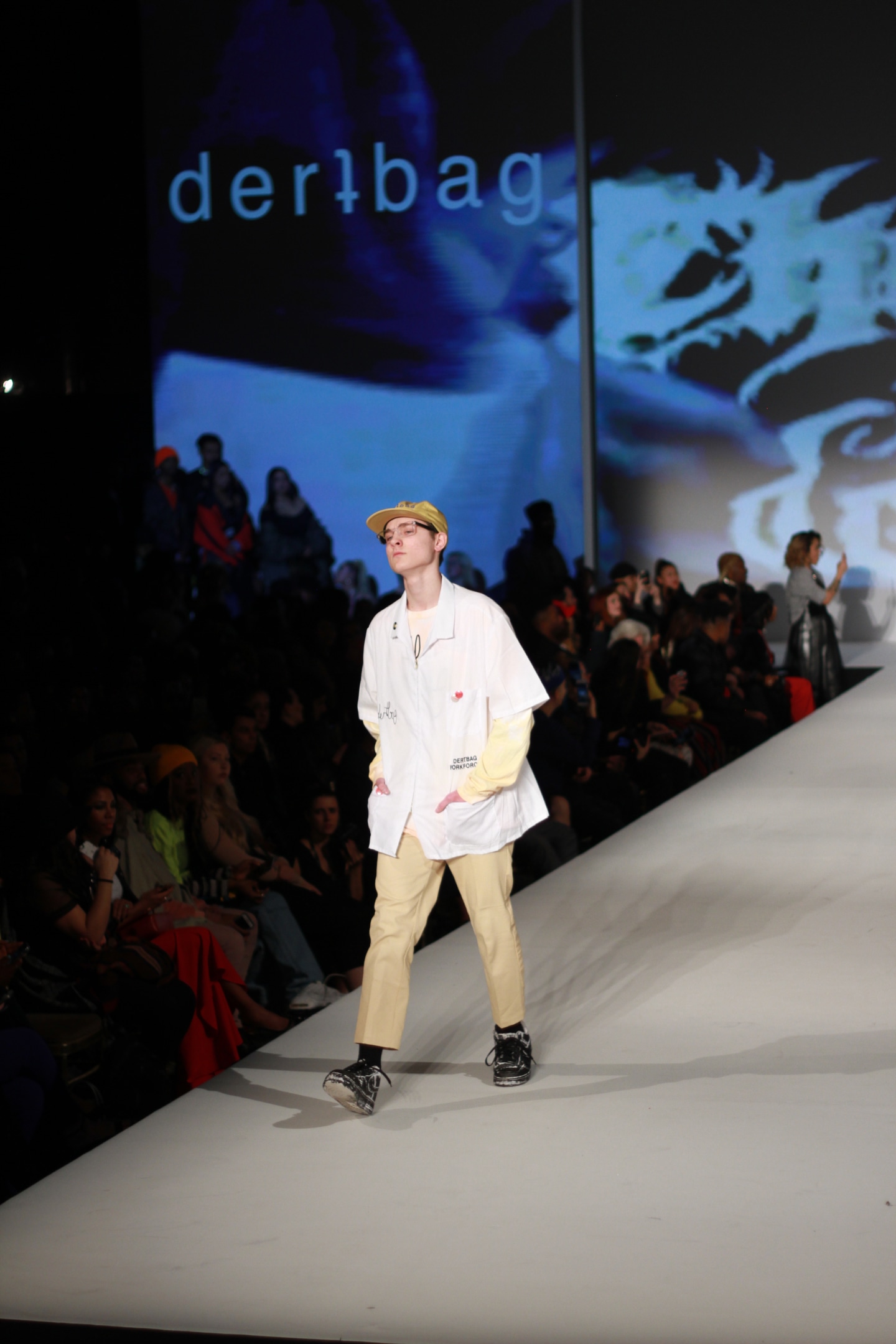 How do you feel now that you've done your first fashion show?
I feel good. I feel like everything built up to that moment, [and that I] I executed the show exactly how I wanted [to]. The clothes spoke for themselves, each look embodied a specific time that I lived or [a piece] of my personality. I feel like [audience] really enjoyed themselves and I gave them an experience.
When did you start planning the show?
End of January, like two or three weeks ago.
Wow, that impressive. Has this been something you've been thinking about for a while?
I have always thought about doing a presentation but I have never had the opportunity. [When it] came, I had a range of archived pieces.
I think the show really illustrated your range as a designer.
It's really the love of wanting to make clothing that no one else has, clothing I just wanted to make because as an artist I needed to make it. Like the denim jacket with the crazy inseam so you have to cuff it with the right camo — it's a fit that I would want to buy if I was 17 or 18 again. All the clothes were [from] over the years. The pants were made in 2015, the colorful suit was made in 2015, the striped stuff was made in 2016.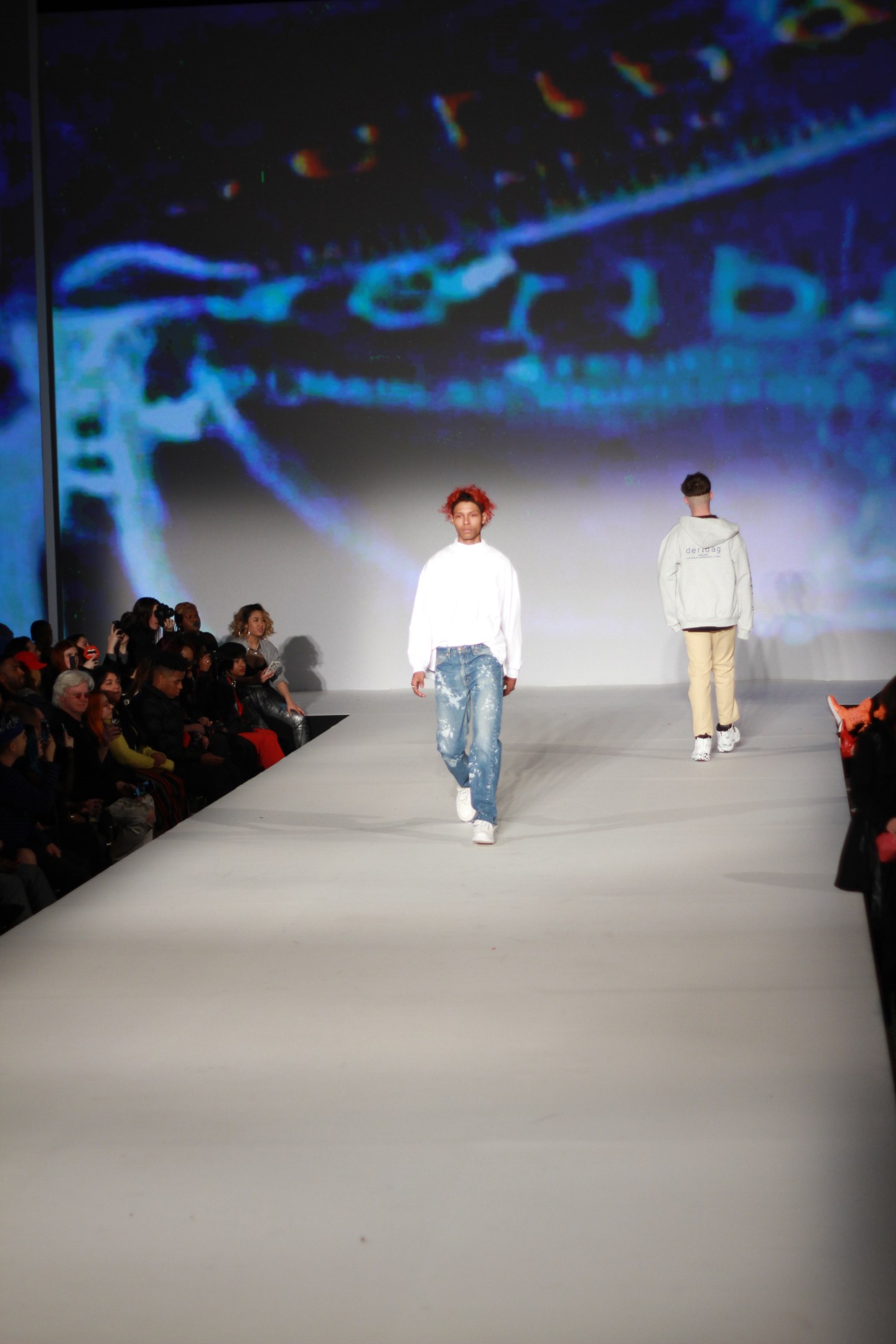 It's kind of like a retrospective in a way?
One hundred percent. It's closing a chapter. I've been making clothes since 2007. 2017 marked 10 years of me [making clothes] and a bunch of crazy stuff happened [in that year]. [I started] working with Kanye [West]. Learning from him and going through Kayne University for a year from 2016 - 2017 was a crazy time. Working with him was a step I needed [to take} so I could do this runway and execute it the way I wanted [to].
I worked on [Yeezy] Season 4 and Season 5, so [I gained] the experience of doing shows, knowing the process beforehand, [how to] bring my personality to the show, knowing that nothing really matters 'til the last ten minutes before the show starts.
Over the course of your design career, you've also collaborated with you father, Frank Foster Post, who is a visual artist and musician. What has that been like?
In 2014, I was just like, "Dad, let's do clothes," and he was like, "Okay." I put him onto screen printing and stuff 'cause he's a mural artist. He did Diana Ross's house in Connecticut. His taste level is up there. He's just one of those people that can see stuff and draw it. He has a lot swag, and he's really supportive. At the runway show, he was there in the front row with his white hair. I didn't tell him I was going to put an outfit of his [in the show]. That was a surprise.
A family affair. A lot of your friends from back home modeled in the show as well, right?
All the models were basically from Bridgeport [Connecticut]. Most of those people had never walked, [and are] people who really wouldn't do fashion week. [There were some] new friends, too! People really appreciated the opportunity. I had this kid [in the show named] James who is 17 and goes to private school in Connecticut. I had one of my homies hit me up last night being like, "Yo, thank you. I was selling dime bags and now I'm walking fashion week."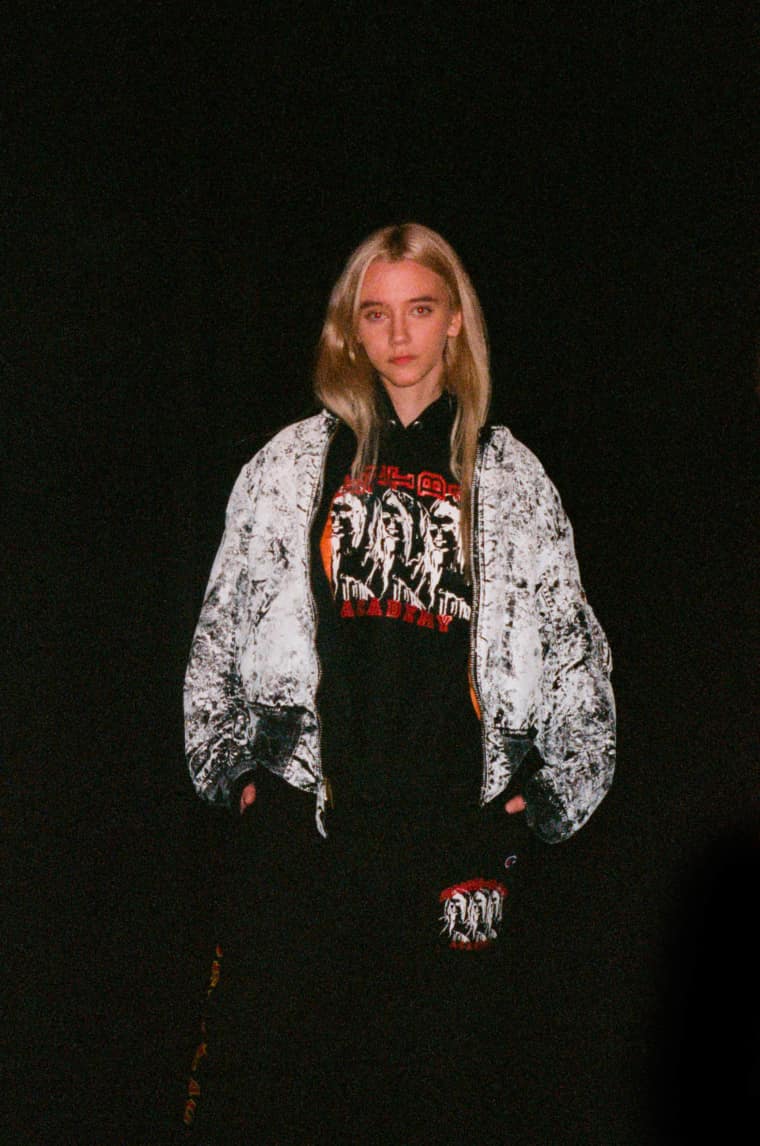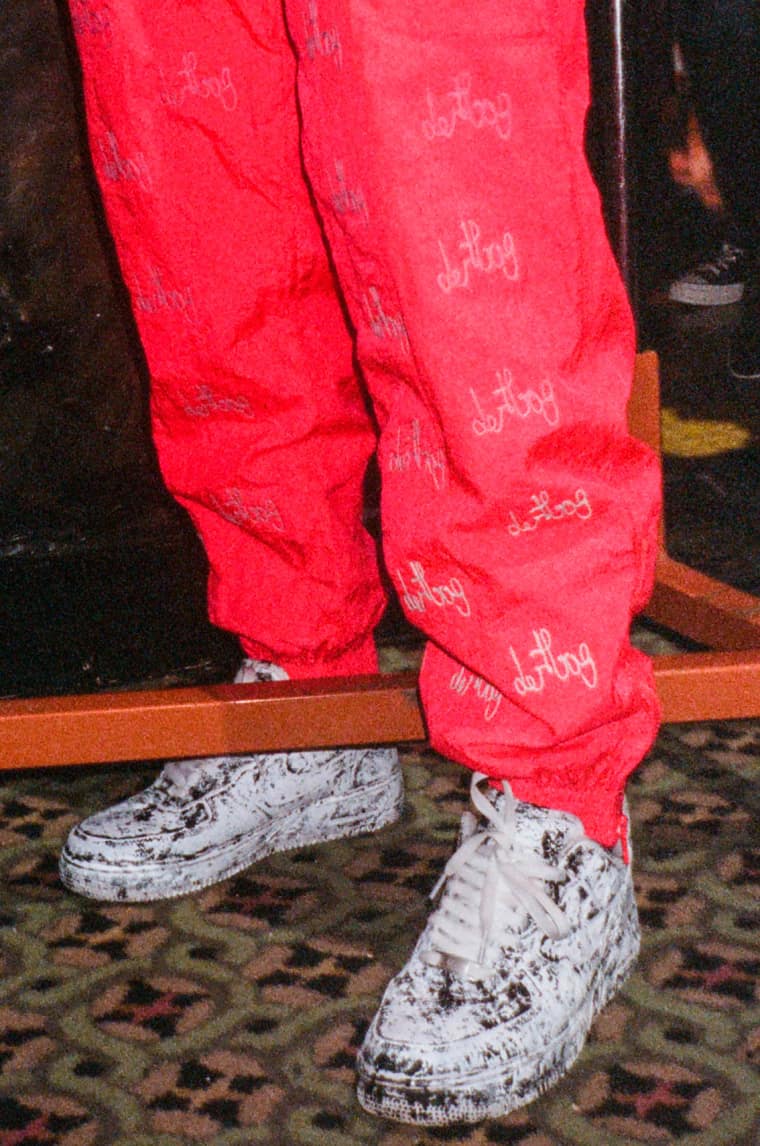 How have your friends and other creative individuals in your life, like Posh God, for example, influenced you and your work?
That's the bro. He really influenced me to make stuff, that you just need to put things out there so you can level up. It's in [the video game] Sonic: you need mad rings to get to the next level.
I love the reference. Is that intimidating in anyway? Putting something out there without letting it marinate?
Nah, I believe in making mad work so you get to that point where you are able to marinate. Like, you have to put in ten thousand hours to be great at whatever you do. I've put in thousands of hours and I am able to make great shit in a couple minutes — that's just how I work. I make a beat, then I paint the colors that I see within whatever music I make, and that influences a collection. Everything is interconnected with what I do, because it's really my own world. Even with the people that I meet, like Posh God — I will support him 'til I die. Work ethic, that's what I appreciate. Like fast fashion, everyone's hating on it, but I am wondering, It would be a great challenge trying to compete with fast fashion, but with original shit. I feel like I could do it.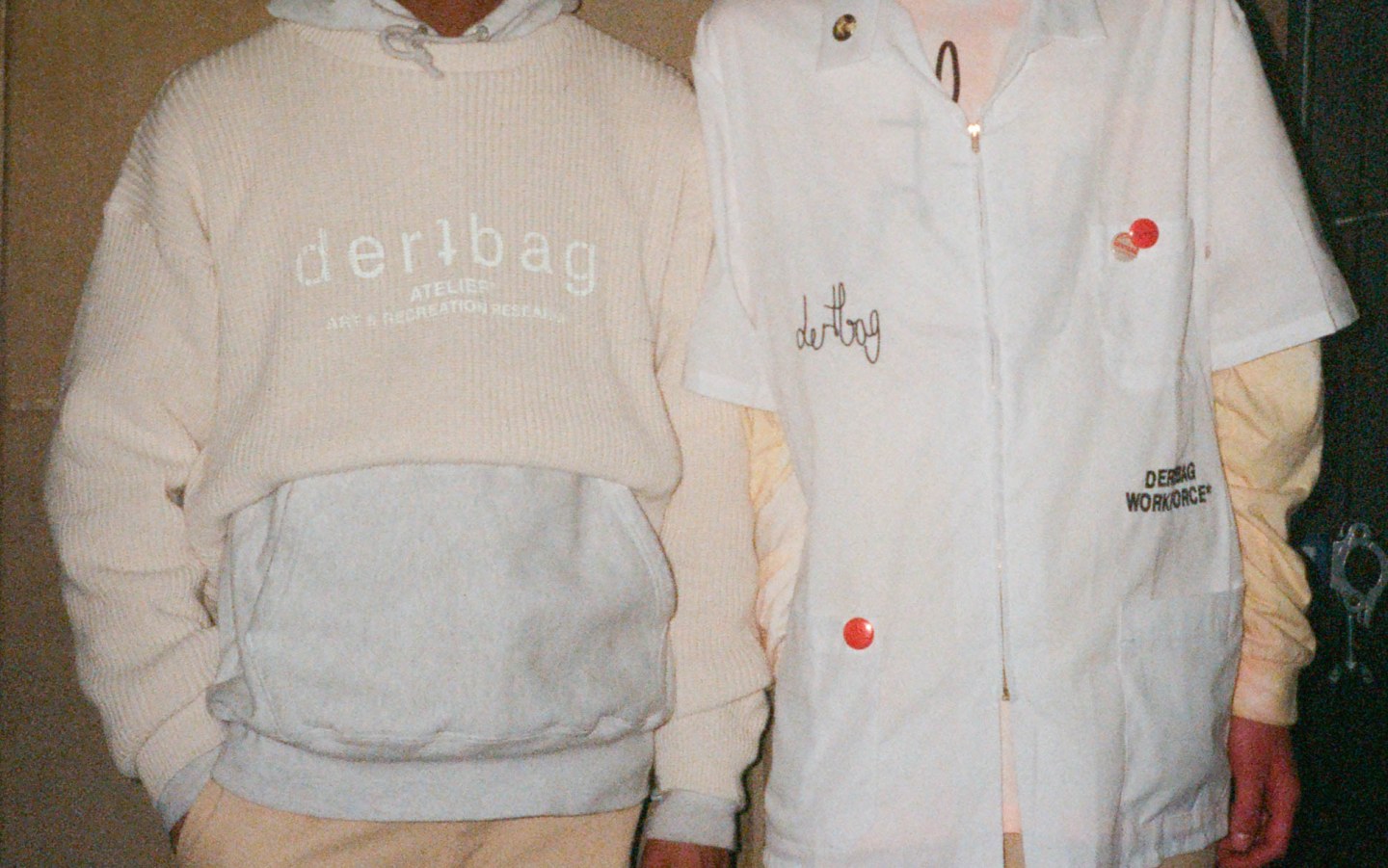 That seems like a lot of work.
That's what I am saying, but I feel like my work ethic is at that level. It's weird — I am really trying to be the Nigo of our modern age. I'm trying to be all these different people that influenced me, and it shows through the clothes [I make]. It shows throughout the art. There is certain energy to the [art] because it's a stream of consciousness, of creating a song and then going straight to painting and then doing other shit. I have different moods. It's energy. I'm really into Reiki. It's healing through energy. I'm a level master two. You can start healing people by just waving your hand around them and being a vessel and bringing the negative energy out of [someone]. That plays a real big part in my work.
How long have you been into Reiki?
I think was certified when I was 20. Doing all that stuff made me realize that you can't really have ill intentions towards anything. Like, everything has to be very pure, and that translates through the art, too. I've done so much shit that people will only dream about doing. It doesn't matter — happiness is what matters, and living a calm life and accomplishing things that matter to you. Dealing with stuff when I was in high school and me being sick, my mom being sick, and this other shit, everyone has their story. I choose to have an outlet by making clothing and expressing who I am, how I am feeling. That's the beautiful thing — you gotta live your life. That's all you can do.
It's interesting to hear how you navigate through everything with Reiki.
Even before the runway, I did it. I had a lot of negative energy in me that got cut out.
How often do you it?
Whenever I feel like I'm losing my mind.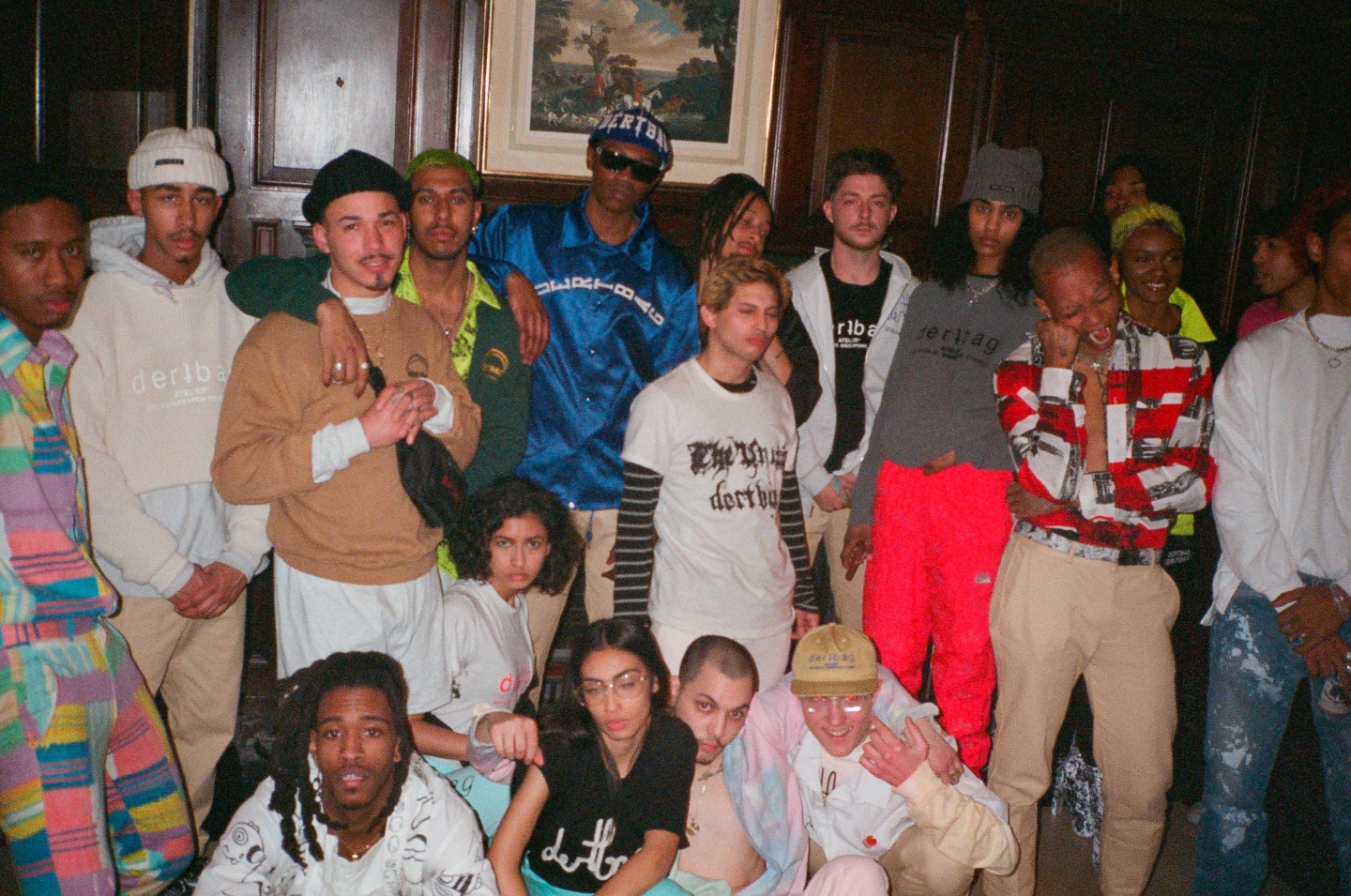 Do you feel like staying in Connecticut keeps you grounded?
It's quiet out here. There's more room to do so much out here cause New York is kinda wack now. People that come out to Connecticut and see the vibe and the community that I've kind of built — it's just way nicer and way more genuine.
And its green, right?
Yeah, and I live by the beach. Both of my parents are creative. Weed is legal. It's like, Why leave? Who else is able to say they're doing all these creative things from Connecticut? I'm really staying true to my hometown and people fuck with that, too. People fuck with the hometown mentality.
So now that you've done the show and accomplished so much, what has it all taught you?
[That] as long as I have kids who fuck with the brand and what I do, then that's all I can really ask for. I know I am doing good and even the experience with Yeezy, I am one of the best. I don't want to sound arrogant, but there is no me in the world — especially the amount of hours I put into clothing and graphic design and just doing what I do.You know, what's crazy is that people genuinely love what I do. My work speaks for itself. You can't not like my shit. I am the best me.
It's cool that I am able to be myself. All the stuff I wanted to happen has happened. In that Complex [story] I said I wanted to creative direct for Kanye and that happened. My new goal is that I want to creative direct for Old Navy. I want to reach the masses. I really want to bring my swag, like the stuff I was wearing when I was a little kid with the crazy prints, to the masses. I'm interested in creating easy to wear clothing. All the fits from the show, you could literally throw any of those looks on and you'd look amazing. That was a goal for me way back when I couldn't do head to toe stuff. My new shit is that I am trying to do shoes. I want to do some shit with Nike or Converse. People just need to give me the opportunity where I am able to just create cause I will just make some fire stuff.