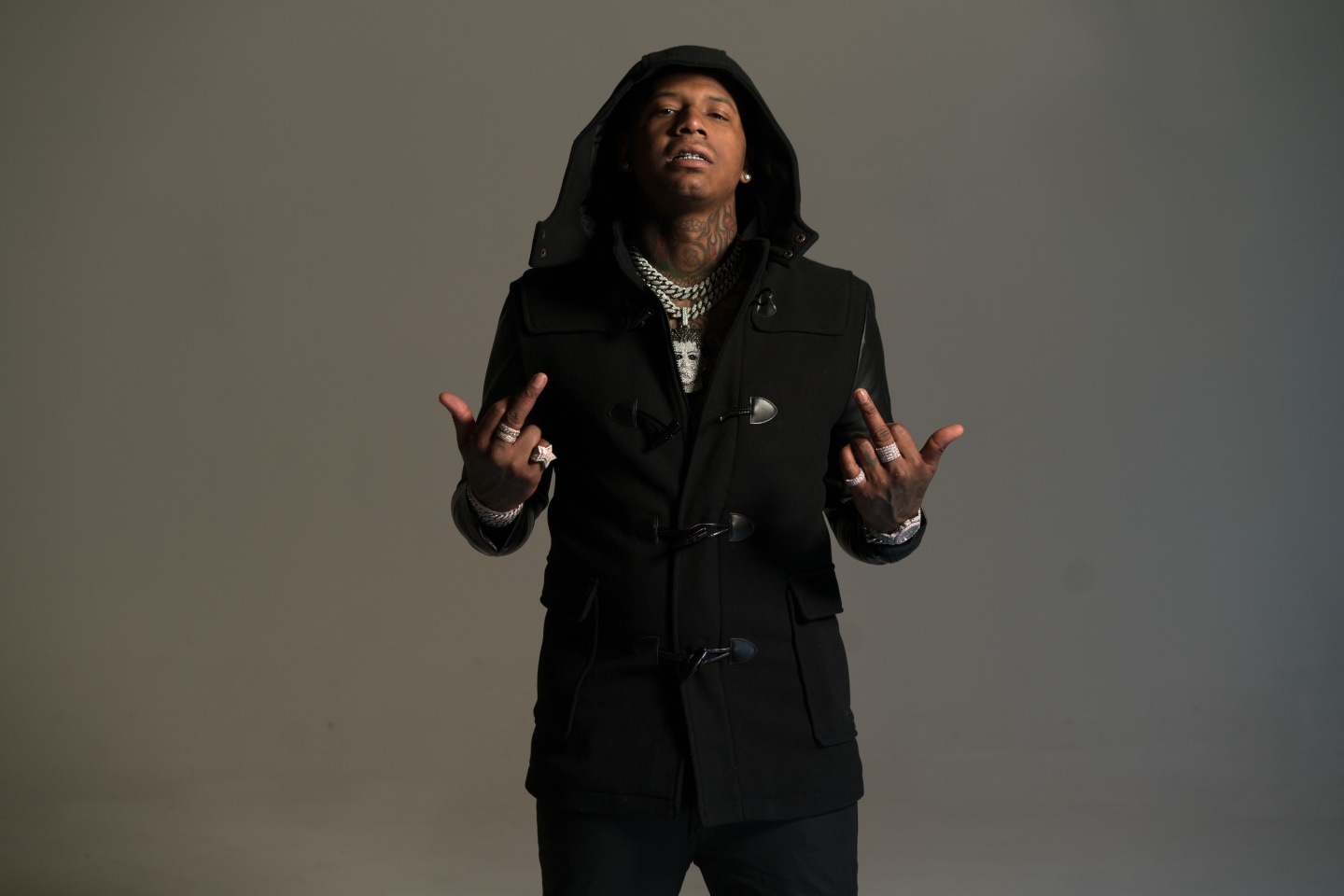 Moneybagg Yo calls it like he sees it, painting clear-eyed pictures of street life with colorful realism. Maybe it's the weathered perseverance he earned from grinding on the streets of South Memphis, or maybe it's the responsibility forced on him by fathering seven kids. Whatever the reason, Moneybagg, real name Demario White, radiates the warm and confident composure of a wise uncle or a savvy businessman, tossing off altruisms, life stories, offhanded humor and bits of advice with a shrug that says, trust me.
And you should. Listen to Moneybagg's music, and you understand why his last street album, 2017's Federal 3x, charted at number five on the Billboard 200 without a hit single and with only one feature (from former collaborator YoungBoy Never Broke Again). His voice is both melodic and syrupy, muddy and flexible; vowels in his Memphis drawl, whether he's rapping or speaking, turn into a guttural soup, making him sometimes sound like he's on the verge of tears, and other times like he's doing voice-over for a cartoon character.
After dropping out of high school, Moneybagg worked the streets on Memphis' Southside, but by 2015, his street tales and distinct voice were getting him noticed by fans in his hometown. His 2016 tape, All Gas No Breaks, caught the ear of the self-proclaimed King of Memphis, Yo Gotti, who signed Moneybagg to his CMG management imprint. The pair released a high-octane joint tape, 2Federal, near the end of 2016, and Moneybagg roared into 2017 with three of his own projects, which included Heartless, Federal 3x, and a collaborative project with YoungBoy called Fed Baby's.
This past Valentine's Day, Moneybagg released his first project of 2018, 2 Heartless. Featuring appearances from Gotti, Quavo, Lil Baby, and fellow Memphis rapper BlocBoy JB (Moneybagg scored a cameo in BlocBoy and Drake's "Look Alive" video), the project is a continuation of his tireless grind. Despite his unflappable confidence, he can't hide a sense of awe and excitement at his current position: "I still get chills to this day, bruh," he told me, on a recent call, about performing live. He understands hard work, and he also understands how good it feels when it begins to pay off.
You had such a big 2017, with three projects. What separates this project from the ones last year?
With 2 Heartless you can just hear the elevation. I'm still talking the day-to-day facts, street facts, that'll get you through the day and keep you going, but it's on another level right now. I'm speaking it from a different standpoint. With the first Heartless, I was just tryna get my feet wet in the game, and it was like, nobody wanna help me, nobody wanna show me love, so I ain't feel the love, nowhere. That's what made me heartless.
And then when I dropped Federal 3x, once I got with Interscope and got the distribution deal and things, it was like everyone started coming around. They want to be around me, they want to show me love, and then I found out that it was so fake! So that turned me too heartless.
One thing I love about your rapping is your wordplay. It's so original, and it really cracks me up. What's your process for writing rhymes? And have you always been this funny?
I don't really write on paper no more. I used to write and sit down in the car and smoke and listen to beats; that's how I came up with a lot of past projects. As I got to growing, and I got to being on the road and being on the go, I couldn't write. So that made me just go in the studio, hear a beat, smoke, and come up with it right there. Sometime when I'm on the road, if I hear an idea, a melody in my head… on the iPhone we got the voice memos. So I just record the melody or sound or the whole idea for a record. And when I get back in the 'yo I just finesse it. But the wordplay really came out just being in the streets, in the mud. I really talk like how you hear me rap! I really talk like that.
Right. You really use all kind of words.
Yeah, all kinds. It trip people out around me all the time, they be like, "Bro, your choice of words be so crazy, you so funny!" I keep people laughing around me.
I know you have seven kids. Can you tell me a little about them?
I don't really like to speak on 'em. I don't want to get them crossed up in my life. I want their life to be a whole different set-up. I might post them every now and then on the Insta story or things of that nature but I really just be keeping my personal life outta the whole music world, you know what I mean?
I respect that. Are you cool with all their moms?
Yeah. Cool with all of them. For me to have four baby mamas...they're really a blessing. I been seeing people that have one or two baby mamas, and they go through hell with they baby mamas. One or two girls take them through so much, but I got four and we all see eye to eye, it's love.
So it's one big family.
Exactly. One big family with all of them, and everything's cool. They don't all kick it with each other but everybody cordial.

"What I'm doing is, I'm saying stuff that niggas got on they mind, but they don't wanna say it." —MoneyBagg Yo
One of my favorite tracks off the album is "Black Feet," which features another Memphis rapper, BlocBoy JB. How long have you know him?
I just met BlocBoy. After he started sprouting and reaching this new peak in his career, I had really just got a whiff of him. But then the pieces of the puzzle connected, we started being around each other, I got me a cameo in him and Drake's video. We were courtside at the Grizzlies game and I ran into him and Drake and Drake was like, "Man, what're you doing after this? You gonna pull up to the video shoot? We need you in there, man. With you in the video it's gonna be heavy." So I was like, "Okay, fasho, I'ma pull up."
How was Drake?
Drake cool. I really wanna get in the 'yo and just lock in with Drake. That would be a dream come true, really. Just to lock in with Drake. Him and Future, and [Kevin] Gates, and [Young] Thug… he's one of my favorite artists of today. For real. To get in the studio with any one of them, that'd be love, for real.
You really take pride in telling it how it is, which I admire. Why is being direct so important to you?
It's just really about getting that message out there. It took some time for me to learn how to develop, because I used to be nervous doing interviews, I just didn't want to talk, I was antisocial. But then I broke the shell, and once I did — I had observed so much stuff that went on around me, and I just started preaching it. And that's why people love me so much: they be going through the same shit. It's day to day facts! I ain't missing out on nothing. I'm telling everything that's going on. What I'm doing is, I'm saying stuff that niggas got on they mind, but they don't wanna say it. They scared to voice their opinions. But me, I'm their voice. So I speak out on it. I let it be known. So that's why when they hear it, they relate to it so heavy.
Right. And that's your legacy, in a way. These are the types of messages that live on.
Exactly. And people be like, when I'm talking, "Man, I don't wanna hear that, you sound like a preacher!" Sometimes I'm tripping on what they think. But it's real game. I be really kicking game.