Meet the internet's favorite sports commentator
Jesse Jones, the man behind Filayyyy, talks about the movement's origins, making music, and his own basketball career.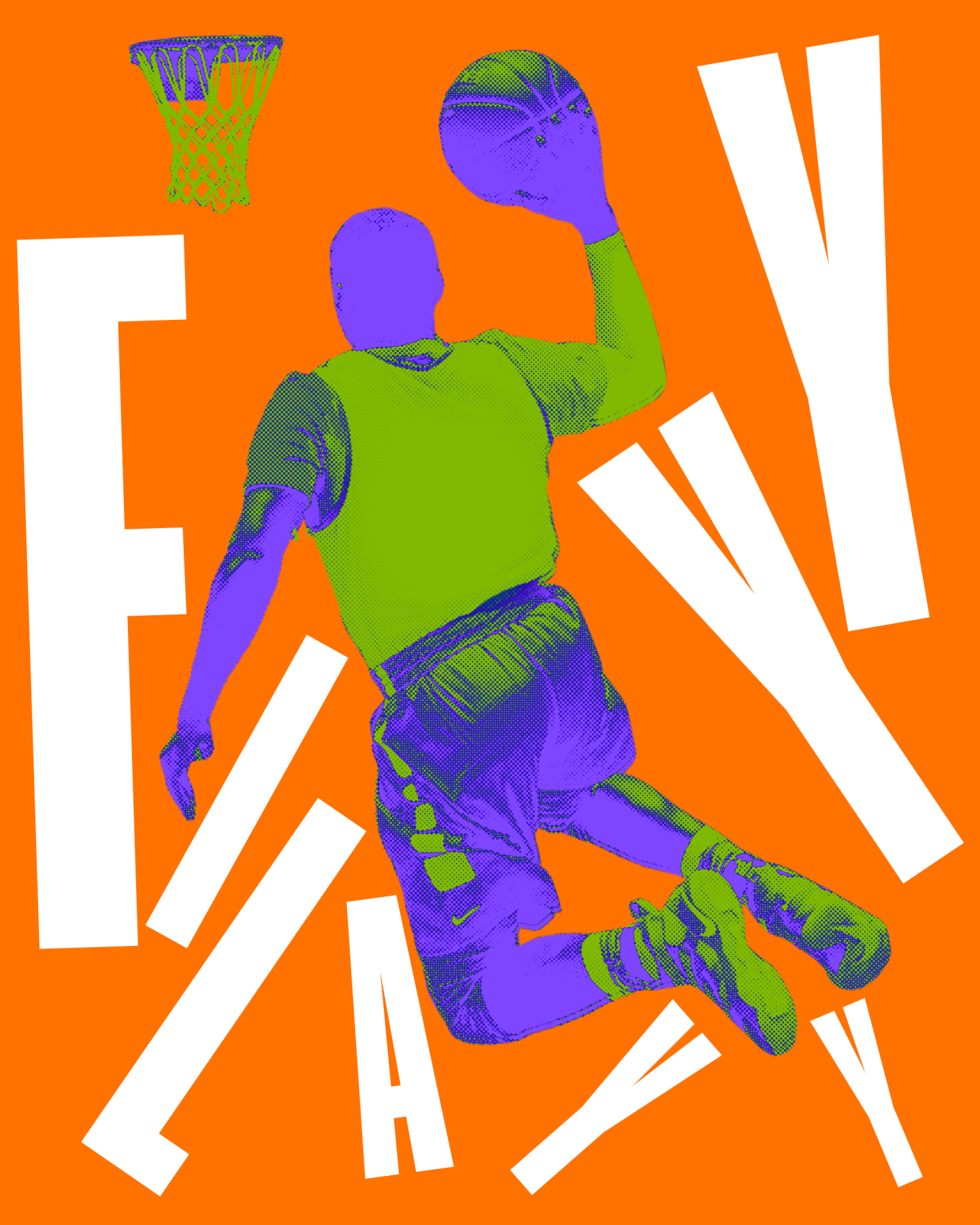 Two summers ago, in June of 2015, during Game 5 of a tied NBA finals series, Golden State point guard Steph Curry put a move on squirrely nuisance Matthew Dellavedova that inspired Jesse Jones to sing. The 25-year-old South Orange, New Jersey resident shared his musical play-by-play on Instagram, narrating Steph's cunning hesitation and behind-the-back dribble move. He capped the video off with his now-trademark exaggerated "Filayyyy" R&B run. Since that first video, Jesse has expanded to narrating compilations of remarkable assists and no-look passes to clips from other sports in his signature testimonial and euphonious style. "Filayyyy is not just videos. Filayyyy is motivation. It's inspiration. It's how you carry yourself." Jesse explained to me over the phone about the growing movement that's taken on the same name.
The NBA's copyright stance is now relaxed enough to allow videos like the ones Jesse posts to live out full and rich meme life cycles, creating a strong informal social media presence for the league. What makes Jesse's contributions to that space so distinct is his knowledge of the game and a pure enthusiasm for the sensational plays NBA players make — a contrast to the routine in-game commentators we hear nightly. Having played basketball most his life — even making it to the NCAA tournament in his junior year at the University of Bridgeport — Jesse has hopes to go pro overseas. But for now, he's fulfilling the destiny of the Filayyyy movement which includes co-signs from NBA players like Kyrie Irving, Carmelo Anthony, and LeBron James, recording Filayyyy-themed songs, and more videos showcasing his talent for narration, singing, and dancing.
I caught up with Jesse earlier this month, fresh off a trip to Los Angeles for the NBA's All-Star festivities and gathered that his father being a chef might have something to do with his tagline. We chatted about his family, how the Filayyyy movement is about self-realization, and what his dream NBA job would be.
What was the All Star Weekend like?
The All-Star Game was real fun. I had tickets to the game but I didn't really experience it how I thought I would because I had so many events to do. People knew I was in town so everybody was trying to catch me. When I did get to the All Star game at the Staples Center, I got there the second quarter. That was a great experience — being in front of a lot of people, being known, being out there in LA and up close at the game. Better than seeing it on TV. I saw the dunk contest the day before. I missed the 3-point contest and the skills stuff because I had another event to go to.
I saw that you actually got to do some of the All-Star challenges. What was that like?
They let us come in and practice on the actual court that they use for the game at the Staples Center. I did the skills challenge. I did the 3-point [challenge]. The atmosphere, it was nobody in there, but I felt like a thousand people were looking at me when I was practicing by myself. That was a great experience. It was like a dream come true, an unexplainable moment.
It's even more special because you actually play basketball. Where did you play in college?
I went to a small community college in Paterson, New Jersey called Passaic County Community College [for two years], then I transferred to a university in Connecticut which is University of Bridgepoint [for two years]. I had an OK first year, second year I did exceptional. I had a great junior year, got a college championship. We made the NCAA tournament. Senior year was cool. Got my degree and now [I'm] working out to go play pro. I started my brand a while back, and it started to blow up when I graduated. I've been working on my brand and building it ever since. It's been a blessing. It's been crazy.
I feel like NBA players are showcasing their personalities more and more because of social media. It makes sense that they'd be drawn to somebody like you.
[Social media] is showing that they aren't inhuman. These are some of the best players in the world so them showing their personalities lets other kids go: "Oh ok they're not inhuman." They laugh. They joke around. It's not just all being serious with basketball.
When you were a kid, did you want to be a singer? Did you want to be a basketball player? Or both?
The crazy thing is when I was like 10 years old, I wanted to be a chef because my dad is a professional chef. I was always in the kitchen with my dad. Then after a while I started playing basketball and gradually grew towards that. But I always loved being in the kitchen with my dad. He could sing, my mom could sing, my brother could sing. That was always a hidden talent I had for years. People never knew I could sing besides my family. Once I got older, I stopped worrying about what people were saying, I started to be me. People found out I could really sing and I turned it into something like "Filayyyy".
Does your family sing at the house when cooking or doing chores?
My dad always sings when he cooks. When he's at his restaurant, he's always singing and playing music in the kitchen while we're prepping food. I used to always sing with him and notice how he was comfortable singing in front of people and just not worried about nothing. I always looked at that like, "One day I'll be able to be confident and do that myself." My mom would always sing. She sang in the choir with her sisters.
It sounds like your parents are big influences for you.
Growing up, I had a good parenting system. My parents were hard on me. It wasn't nothing sugarcoated, nothing was ever given. Everything I worked for, I earned it. My dad, he had money to give me but he just said no because he didn't want me growing up spoiled or anything like that. At the end of the day, it made me humble, it made me work hard. My dad and my mom were always there for me. They pushed me. When I got older, I understood that [my dad] being hard on me got me to where I'm at right now, and got me my mentality and how I work towards basketball and goals in general. Having a father figure in your life is a real big part of your life.
What kind of music played at your house? ?
Sundays, [it was] gospel music, Marvin Sapp, Kirk Franklin, Hezekiah Walker. You could go down the list. R&B, Bilal, R. Kelly, Curtis Mayfield, Donnie Hathaway — that's more my dad's lane. My brother is more rap music. I'm just a mixture of that. A lot of older fans of Filayyyy like my tone because it's more R&B. That's all I heard growing up. I was a young kid who knew a lot about music because my father always listened to old school music around me. I was 15, 14, listening to Donnie Hathaway and people were like "What do you know about that?" I was like, "I know a lot about it."
Was there a time where even though you liked to sing and dance, you weren't sure there was room for that in your life? Like you couldn't fully be yourself?
Oh yeah. That kind of was my whole life. I was a basketball player but when I was home, I was a singer and dancer. I never really danced with my dad [around]. He was always like, "You can't be clowning 'cause people are not going to take you serious." But he said there's a time and place. And once I figured out how to do [sing and dance in that] time and place, I understood what my dad was saying. When I learned how to [fit] everything into one deal, everything blew up. Singing behind the videos then dancing behind the videos.
Today I'm myself and I feel great. I work out, do my videos and I go from there. My life is good, I'm good. I don't care about what people say. I'm not worried about nothing. Back in the day, I was just so worried about what people were going to say. I'd never sing in front of people. Now everything is just opened up. It's real good.
What would you say to kids who have different aspects of their personality and interests and they're not sure how to fully be themselves?
What I would tell them is to make sure you like what you do. It's a difference between you being forced to do something and you picking and choosing what you want to do. [If] you got three things, choose that one thing and see if that one thing is in you. If that one thing is in you, go to the next thing. You can use those three things to gradually build yourself, and you go from there. I tell kids everyday I didn't start off singing, I didn't start off dancing, I didn't start off being an entertainer. This stuff just came my way. I found a niche. Kids ask me, "How do you grab engagement like you do?" It's just being genuine, being real. Not telling lies.
I saw you dancing to a remix of the Kim Possible theme on Instagram.
That's a like a Jersey thing. Jersey club music. You only hear that in Jersey. The uptempo beat, club energy type of thing. That's what I preach — energy.
And you have a Jersey club track that you put out?
It's not even out yet. That's something else. That's a more uptempo stadium beat. If you're ever in an NBA stadium, that's more of the song I put out. It's called "Club Filayyyy."
So you have other tracks coming?
Yeah, I have another one, somebody else is helping me with that. That's the club one that I danced to with the Kim Possible [sample]. It's going to be the Filayyyy but the Jersey club version. Then I have another one, it's more of an R&B version called "Soul Filayyyy." I have a few things coming out.
Was there a moment where you realized Filayyyy was more than just the one video you did?

When I first noticed it, I [had] graduated from Bridgeport and stopped doing my videos for a long time. When I put a video up after I graduated, I had gotten a lot of comments [from] people like, "Yo man you should push this. You should make this a brand." My girlfriend actually told me that. I didn't notice [the rise in popularity] because at the time I was in season at Bridgeport and was more focused on basketball and finishing school 'cause I was a senior. I guess my press built up, followers started to engage with the page. After I graduated [when] I went to certain places, people were like, "Oh that's Filayyyy! I love your videos." After a while I'm just like "Ok, I'm going to keep this going". When I knew Filayyyy really blew up [was when] my dad said it. I didn't think he knew I was saying it or even pushing the movement. [Then], people just started to contact me — NBA players, BET, ESPN. After that, I was like "Alright I'm going to go with it. Take advantage of it." I started to make decisions, making merch, building my brand the right way, make sure I post the right things. Every other month it's something different, it's a blessing.
You're also still pursuing a professional basketball career overseas. What does that entail?
It's a decision for me to make, and a decision I haven't made yet because of my brand and what's going on back at home. [What is happening with Filayyyy] is a once in a lifetime opportunity. Not saying I can't go overseas because I got my brand, but the position I'm in right now is helping me grow better than how basketball would help me grow. And I'm still doing something that I love to do — sing, entertain, inspire kids, build, and put smile on people's faces. Basketball is still incorporated with this — I'm playing everyday. I make my videos and I go to the gym everyday. I put in work just to stay ready. You never know, somebody may call me and be like, "Hey man what's up, we got an offer for you to come to Italy, come to Turkey. Are you ready? Are you in shape?"
What are your goals for the Filayyyy Movement?
First goal is to be successful. Second is to push the brand bigger than where it's at. Being a motivational speaker all over the world. Going around and teaching kids that you could be yourself. Third goal is just to play basketball. That's my first love. I've put my life into it. I work hard. And just making sure my family is good because that's how I got here. I wouldn't be no where, I wouldn't be close to where I'm at right now if I didn't have my family, my mom, my dad, my girlfriend, my brother. Especially my dad and my mother.
Do you feel like the NBA could do a better job incorporating folks like you who are popularizing the game in creative ways?
The NBA, they're trying to change the culture. People think of the NBA as being serious. They just recently let people use their content [legally] so that's one good thing. Before you couldn't take NBA content or repost or nothing like that. Once they let people do that, I felt like that [ther was] leeway with helping the NBA and social media in general. But yes, I think they should put influencers in videos to keep the culture going. The culture is changing [quickly] so you have to keep coming up with ideas.
What would be your dream NBA job?
Actually calling the All Star game. Live commentary, on the floor, play by play. That would be crazy.