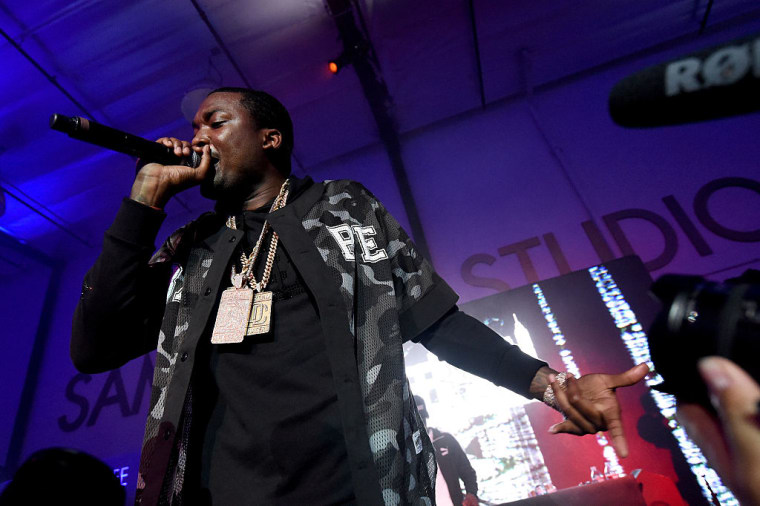 Philadelphia District Attorney Larry Krasner asked Judge Genece Brinkley to vacate Meek Mill's 2007 gun and drug conviction on Monday morning, potentially leading to a new trial. However, the judge refused to throw out the charges and returned the rapper to prison. He will face another hearing in June.
Meek Mill was sent to prison by Brinkley in November 2017 for 2-4 years for probation violations. Krasner's office are pursuing a new trial after Meek Mill's arresting officer Reginald Graham appeared on a secret list of police with "a history of lying, racial bias, or brutality" discouraged from testifying, and another former Philadelphia police officer claimed that Graham lied during his testimony when he claimed Mill pointed a gun at him prior to his 2007 arrest.
Despite Meek Mill's continued imprisonment, his legal team sounded optimistic. Speaking with Philly.com, Brian McMonagle, an attorney for the rapper, said he was "elated" by Krasner's appeal to dismiss Mill's 2007 charges. Mill's attorneys will "immediately" file for his release with a higher court, McMonagle said. The team previously revealed its intentions to file for Mill's release with the state supreme court.
Meek Mill's legal team and Judge Brinkley have clashed throughout the rapper's case. In its second filing for Brinkley's dismissal from the case, the team claimed that Brinkley "exceeded the judicial role" and took an "unusual interest" in Meek Mill's career. Brinkley denied these charges in an April filing denying Mill's request for bail, writing "This court committed no error" in its sentencing, and rejected allegations that she had asked Meek Mill to record a version of "On Bended Knee" by Boys II Men.
"We are thrilled that the District Attorney's office has consented to the PCRA relief which we requested on Meek's behalf," Joe Tacopina, an attorney for Meek Mill, said in a statement emailed to The FADER. "As a result, the DA agrees that his conviction should be overturned. DA also stated in open court that the prior DA was aware that Officer Graham was untrustworthy as far back as 2005, which was never disclosed to Meek's defense team. In light of these significant developments, we are stunned that Judge Brinkley continues to adhere to her view that Meek is not entitled to immediate release on bail. We will apply for emergency relief with the Supreme Court immediately, and are sure that this travesty of justice will be rectified soon."
This post was updated on Monday, April 16 2018 at 12:53 p.m. to include a statement from Meek Mill's attorney