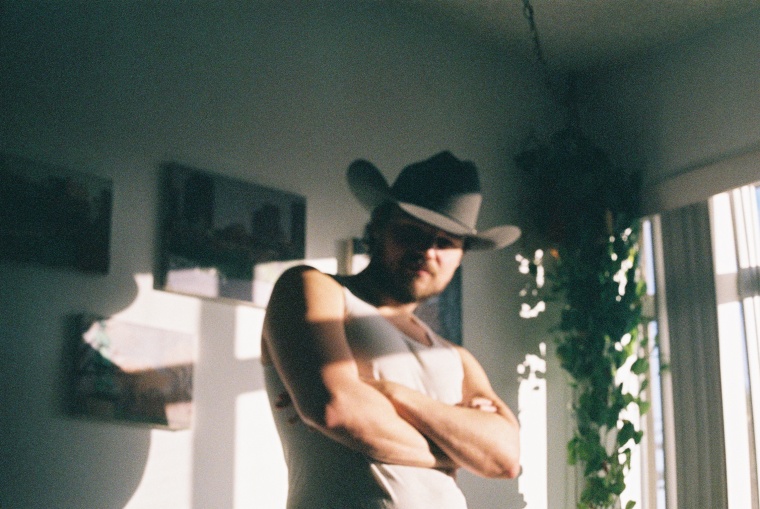 Bro-country, that is basic country music made by men, is often maligned for being flat-footed or corny, but the genre's real appeal is built on men quietly letting their emotions slip in between songs about beer and chasing women. Sam Buck, a 30-year-old artist originally from Massachusetts, flips bro-country on its head with his songs about life on the beaches of gay mecca Provincetown and in the paradise of L.A. On his new EP Borderline, premiering today on The FADER, he constructs a character we really haven't seen before: a swaggering country giant who replaces all of his toxic masculinity with queer vulnerability.
That is not to say that the music is limp in any way. On the bouncy "Faces," he spots all the guys in the bar who he's already fucked, and recognizes how hot he looks in a sports jersey. And on "You've Been Served," he asks his lover, "Remind me your name again?" It's a woozy collection of songs perfect for a summer road trip to the beach. Listen to the EP and peep our interview with Sam Buck below.
Where does your love of country music come from? I feel like it's the back bone to what you do?
Well I didn't grow up with country really. My mom had a pottery studio that was her business, so I grew up with a Lillith Fair playlist, like Tracy Chapman. I did have the Dixie Chicks but my parents were kind of base-level Beetles loving Baby Boomers. I guess my love of country came from my friends in high school. I had my best friend who was obsessed with country and she got me on board. It honestly started with early Miranda Lambert, where I was like Oh yeah, this really resonates with me. It was really good songs, but she's like the Britney [Spears] of country to me. Now my taste skews more like classic '80's and '90's ladies, like The Judds and Pam Tillis and people like that. It definitely did start with Miranda.
When we've covered you on the site, we've used the label of "Bro-country," and wanted to know if that's something you actively embrace.
When I started writing this batch of songs that was sort of the drag that I was wanting to put on — this high masculinity. Well, where I grew up, it was just very suburban, so I was getting called a fag out the window by, like, bros in Under Armour hats and shit. I didn't grow up in the country but that was my goal. I wanted to do a highly visibly gay form of this, which probably started with Thomas Rhett who I was just like... he is so hot, his voice is so sexy. Him, and I guess some other bros, too — but I'm like, less into Sam Hunt — it sort of made me feel comfortable having that masculine voice for the first time. That was sort of donning the Bro Drag in a way because before I started writing these songs, my voice was more Anohni-esque. It was more dramatic and I always thought of my voice as like female, kind of, until I started working on these songs.
I think that in the songs too, there's a very — I guess for lack of a better term — sexually free attitude on them. Like, I love in "Faces" when you're like "I've slept everywhere in the bar" and on "Redo" you're like "I'm done with discreet men who never want to get divorced." I haven't heard that perspective on a lot of music from the gay male perspective.
Yeah, and not to throw shade on other guys in mainstream country who have come out. But its like, their music was pretty obtuse and vague about it, but they would have a cheeky video or something where it's like I've got a crush on this guy. But it was important to me to be explicit. Everyone's gay experience is different, I don't want to be like, So if you're gay you have to be a slut... But it is for me [laughs].
Living in Provincetown, that was the starting point for a lot of these [songs]. Because it was a beautiful place and I had a lot of beautiful moments living there, and it's also like a land of gay excess. There's obviously a downside to that too.
I was going to ask you about Provincetown, MA. Why is it a place where you were able to really create in?
Provincetown is so interesting because it's actually really hard to live there. Like it's so insanely expensive, my boyfriend and I lived there for two summers and we had to pay so much money. Like, we lived in a trailer park for a summer and we still just broke even. And we also worked so much, so it's interesting, just the setting. I was working at a restaurant and writing these songs very quietly. We lived on one of those wharfs above a restaurant called Sal's that's been there for, like, 50 years. So many stories unfold there, it's just idyllic and and wasted, and so for me it was in the spirit of country music. That's where I wrote "Faces" and "I Do Not Blackout," too. They were [songs] about real people. Seeing my friend stumble home and I being like, "Damn I hope she makes it." [laughs]
For someone who listens to this EP for the first time, or hasn't listened to your music before, what do you hope they understand about you from this EP?
I think my point of view is pretty clear. Actually, people who hear the music out of context don't get, one — that it's country, and two — that I'm gay. On stage I would sort of come out every night, just in referencing "my other bandmate is my boyfriend," stuff like that. [My boyfriend] Sam got me a really nice cowboy hat for my thirtieth birthday last year and I brought it on tour. Country is so much about authenticity for whatever reason and how country you are, and I had been too afraid to wear the cowboy hat — until we got to Texas. Then I was like Fuck it, I'm gonna wear it. And immediately people got it more.
So I hope that when people hear it they hear it's my attempt to push country forward in a blatantly queer way that's completely natural to the genre. I'm not coming out as a major label Nashville star and then just being coy about my sexuality. I want it to be just very blatant, I guess.