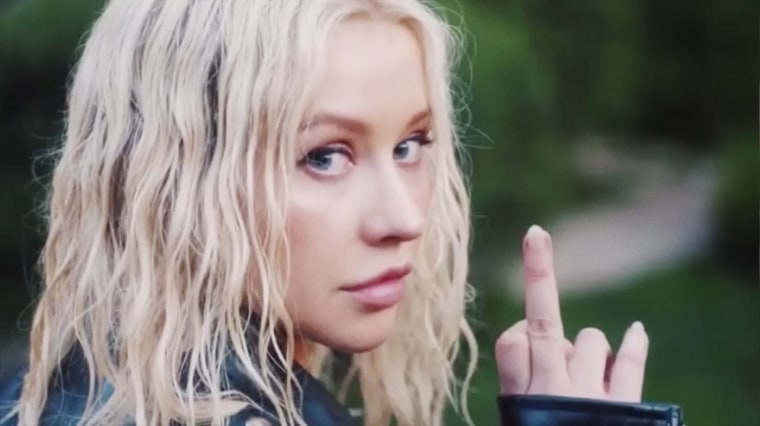 When musicians take artistic breaks, we expect them to come back with certain lessons learned or a new worldview to share. It's been six years since Christina Aguilera has put out new solo material and it seems like she just wants to scorch the earth, an admirable mission for a powerhouse vocalist that's spent 20 years in the spotlight. In her reintroductory magazine profile to the world, she appeared completely fresh-faced and freckled. In subsequent interviews, she's clearly explained her hatred of her time as a judge on the squeaky clean TV show The Voice and said that she's very happy to share her new "raw, gritty, grrr" R&B sound with the world.
"Accelerate," the first song from her eighth studio album Liberation, is the manifestation of her new ethos — it's definitely not paint-by-numbers pop. The song was produced by a team of hip-hop heavy hitters including Kanye West, Honorable C.N.O.T.E., Che Pope, and Mike Dean and the song sounds like a poppy extension of the intense palette of instrumentation Kanye drew from on 2013's Yeezus. The result is one of the weirdest and most sonically interesting pop songs of 2018.
The song starts off with Aguilera chanting through layers of distortion over some messy drums, and then breaks into her rap-singing with Ty Dolla $ign ad-libbing behind her. There's a lot of sparse instrumentation going on throughout the song but it feels silent for a lot of the time. Synth keyboards jump out and surprise the listener at every turn. Ty's voice, normally ethereally smooth, sounds gravely like he's been up for weeks at a time chain smoking. 2 Chainz lends a verse, delicately bouncing over a new beat that comes in when he starts rapping. The entire thing is arresting and it took me a couple listens to figure out where the hell all of the sounds fit in to place. Once I did though, this song became as addicting as anything coming out of the L.A. pop factories.
Unfortunately, American pop audiences don't tend to immediately latch onto new ideas. "Accelerate" debuted at #24 on Billboard's Bubbling Under Hot 100 chart. She's released two more songs from the project, surely to reassure audiences that she can still shut down a ballad like no one else. But I really think audiences should give "Accelerate" another chance. It's a brave artistic choice that deserves some serious love. Please stop sleeping on Xtina.