When a World Cup kit is good, it becomes iconic. Due to the competition's quadrennial nature, each time the world's biggest sporting event comes to town is one of a very limited number of opportunities to show the fuck out. Not only do hometown fans rush to swoop up their selection's latest offering, but so too do neutral fans who want to find a reason to support more teams than just their own.
Come World Cup time, some countries, like France and Brazil, double down on their storied tournament history, choosing to always opt for the traditional over the sublime. Others, however, take their time on the world stage to exhibit what makes their own personal brand of swag. Enter Nigeria '18.
When Nike revealed its full lineup of World Cup kits for this summer's games, Nigeria's was the obvious star. Sure, eyes may have paused at Australia's wild yellow kits, or the classic cut of England's all whites, but it was one flashy white-and-green jersey that stole the show. Nigeria's triangle patterned home kit became not just the best one revealed for this tournament; it instantly became the hottest piece of soccer gear since Juventus's Drake-modeled pink jersey from the 2015-2016 season.
Alongside the Super Eagles's hit jersey, Nike also released a collection of other gear, including track jackets, bucket hats, and boards shorts, all boasting the same shades of green and that distinct pattern. When the collection went up for sale on June 1, it sold out within minutes; some estimates had it at three minutes, speeds typically associated with the presales for Beyoncé tickets, and not merchandise for a soccer team expected to crash out in the first round.
To get a better sense of how an instantly-iconic World Cup kit comes to life, we hit up Nike FC's Design Director Pete Hoppins, who is in charge of not just the jerseys worn in Russia this summer but also the apparel that brings the "story" of a country to life through soccer. We also asked him for his thoughts on making the Nigeria kit, and why he thinks the buzz around the Super Eagles reached such a din in the run-up to the jerseys being released.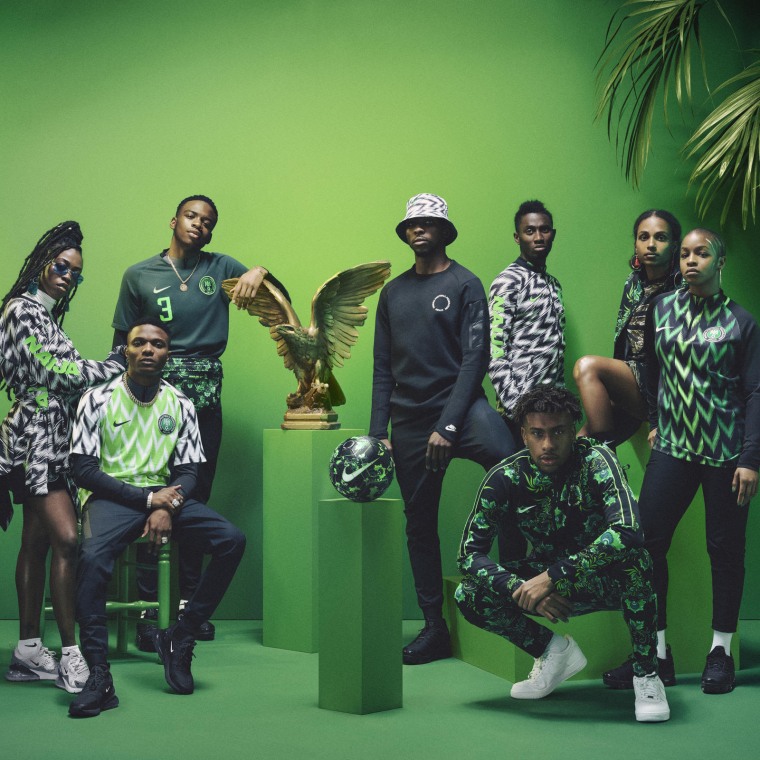 When does planning for a big tournament like the World Cup happen from a design point of view?
We work to a timeline, a plan...if you have to make 100,000 jerseys or a million jerseys, those jerseys have to be manufactured and shipped. We have a calendar that is over two years out from the event. For example, we're designing Euro Championship jerseys for 2020 right now. We're almost finished. The kick-off for the process starts even earlier than that sometimes, as much as three years out. For the World Cup '18, it was a three-year process.
Once you know who you need to make jerseys for, what does the process look like for coming up with designs?
We use the big moments in time, Euros or World Cup, to rally behind a new innovation. A new aesthetic for Nike Football. We start off working with our innovation partners within designs to create a chassis for the kit, a new innovation. That is often a fabric or yarn that's going to increase performance; lighter weight, or faster drying than before. That's the goal: improve on the chassis of the uniform with design. To align with that innovation, we create a new aesthetic and look for Nike Football. That can be something that helps tell the story of that innovation, or a mood and feeling that we want to portray to the world. We want to also help the players feel faster and more skillful than they have ever felt before. Eventually, we'll land on an innovation that we want to lock down, that we're super proud.
How much influence do the countries have on the designs?
We get briefed by the various countries or clubs around what they want in their kit...or what they don't want to see. If you take Brazil, for example, it's going to be yellow. There's no skirting around that one, this is what it's going to be. That's more about us bringing out the soul of Brazil into something that is always a yellow jersey. On the away kit, we can try something else, though, like a print or something that brings out the spirit of the people.
Some countries will have very specific briefs of what they want, others won't. We'll always do our own research ourselves, within those countries, to capture the mood and feeling of that country and what they want to stand up for. Each country is completely different, what suits their style. Brazil, it's always clean and purist, always vibrant but it also has this kind of toughness to it. Then you look at someone like France, and it's always about sophistication and style. WIthin that, there are still some shared Nike filter that brings the entire collection together.
The big hit seems to be the Nigeria kit this time around. What made you decide to push the design on their home kit into such a unique direction?
With the Nigeria kit and collection, what we wanted to do is take a team who there is less expectations on from the media and fans in terms of both on the field performance and kit design. There is less pressure to not mess with the kit than, say, England. While no one expects Nigeria to challenge for the World Cup, we felt that there's something going on with Nigeria as a young team. There's a confidence in all these young players, they're going to go for it and we were attracted to that. We've been following them from afar, and the players on social media...a lot of them are playing in some of the top clubs in Europe, and there's that boldness that aligns in Nigeria and Lagos and in London. We thought that there's something in here to do something different.
Was the collection a key part in that reception for you?
Often, the kit might have an amazing story but sometimes you only have one platform to tell it. If you look at this one from a collection point of view, it's like, "Why wouldn't you do that?" Not everyone wants to wear the uniform, but there's something for everybody there. Every other company would love to have the assets that Nike does, and we're trying to stretch them into the world of fashion and culture, not just performance.
Was Nigeria the hardest kit to design this time around? It feels like it could have been a challenge to settle on a design that's so much different than the typical World Cup kit.
Nigeria was actually the easiest! That's everyone having fun. We worked closer with the players and the Nigerian federation to make that happen. The hardest were Brazil and England, just like always. It's got to be a yellow kit and a white kit, respectively. You have to deliver that. Otherwise, you'll be shot. [laughs] How do you move those forward every two, four years? Especially when you're trying to innovate the performance. We're not just going to add things to the kits for the sake of it.
What Nigeria is hopefully going to allow us to do in the future is show that some of the more traditional teams that if you are willing to be creative in the partnership, you can ultimately have something more culturally relevant that connects with the youth.
Once that idea, that this should be different, was settled on, how did the design process move along?
A guy here named Matt Wolff, he designed this home kit. He was inspired by the classic 1994 kit with the eagle wings. We kept pushing the design and pushing it and pushing it to see how far we could go until we were like...that just looks fire. We had this super energetic kit on a team where we think we can get it through the board. Ultimately, our client is the board, the president of Nigerian soccer has to sign off on this. We had more traditional backup options, in case they didn't go for it. Some wouldn't; we'd never push this on England. But we wanted this, so we went above and beyond to present it. Another of our design directors here, a guy named Daniel Farron, got a team of designers across Nike and asked them, "We've got this kit, what else do we want to do?" He went about and helped build this whole collection using various designers to really build on the kit and create this energetic moment around Nigeria. Everyone here thought this was the craziest thing going here, this is mad.
Why do you think the Nigeria kit was such a big success off the bat?
It just hit in the media and online, it just hit in the right moment where the stars aligned with a design that resonates with people. It was the right kind of thing to do at the time. Often, you're dealing with an older generation to get these kits signed off on, and they won't always go for newer ideas, even if you know that's the thing the kids will be into. Fair play to Nigeria though for letting us go for it. The results are amazing and Nigeria is now everyone's second favorite team. *laughs*