Elbow-length gloves are back and bad ass
The formerly stuffy accessory returns in badass forms to encourage you to live in the moment.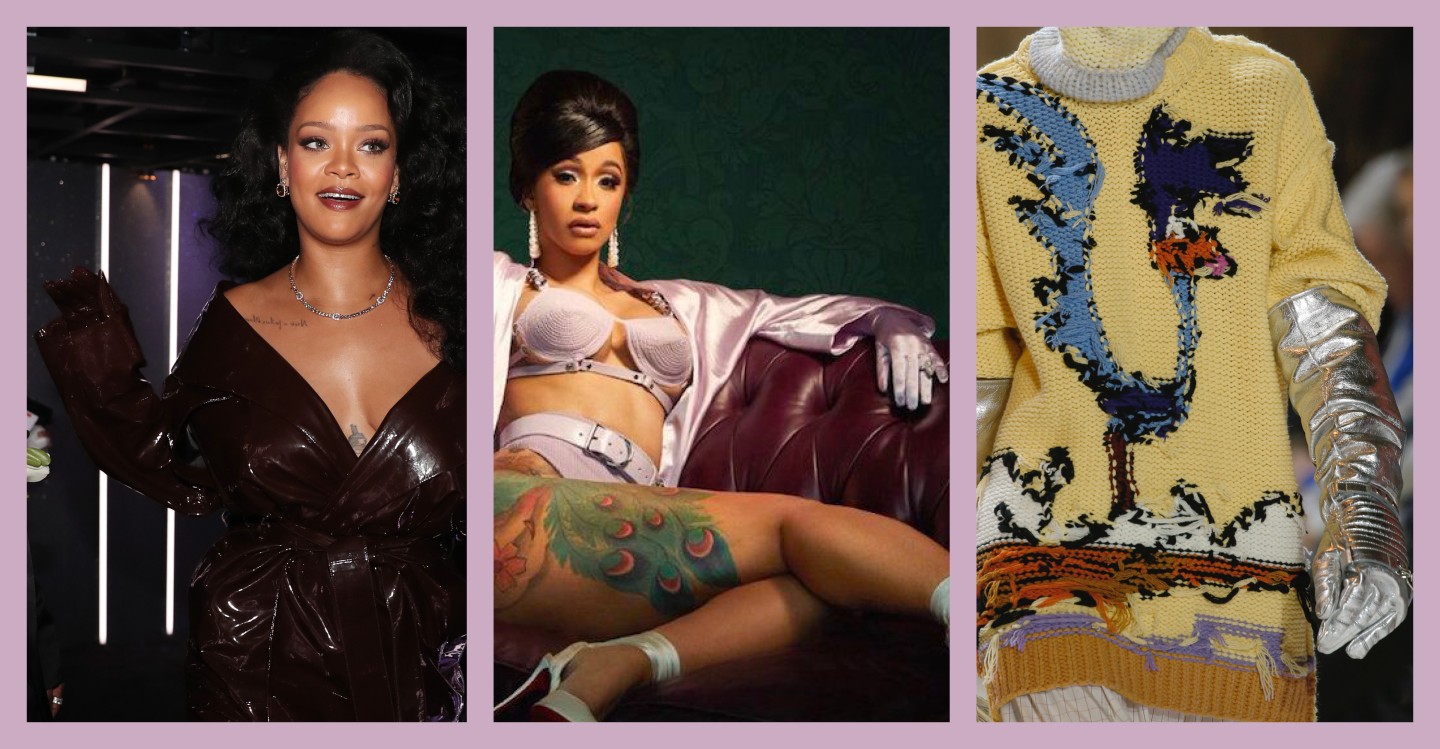 Have you noticed recently that a lot of people — mostly celebrities but also maybe your friends on Instagram — are wearing gloves with their outfits? Like, satin or sometimes sheer gloves that run from the fingertips past the elbow? Or maybe crystal-encrusted gloves, like the Moschino ones worn by Cardi B on the Met Gala red carpet? Or pliable, shiny leather ones like the Alexandre Vauthier gloves Rihanna wore at the 2018 Grammys? Well, regardless: they're called opera gloves, and baby, they're back.
We could get real granular about when exactly women started wearing gloves as an accessory, but suffice to say it started with queens and filtered down into popular fashion. They were around in 440 BC, and by the late 19th century the accessory enjoyed popularity as a necessary upper class accoutrement.
At that time, gloves protected the upper classes from the contagious diseases that ran rampant, and satisfied society's Victorian obsession with modesty. One's hands, whether unblemished and without callouses or roughened by work and sun, belied the owner's social status. Gloves were for a brief period democratizing, allowing women to hide their hands and, thus, their working class backgrounds. But then rich people got wise and started using more expensive and over-the-top fabrics.
After World War I, Gloves fell out of favor until Christian Dior, the sartorial Midas, integrated them into his 1947 New Look collection. Feminists at the time decried the New Look, claiming its corseted waists, long skirts, and gloves were actually kind of an Old Look and socially regressive. Even Coco Chanel, who is credited both with liberating women from the corset silhouette and collaborating with the Nazis, shaded Dior, saying, "he doesn't dress women, he upholsters them."
In 2018, the impracticality of gloves, and their inherent regressiveness, is appealing in a world that runs on constant connectivity, instant gratification, and an obsession with productivity. The moment gloves are enjoying is less about 19th century fashions and more about a nostalgia for the purity and tiny sunglasses we took for granted in the '90s. Wearing gloves means you're not on your phone, you're not at a computer: you're untethered from our masochistic obsession with staying updated all the time. It makes sense that the queen of not giving a fuck, Rihanna, has been on this trend for a while. While she's worn some truly questionable pairs throughout her career (so much lace), this is a woman who knows her gloves. Whether she's channeling Marilyn Monroe in Gentleman Prefer Blondes to promote RiRi by Rihanna or caressing a knife while wearing latex gloves in the "Bitch Better Have My Money" video, she knows how to incorporate them into any look.
Clearly a fan of Vetements' collaboration with Juicy Couture, Rihanna paired her red Juicy sweatsuit with matching gloves early last year, and even wore the black velvet opera gloves that read "Juicy" along the side (perhaps Demna Gvasalia heralding the return of the arm as a sensual body part?). Gvasalia isn't the only designer obsessed with gloves. The accessory appeared in no less than 12 Spring/Summer 2018 fashion shows. Angelic in tiered lace and paired with a hair bow at Ryan Lo, architectural and asymmetrical at Rick Owens, mismatched at Off-White, pink latex at Calvin Klein: the season articulated just how versatile gloves can be. They can read, by turns, as powerful, coquettish, avant-garde, or nostalgic, depending on the fabric, the silhouette, and the context.
While plenty of celebrities, from Kali Uchis to Mindy Kaling, have tried on the accessory for a promotional still or the red carpet, the #1 glove fan is indisputably Azealia Banks, who hasn't been photographed without gloves on for years. There's something almost sinister about this level of commitment, like she's a cartoon villain, but you cannot deny her boldness (fingerless!) or prescience.
But for most, gloves are a special occasion accessory. Wearing gloves requires deliberation and forethought, and in a society of instant gratification, there's something kinky about that. They are a frequent accessory on the always excellent Creepy Yeha Instagram account, where they're paired with the brand's elaborate leather lingerie and harnesses. A friend of mine, who recently wore elbow length gloves to a wedding said that taking them off, slowly, shedding the modesty they might connote, is the best part.
Rendered in luxury fabrics and highly impractical, gloves are also a direct reaction to the utilitarian bent fashion has embraced in the past couple of years. Gloves don't channel the forthcoming apocalypse and they don't have loads of tiny pockets that will help you survive the upcoming nuclear winter. They're for celebrating the present moment: wearing gloves means you're ready for tonight, and fuck all the rest. And there's something pure about that.