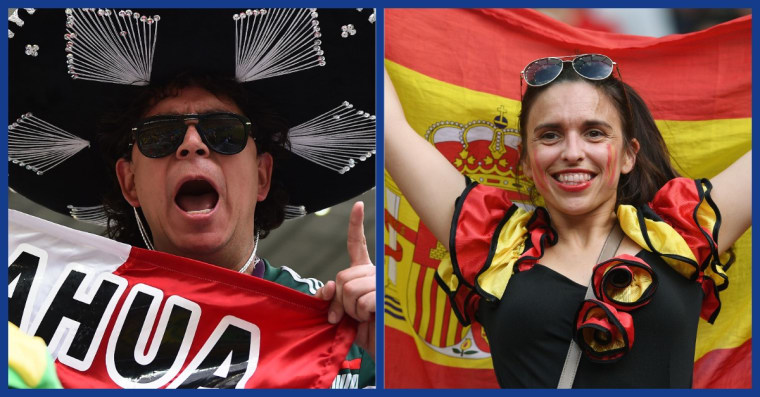 With so much good soccer and so many exhilarating matches, the World Cup is almost selling itself, but there are some that still require a bit of a push and a prod to really dive into this festival of the beautiful game. Perhaps your team didn't qualify — sorry, US, too bad, Italy, better luck next time, Netherlands — or perhaps you're more of a fan of individual players, but it's very possible that after one week of games, you still don't have a team to bandwagon for the next three-odd weeks.
You might want to throw your support behind tournament favorites that still have much to show, such as Argentina and Brazil. Or you might be, prematurely, going all in on one of the smaller and exciting nations, like Senegal or Croatia. With all that in mind, we do think there are two teams that have risen above the pack, albeit in very different ways. These two nations, both Spanish-speaking, play contrasting styles, but one other thing they have in common aside from language is that they have both shown up against big-time opposition. If you still need a team to commit to, buy a jersey, and learn everyone's names and tendencies, you could do worse than these two.

Spain
First, the one tournament favorite that actually played like they could win the whole damn thing. Sure, Spain ended up grabbing only a draw in its opening match against Portugal, but a deeper analysis of that match reveals a striking difference in quality. While Portugal was basically the Cristiano Ronaldo Show, Spain shook off a shocking start — giving up a penalty in the opening minutes is not ideal — to thoroughly dominate every facet of the game. They finished with 62% possession, 12 shots (5 on target), and they probably would have won comfortably if not for a few individual mistakes.
Those mistakes aren't ignorable, of course. David De Gea, widely considered the best goalie in the world, has a history of poor form for the national team, although his bundling of Ronaldo's speculative shot in the 44th minute is the type of mistake that could doom a worse team. Perhaps more decisively, Gerard Pique's foul on, who else, Ronaldo at the end of the game gave the Portuguese talisman the opportunity to score a beautiful free kick to secure the 3-3 tie.
No matter, though. If Spain plays the way they did against Portugal but reduce their mistakes to an acceptable level, they should be able to go deep in this World Cup. Their defense is solid across the line; Nacho might be the weakest link, and even he scored this ridiculous goal. While a bit slow, Spain's midfield is likely the best in the tournament; Sergio Busquets and Koke provide the cover for the magician trio of Andres Iniesta, Isco, and David Silva to do their things. And up top, Diego Costa alleviated some concerns about Spain's strikers with a poacher's goal and this absurd bit of single-handed brutality on Portugal's defense. If you don't mind jumping on a rapidly filling bandwagon, Spain should carry you far into the tournament. But if you want to be a bit riskier with your pick, you can always pick…
Mexico
Yes, El Tri is your "fun choice," believe it or not. Maybe we should have seen this coming. Mexico tore through CONCACAF qualifying to get to the World Cup, and although their friendlies leading up to the tournament weren't the best performances, they have a young, dynamic attack bolstered by a steady defense. All that pointed to them coming out of Group F as the runners-up, behind sure group winners Germany. Oops. A monumental 1-0 win for Mexico over the defending world champions has thrown a wrench into a suddenly fascinating group, and it was no fluke. El Tri is for real.
Mexico shredded a slow and altogether not defensive German midfield with counter attack after counter attack, which leads to some of the most intense moments in any soccer game. Really, that Mexico only won 1-0 is both a testament to how good Germany's center backs really are and how bad Mexico's decision making was in advantageous situations. If they can figure that out, however, they can break on the counter like few others can; take a look at their goal to see how fast and precise they can be.
While the attacking trio of goalscorer Hirving "Chucky" Lozano, fan favorite Javier "Chicharito" Hernandez, and the enigmatic Carlos Vela will get all the love, the backline and, especially, midfielder Hector Herrera deserve just as much of your burgeoning love. When Germany decided to YOLO and send up something like 7 or 8 attackers at once, Mexico did not buckle at all. It helps to have national team star Memo Ochoa in goal, inspiring both joy and "Mexico already has a wall" memes for the Mexican faithful.
If Mexico is to break their Curse of the Fourth Game — they have not won a knockout stage game since 1986 — this is the team to do it with. They're fast, they're strong, they play loose, and they just showed the world that they're still the best team in the region and one of the most fun teams in the world. With any luck, a Mexico-Spain semi-final on the bottom side of the bracket could be the match of the tournament. Just make sure you pick a side before then.