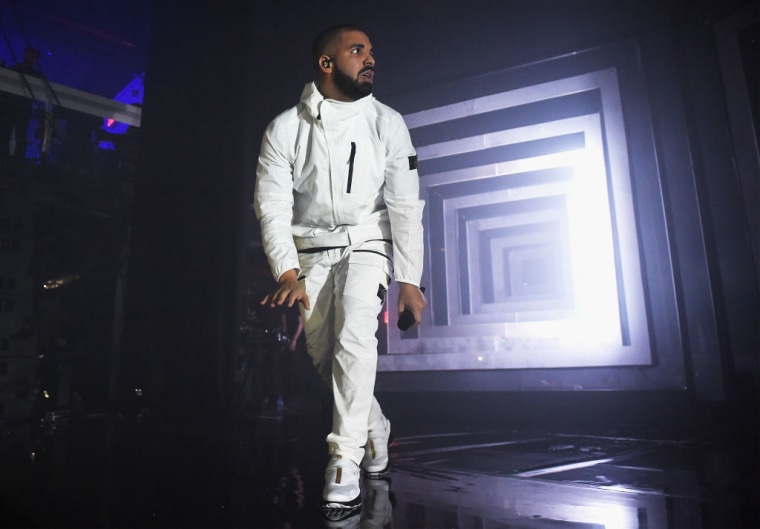 Hip-hop exploded this year after Pusha-T's Drake diss "The Story of Adidon" resurfaced rumors that Drizzy had secretely fathered a child with model Sophie Brussaux. While he never responded directly to the allegation, Drake seems to have confirmed the rumors with lyrics on his new album Scorpion.
"Emotionless," a Mariah Carey-sampling track on Volume 1 of Scorpion, addresses a Pusha-T lyric in "Adidon" accusing Drake of "hiding a child." Drake raps: "I wasn't hiding my kid from the world, I was hiding the world from my kid / From empty souls who just wake up and look to debate / Until you staring at your seed, you could never relate." The song also alludes to Pusha-T's label G.O.O.D. Music, and the viciousness of the beef: "Good-hearted people are taking it to extremes."
On "8 Out Of 10," Drake again references his son on "Kiss my son on the forehead, then kiss your ass goodbye / As luck would have it / I've settled into my role as the good guy."
As Pitchfork points out, Drake explores the feeling of being a parent on "March 14," which is essentially an open letter to his son. Read an excerpt of the song below:
Yesterday morning was crazy, I had to come to terms with the fact that it's not a maybe
That shit is in stone, sealed and signed
She not my lover like Billie Jean, but the kid is mine
Sandy used to tell me all it takes is one time, and all it took was one time
Shit, we only met two times, two times!
And both times were nothing like the new times
Now it's rough times
I'm out here on frontlines, trying to make sure that I see him sometimes
It's breaking my spirit
Single father, I hate when I hear it
I used to challenge my parents on every album
Now I'm embarrassed to tell 'em I ended up as a co-parent
Always promised the family unit
I wanted it to be different because I been through it, but this is the harsh truth now.