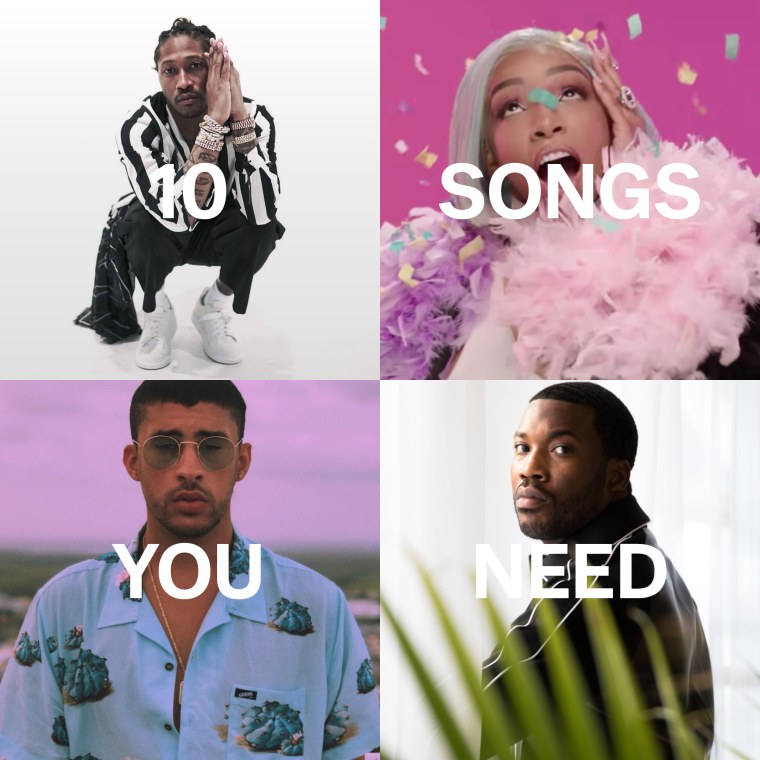 Each week The FADER staff rounds up the songs we can't stop playing. Here they are, in no particular order.

Subscribe to Songs You Need In Your Life on Apple Music and Spotify

Future, "31 DAYS"
There are many great one-liners in Future's "31 DAYS," but my favorite is: "I fucked her made her pee," which I choose to interpret as Future caring about his partner's urinary tract health!
Meek Mill ft. Swizz Beats, "Millidelphia"
The triumphant "Millidelphia" is a hero's return to his city, one filled with well-deserved braggadocio and chant-worthy "Meek!" adlibs.
Christine and the Queens, "Doesn't matter"
Christine and the Queens's latest starts off rhythmically sturdy, like a stone wall, before finally finding relief at the bridge, blooming like a brilliant release of tension.
Bad Bunny, "Estamos Bien"
Puerto Rico's Bad Bunny flaunts his chest-baring, auto-tuned vocals on the minimally-produced "Estamos Bien," an emotional yet club-ready bop.
Molly Nilsson, "Serious Flowers"
With the vocals manipulated to sound like a distant choir, Molly Nilsson's "Serious Flowers" spreads some serious heavenly and astral vibes.
LightSkinKeisha, "Treadmill"
There are hundreds of things you can do on a treadmill besides running, Atlanta's LightSkinKeisha tells us on her latest turnt-TF-up anthem. Follow her lead to get snatched for life.
Róisín Murphy, "Plaything"
Best listened with lights off and strobes on, Róisín Murphy's "Plaything" shimmers in its late-night disco glory.
Free Cake For Every Creature, "In Your Car"
Free Cake For Every Creature's latest dwells on the small, slow moments of suburban summers: "Windows down in your stopped car / radio picking up the distant city's station." It is delicate and sweetly unhurried.