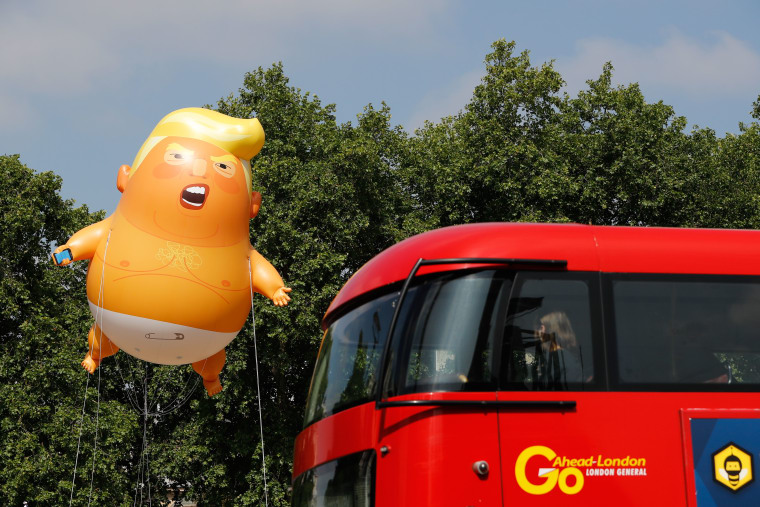 Donald Trump is in London on an official visit that has drawn ire from the British public, 50,000 of whom have taken to the streets of the English capital to protest on Friday. Trump's visit began on Thursday, where he was met with a smaller protest before a dinner with Theresa May at Blenheim Palace. Later that evening tabloid newspaper The Sun published an interview with the President in which he criticized the U.K. government's approach to Brexit and backed the recently-departed Boris Johnson as a future Prime Minister. He's gone on to call it "fake news."
With his dipolmacy skills on show, Trump will meet the Queen for afternoon tea at Windsor Castle before heading to Scotland. Much of the attention on the protests has centered on the Trump Baby ballon, seen above. The balloon will follow Trump up to Scotland and is very much the figure of today's protests. However, at a cost of £30,000 it has been noted that the crowdsourced money could have been better used aiding the people whose Trump's policies are directly affecting.
Read on for a selection of tweets and pictures from Londoners protesting Trump being in their city.
Good morning from Parliament Square #London. Here's the @realDonaldTrump #Trumpbaby #Trumpblimp for your tweeting pleasure... pic.twitter.com/3KqvYuzjfn

— Amanda Ferguson (@AmandaFBelfast) July 13, 2018
LGBTQ+ protestors on the march against Donald Trump #TrumpVisitUK pic.twitter.com/B3ca2rIffr

— Mixmag (@Mixmag) July 13, 2018
sums up the mood here #TrumpVisitUK pic.twitter.com/dJwkw12OO1

— Elena Cresci (@elenacresci) July 13, 2018
The controversial #TrumpBaby protest balloon has officially taken flight. #TrumpVisitUK pic.twitter.com/P3CMcHqK15

— CNBC International (@CNBCi) July 13, 2018
Regent street definitely bringing the noise #trumpprotest #TrumpVisitUK #bringthenoise pic.twitter.com/wmzWd67ZoP

— Esther Allen (@estherruthneica) July 13, 2018
Absolute scenes in Parliament Sq right now #Trumpbaby pic.twitter.com/bSikV46FFQ

— Elliot Wagland (@elliotwagland) July 13, 2018
Welcome to England, Donald.

Amnesty UK unfurl a giant "#Trump: Human rights nightmare" banner opposite the US Embassy in London. #Breaking #TrumpProtest #TrumpUKVisit #TrumpVisitUK pic.twitter.com/DH6MkNn9Qz

— Stefan Simanowitz (@StefSimanowitz) July 12, 2018
Yeah not sure that 'Britons love me' line is going to stick @realDonaldTrump pic.twitter.com/XlfEGaHUGN

— TechnicallyRon (@TechnicallyRon) July 13, 2018
You picked a good time to film the placards, BBC News 😱 pic.twitter.com/yMArA2QqzJ

— Jamie Smart (@jamiesmart) July 13, 2018