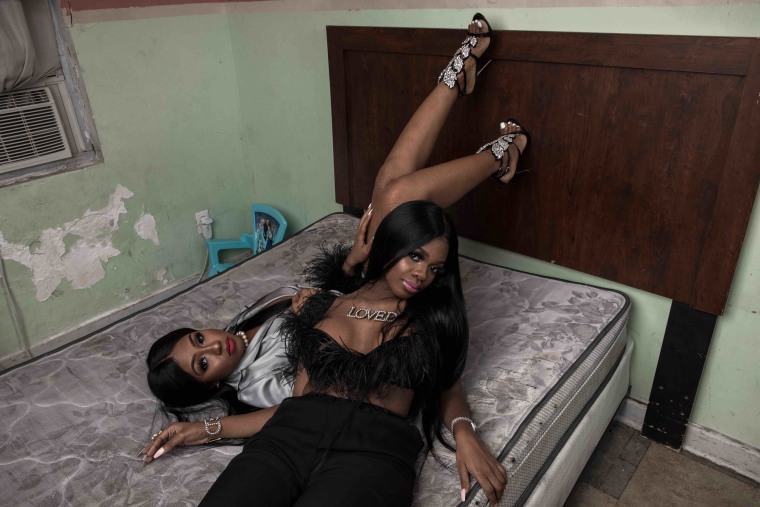 "Everyone that knows me for real knows I'm a real outgoing, fun, free spirit," Caresha Brownlee, the 24-year-old rapper known as Yung Miami of the South Florida duo City Girls, tells me over the phone. "I don't think about 'What will happen if I do this?' I just do it." That much is clear not just over the telephone – in spite of a crappy line, even – but in her music as well. Along with Miami's childhood friend Jatavia "JT" Johnson, City Girls can't help but subvert hip-hop: they're two female rappers inspired by street-edged icons like Trick Daddy and Trina (a close friend of Yung Miami's family) and make unapologetically raunchy music preaching sexual and financial empowerment, often at the expense of bewitched men. Unlike most rappers, City Girls can sound entitled to the finer things and make you root for them to get what they're after.
It's uncommonly accurate to call City Girls overnight successes: "Fuck Dat Nigga," the first City Girls song ever, was released in August 2017. Soon, the track, which features a prominent sample of fellow Florida rapper Khia's "My Neck My Back," racked up hundreds of thousands of plays. By December, the group had signed to Quality Control, the Atlanta label and home to rap royalty like Migos and Cardi B. Their debut album Period was released in May, and everything changed for the girls again in June, when Drake released his album Scorpion containing the No. 1 hit "In My Feelings," featuring vocals from the girls. No matter the currency – charisma, hip-hop clout, or actual finance – City Girls have it in spades.
All of these successes came in spite of JT's looming incarceration on credit card fraud charges. She was initially arrested and held not long after "Fuck Dat Nigga" began making waves, and Yung Miami was left with the burden of judging whether or not the project they had just started for fun could actually become a career. "I was like 'Damn, this our way out,'" Miami says. "When she was in jail, I was going to strip clubs and I would pay a DJ $20 to play the song. It started taking off." Her hustle led to their record deal, and not long after, the Drake song had landed in their lap. Unfortunately, JT has been robbed of the opportunity to live in the world take up the #InMyFeelings challenge: she reported to jail in July for a two-year prison sentence, and is scheduled to be released on March 21, 2020.
That leaves Yung Miami to carry the flame. She's enjoying the Range Rover and condo her advance money bought her, and hopes to greet her mother with a house and car when she's released from prison in 2021. That goal will be helped by the upcoming City Girls project and her unshakeable bond with JT, both of which she detailed for The FADER.
What else do you have planned when JT comes home, other than music?
I just wanna catch up and have fun, us two just take a sister's vacation. Talk about what she went through, what we're doing next. We'll do whatever she wants to do. Drink, cry, laugh, dance. Celebrate the good and the bad. But I don't know if we're going to have time to do that, 'cause it's gonna be straight back to work.
Was handling the band by yourself while JT was away a big adjustment, or did it come naturally to you?
I would say it came naturally, because it was more motivation. I was like 'Ok, she locked up, I know that she's in this fucked up situation. At the end of the day she's going to need a lawyer, and this will be a way to provide for a lawyer.' She wasn't out to see the attention the song was getting so when I saw it, I was like 'This an opportunity and I'm finna run with it.' I feel like if I had never pushed it when she went to jail, she wouldn't have been focused when she got out. And who's to know what it would have reaped? But I stayed on top of it because I saw what it was doing.
JT was the person who got you to start rapping in the first place, right?
Mmhmm. JT know how to rap. She didn't always want to be a rapper, but she always played around freestyling. She asked me to do the song, and I was like 'Well bitch, if you wanna do a song, why you want me to do a song with you?' She said 'Because I'm shy. I can't make a whole song by myself. You fun.' She thought if she did the song with somebody else they'd be too serious. I'm always saying stuff I'm not supposed to say. Whenever we do interviews she go 'Why the fuck you said that?'
When we did the song, that was my first time in a studio. She had to coach me through it. I'm not gonna lie, I was shy too. But she was like 'Just do it, you got it.' I had to end up getting drunk.
Missy Elliot gets shy when she raps, too.
When it's time to do like a nasty song like "Movie" and "Sweet Tooth," JT don't like to talk like that in front of people, so she'll be like 'Y'all get out, for real.' And when she record the song, she don't really hear it. She'll say 'I don't wanna hear how I sound.' She's shy when she records on certain songs. If it's a gangsta song she not shy, anyone can be in the room.
You've said before that City Girls is "alter ego music," but there's so much real stuff in the lyrics too, like the song "Rap Shit" where JT is talking about learning the game from her mother.
It's definitely what we've lived, what we've experienced. Honestly I really feel like we rap about our life but we put it in alter ego music for our listeners. Like "Millionaire Dick," when we say "He wanna fuck but he gotta be a millionaire," maybe that could be for the alter ego that wanna fuck a millionaire, but it's still real music that you could relate to. JT, she don't get along with her daddy, she don't talk with her daddy. So when she say "My own daddy said I wouldn't be shit," she putting her own life into this music. Women could listen to our songs and gain confidence, like "I'm that bitch."
Sometimes when I make a song, I want to talk to somebody that's going through what I'm going through. Just to say 'Girl you straight, you gon' be aight.' Sometimes I wanna make a song that's not so deep, that's gonna make you sad but at the same time make you happy, know what I'm saying? It's still fun. I'm gonna listen to the song and be like "I went through that and I'm gonna be alright. That was my past, and I'm up now." You gon' smile through it and you gon' bump through it.
What are some songs by other artists that make you feel like that?
Cardi B, "Get Up 10." I can listen to that song [and remember] when I was trying to figure out how to be successful. It just put me in a good mood because the stuff that she's talking about I can relate to. It puts me in a deep thought but it gets me so hype.
Would you be up for a City Girls / Cardi B collab?
When I say I'm praying on it…[laughs] I hope that happens. I think it will happen. She's our labelmate so it ain't nothing to reach out. I really, really, really feel like that would be an anthem. That's a song that would be another "In My Feelings," for sure.

When we heard [Drake] say our names on the song, we was jumping around, twerking on the keyboard, twerking on the couches.
How did "In My Feelings" happen?
Drake had reached out to our CEO, P. He said 'I got a song for the City Girls,' and P told us. We said 'Shut the fuck up. Stop lying.' We was screaming so loud. JT called me on the phone, she said 'This cannot be real.' I said 'That's Drake. This song gotta be right.'
We did the song and hoped we made it to the album. When the album came out we didn't know the name of the song at all [because] when we did the song he didn't name it [yet]. JT thought it was 'Ratchet Happy Birthday,' she started with that song. I thought it was 'In My Feelings' because in the song he's like 'Got me in my feelings." [JT] went to the A side and I went to the B side.
We heard the beat and just started screaming. When we heard him say our names on the song, we was jumping around, twerking on the keyboard, twerking on the couches. We were so happy. It was a moment. We was like 'Nobody can't say nothing to me, bitch. Drake know our names.'
And it's not over yet. "In My Feelings" could become the biggest single from Scorpion.
It is. You've got the challenge going that gives the song a whole different feel to it. I can't listen to the song without doing the challenge. I swear, everytime I hear "Keke," I'm throwing up a heart, doing the little drive. It made the song a little bigger.
Do you have any favorite #InMyFeelings challenge videos?
Will Smith, Ciara, and LaLa Anthony. Will Smith took the cake, though. I love him and his whole family. He's such a good man.
What was recording Period like, and how does it compare to the upcoming City Girls project?

Recording Period, we was fresh artists so we didn't know how to put together a mixtape. But we'd be in the studio listening to the beats and being like 'When you hear this, what you think about? You wanna twerk, you wanna get in some deep shit?'
Sometimes we'd overthink things. "I'll Take Your Man," for instance, we hated that song. We didn't even want that song to go on the mixtape. But a lot of the songs we hated ended up being our good songs. Just putting something out into the world, sometimes the world can be so judgemental. We working on another project, we got a few different sounds on there, and features. We have a song with Lil Baby. [But] that's why we did a whole mixtape with no features. We wanted to show everybody that we can do it by ourselves.