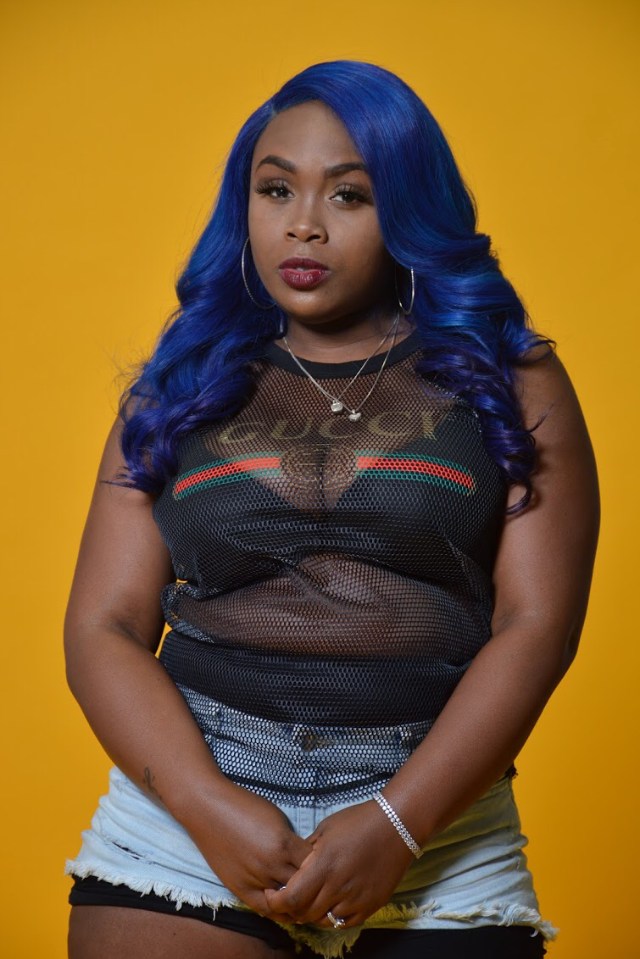 The FADER's longstanding Beat Construction interview series highlights today's most crucial producers and their craft.
Two years ago, Tasha Catour was a successful singer-songwriter feeling stuck in a publishing deal and ready for a change. The East Point, Georgia native had spent a lifetime honing a craft she developed in the church choir, and had become "a go-to female voice for a generation of Atlanta rappers." Her vocal assists came in the form of memorable hooks and bridges, like her silvery contribution to Future's "Rider," and her songwriting chops landed her collaborations with Tinashe, Trina and Ca$h Out. Her talents as a musician were recognized and lauded when she took home a Grammy for her role on Lecrae's Gravity, 2013's Best Gospel album. But it wasn't enough for her. "I wanted to be a hundred-percenter," Tasha tells me over the phone from Atlanta in August. "Write the song, write the music, engineer it. You know, just everything. A one-man band."
Today, Tasha is exactly who she set out to be, and is earning the respect of rappers and fans as one of Atlanta's most sought after super producers. "I just wanted to be able to do me, and not wait on nobody. I got tired of waiting on people," she says of her decision to teach herself how to produce using Fruity Loops, and record and engineer in ProTools. These days, when she's not caring for her 10-month-old daughter, Kensley, Tasha is in her home studio or at Atlanta's Doppler studios, cranking out beats for the artists she emails every week with new material. Her productions are uncomplicated and hypnotic (demonstrated on Rico Nasty's "Big Dick Energy," Keke Palmer's "Bossy," or several slappers off Young Nudy's Slimeball 3, to name a few) allowing just the right amount of room for a strong vocal delivery and a sweet, singable melody — the elements of a hit Tasha is most equipped to nail.

What was your childhood like?

I was the oldest of five kids. Well, really of eight. My mom and dad were not together. He had a whole other family, so it's really like eight sisters and brothers. I got one older brother on my dad's side, but on my mom's [side], I'm the oldest. I pretty much took care of everything. While she worked, I washed up the kids. I had to come home early. I never really got to do nothing but watch them. But, once I was able to, I found me a studio and started creating music there.
What did your mom do growing up?

My mom was a millionaire. She did taxes. She [had] one of the biggest tax services in Atlanta at the time. She made over 15 million in her run. She ain't got it no more, but yeah she did [that].
My mom, before she hit it big, she got into a little trouble. She used to write bad checks and stuff, so she went to jail for a little while. I stayed with my grandma, and she was heavy in the church. I sung in the choir, all the whole spell.
How old were you when you first starting singing?

I remember wanting to sing since I was like five. I seen there was a choir, but I couldn't really get into it. So, I was maybe about seven or eight — a little older when they could tame you. I was right in the front row. [I sang] all the way until I was in high school. I was in chorus all my life. But, once I got into high school, we moved away, so I didn't get to go to church with my grandma as much.
When I was around 17, my cousin took me over to his friend's (his name is Mercy). He does beats and engineering and a lot of stuff around the city. He took me to his house, and he had a little tape roll with a hair stocking over it, and that was the little mic filter. We sang into the little computer mic, and we called that the studio.
When did you take the step from singing to songwriting and producing?

Well, I had been songwriting for 10 years. Every since I wanted to sing when I was 17, I [was] songwriting at the studio. But, two years ago I decided to start producing because I wanted to get out of my publishing deal quicker. And, I wanted to be a hundred-percenter. I wanted to be able to be a super producer, one who could create from scratch: Write the song, write the music, engineer it. You know, just everything. A one-man band. Because, I don't want to depend on nobody. I just wanted to be able to do me, and not wait on nobody. I got tired of waiting on people.
How did you go about learning how to produce and engineer?

Pretty much all of this is self-taught, just through passion [and] me wanting so badly to do it. Because I wanted to sing, I had to learn how to write my own stuff. No one was going to do that. Then, somebody had to record me. So, I was like, Well I'ma learn how to do that. Then I was like, Might as well learn the beats!
What is it about production that you enjoy?

That's my favorite part now, actually. I don't know, like the sonics. I don't know how to explain it. First of all, I felt like [with] songwriting you do more of the work for less of the pay. With producing, I get paid up front. I get more respect. I get to create from scratch. I get to not just produce the music but produce the act—the whole project, pretty much. It gives me more control and more respect.
"I just wanted to be able to do me, and not wait on nobody. I got tired of waiting on people."
What did you notice changed, in terms of people respecting you?

When I'd walk in the room, and people are like, "Oh, you produce?" Especially when you're a female producer, it's a rarity. When I started, I didn't even think about that until somebody brought it up to me. She was like, "And you a girl?" I was like, "Yeah I am a girl! That's cool!" You know what I'm saying?
I didn't even think about it to be that type of thing. I just wanted to produce more. I wanted to be able to be a commodity, not just a one-trick pony. When you walk in the room, a lot of people just treat you different. Songwriters don't get the respect they deserve. They just don't! The producer's like the magician, like the wizard — The Wizard of Oz or some shit. It's just the air they walk around with. It comes with the territory.
Why do you think that is?

Usually, it's because [a song] starts with the beat. Most people will write songs out the air, but you gonna get your beat first, then you gonna write your melody or your lyrics or whatever. But, the beat comes first. Even a drum, or a little pattern, something. It gets respect, but it still doesn't get as much respect as the artist does. We don't get paid as much as the artist does, but it's kind of like 50 percent [of the work].
Do you still have your own music publishing company?

Mhmm. Poetic Pen Publishing. I had a publishing deal with Future, initially. And, now I'm publishing my own stuff. I'm still building. I could [publish other people's music], but right now I'm just trying to focus on me. Then I can help somebody else's career. I want to get my feet all the way wet, you know?
What does your production process look like? Are you producing and then sending your work to artists, or are artists coming to you with ideas?
My claim to fame is emailing. Some people like to get in with them, and I love to get in, too, and create a vibe. But, I can create beats in less 30 minutes. So, the productivity is crazy. I send out 10 beats a week to every artist. Something gonna hit. It's like a lottery thing with me. It's a probability type of thing.
Who are you sending beats to regularly? Are there artists you have a particular chemistry with?
Definitely. I'm working with a lot of female acts. I'm trying to do my female empowerment thing. Tokyo Vanity, LightSkinKeisha, Keke Palmer. That's my girl. Just, whoever wants to work with me. I'm open. But, those are the people I'm locked in with now.
When you produce for them, is it mostly your taste, or are you incorporating an artist's taste?

Mostly because I work through email a lot, it will start out with my taste. Or, if I'm working with someone specifically, then I'll take their sound that they already sound good at and I'll add my two cents. Add my sauce on top. My whipped cream, or whatever. I'm just trying to complement, that's what I try to do. I just like to lead the beat. I don't like to add too much to my beats, either. I like to let the artist shine, let the vocals shine [and] leave it enough so it won't take away. I feel like some people just be adding too much, like it ain't gonna fit the instrument. You don't need all that. Let the lyrics shine. Simplicity. That's what I want to bring back to the game. A lot of hip-hop beats started with just simplicity. Just a beat pattern or a beat loop. You know what I'm saying? I don't feel like it has to be all that. I commend the real musicians and people who are really into instrumentation, but I just want to make you dance, make you move.
Looking back on all the music you've worked on, what are you most proud of?

Probably my stuff with Lecrae, because it got me mentioned in a Grammy type of circle. And, just all my production because I feel like ever since I started producing, things have catapulted for me. I feel like this probably is my calling. You know, versus songwriting. I mean, I love songwriting. It's my first love. But, I feel like this is what is showing me it loves me back. You might love someone, but that don't mean they don't love you back. It's that kind of relationship.
Have you experienced any tension because you've worked on gospel music as well as rap and hip-hop?
Yeah. In that [gospel] circle, they didn't want to put "Featuring Tasha Catour" because I do secular music. It kind of had to be like a ghost writer type of thing. It wasn't nothing like, where everybody knew. It was just trying to put up YouTube videos so people knew it was me. But they were like, "No, take that down." It was Lecrae's team. It wasn't him. It's his publicists and people like that... To try to keep his image, and what connects up to him, clean. And, that's cool. Once they explained it to me, I understood it. It's other stuff I can put my name on, I'm not tripping. I'm just happy to be a part of it. I got mentioned with the Grammy, so it's all good. You win some, you lose some.
What has been a challenging experience for you as a producer?
You get so used to doing one thing. Just trying to break away from that and try something new. I was so afraid of doing production. I wanted to produce for forever, but I was so afraid like, I'm ain't gon' be able to do that. My shit is going to be wack. They won't take me seriously. It's gonna take too much time. All the bad energy or the fear you're putting into it. When it's just that. Fear. You just gotta jump. You can't really think too hard, you just gotta go. You just gotta do it. I feel like that was probably the hardest part of producing. Just pushing myself to the side, and amping myself up [and] denouncing the voices in [my] head. You miss every shot you never take. You gotta at least try.
How would you say your production has changed over time since you started?

I definitely have gotten more melodic. I try to focus on making my melodies more mesmerizing, more captivating. And my drums [have] more of a bounce. When you create melody, it's more memorable. Versus just a rap cadence. I want the artist to be able to [do] kind of like the Bone Thugs N Harmony, the Future, the melodic [kind of] rap.

Who has it been the most fun for you to work with? Who's someone you feel you can really experiment with?

Sukihana. She's candid. Very blunt. [She'll say] stuff you might want to say in your head or might be thinking, but she's gonna say. It's like a Trina back in '05, but the nastiest Trina you ever heard. Like, the worst. But, for some reason, I'm attracted to it. I fuck with her. And, her energy is the same when we work. Somebody I want to work with is Bbymutha. I'm trying to hook that up. It's gonna happen. She's raw, too. She's relatable. Especially in a taboo world like this one. That's what I like about it. She says whatever comes to her head. It could be true or it could not be, we don't know. [She] just leaves us wondering. I like it.
What would want to tell other young or aspiring women producers?
Keep going. Don't get discouraged. Don't let this male-dominated industry intimidate you. Just come, be. People ask me that all the time, and when I'm not in this situation — when I'm not having an interview — I be having the best answers. I hate saying the same old "keep going" type of shit. I be having some good advice because I be going through shit. But, you know...have balls even though you don't have balls. Life happens every day.