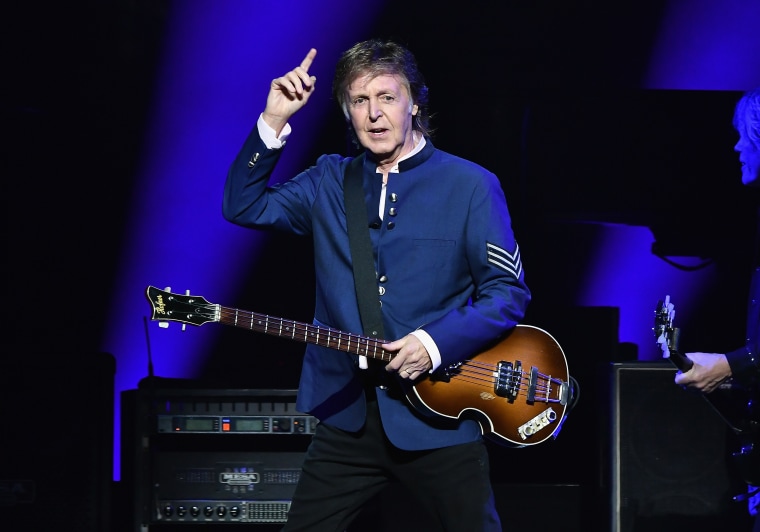 Paul McCartney has revealed that Kanye West wanted to produce his latest solo album. McCartney, who worked with West on singles including "FourFiveSeconds" and "Only One," released Egypt Station last week. In a new interview with GQ the Beatles icon revealed that he rejected the offer as he already knew how he wanted the record to sound, and felt West may not have been the best option.
"I thought, no, I kind of knew what direction I wanted to go in. And I knew that would be very different from where Kanye would go with it," said McCartney, who worked with One Republic's Ryan Tedder on the record instead. "I said, "That's great, wow." I'm just amazed that he said it. And then we never talked about it again. It was just a thought that was thrown away. I certainly thought about it and got very excited and thought, "That's something, there's no denying that… But is it something I want to do?" There's the thing. And I thought, "Maybe not."
Elsewhere in the feature, McCartney said some people in his camp were against "All Day," the Kanye West song McCartney worked on in 2015, due to its repeated use of the N-word.
"They said, 'You can't be connected to this'"—which led to McCartney reading up on the word. "There's basically two schools of thought: One, that the N-word has been re-appropriated by black rappers and they've sort of taken the sting out of it. And the other point of view is Oprah's point of view, which is that any use of the word denigrates black people, and I can see that, too." Eventually, he decided to attach his name to the song. "I thought, you know, 'It's urban poetry. It's Kanye.' I like the record. I thought he did a really good job on it."
You can read the full GQ feature here. McCartney's Egypt Station is out now.