Lancey Foux talks Pink II and Jordans
An interview with the charismatic U.K. rapper on his new EP, British style, and collaborating with Skepta.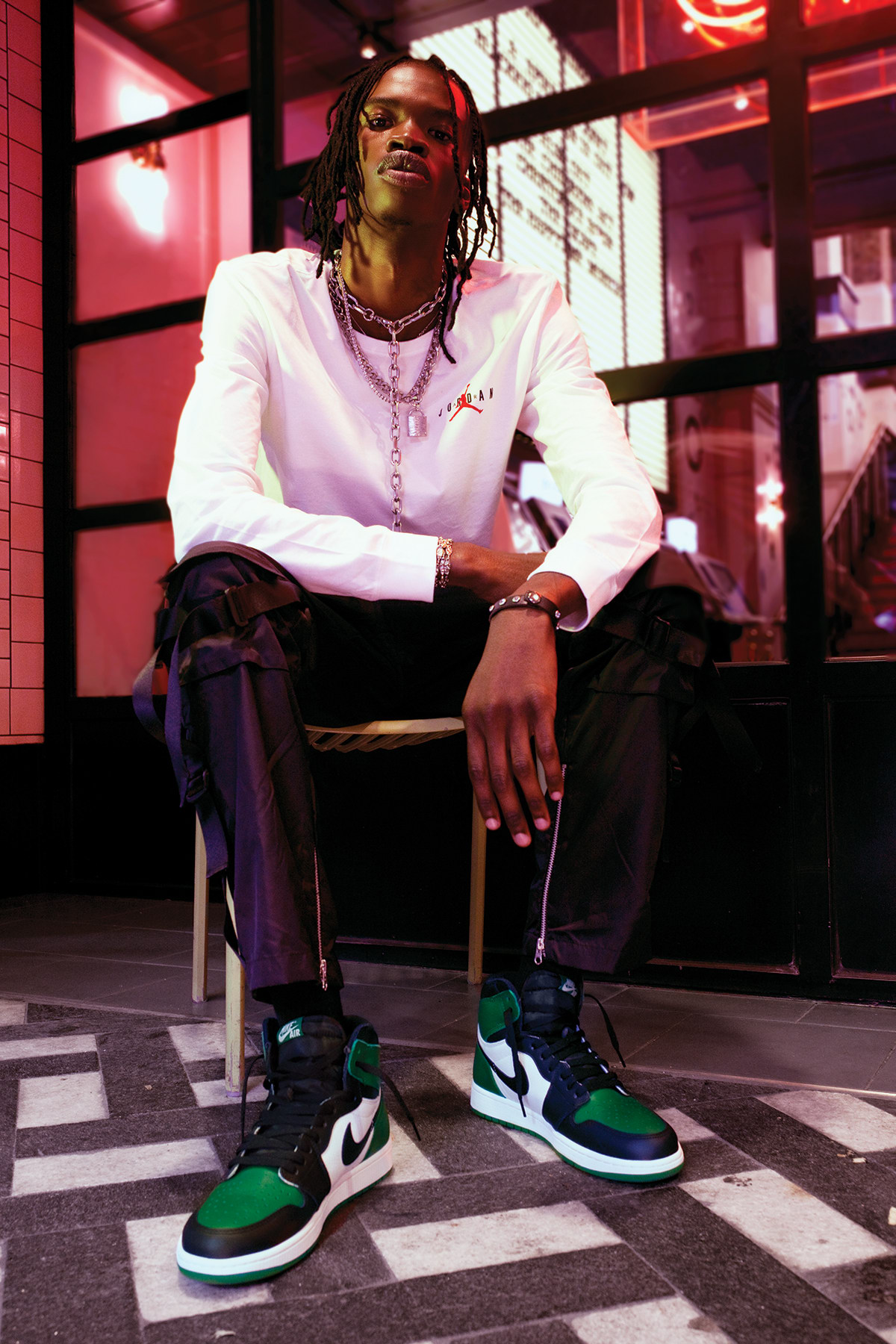 This feature was produced in partnership with Jordan Brand.
Lancey Foux doesn't like to be pigeon-holed. When I ask the 22-year-old artist how he would describe his sound, he responds with "unpredictable". There's a sense even he himself doesn't know what's going to happen when he steps into the studio, or what he's going to come up with next: "I don't know what I'm gonna say or what a song is gonna sound like when I first start making it — but I know that I can't predict the outcome," he laughs.
Foux has a natural confidence that is evident even through a video chat. This summer saw the release of his second EP Pink II, a follow-up to 2015's unconventionally long — and unconventional — 14-track Pink EP. Of the decision to name the projects after the color, he describes it as capturing of a particular mood that he can't necessarily explain in words: "It's a mood that I had a while back that I had to reignite. Me being in that mood started a lot for me: it included a lot of things, a lifestyle really. Being young, being a bit different, girls, cars...my late teenage years. Pink II is an extension of that mood but incorporating more of what's going on in my life now."
There's a lot going on in his life now. Aside from releasing Pink II in July, he has just dropped the video for his single "Dyed 2wice" featuring Skepta, and is the face of the latest Air Jordan I campaign in the U.K. When I call him up the east London native is on his way back into London from Heathrow, where he has just dropped off his girlfriend and fellow model Leomie Anderson to catch a flight to New York for Fashion Week.
Read on to find out more about how Foux is making his mark in the London music and style scenes.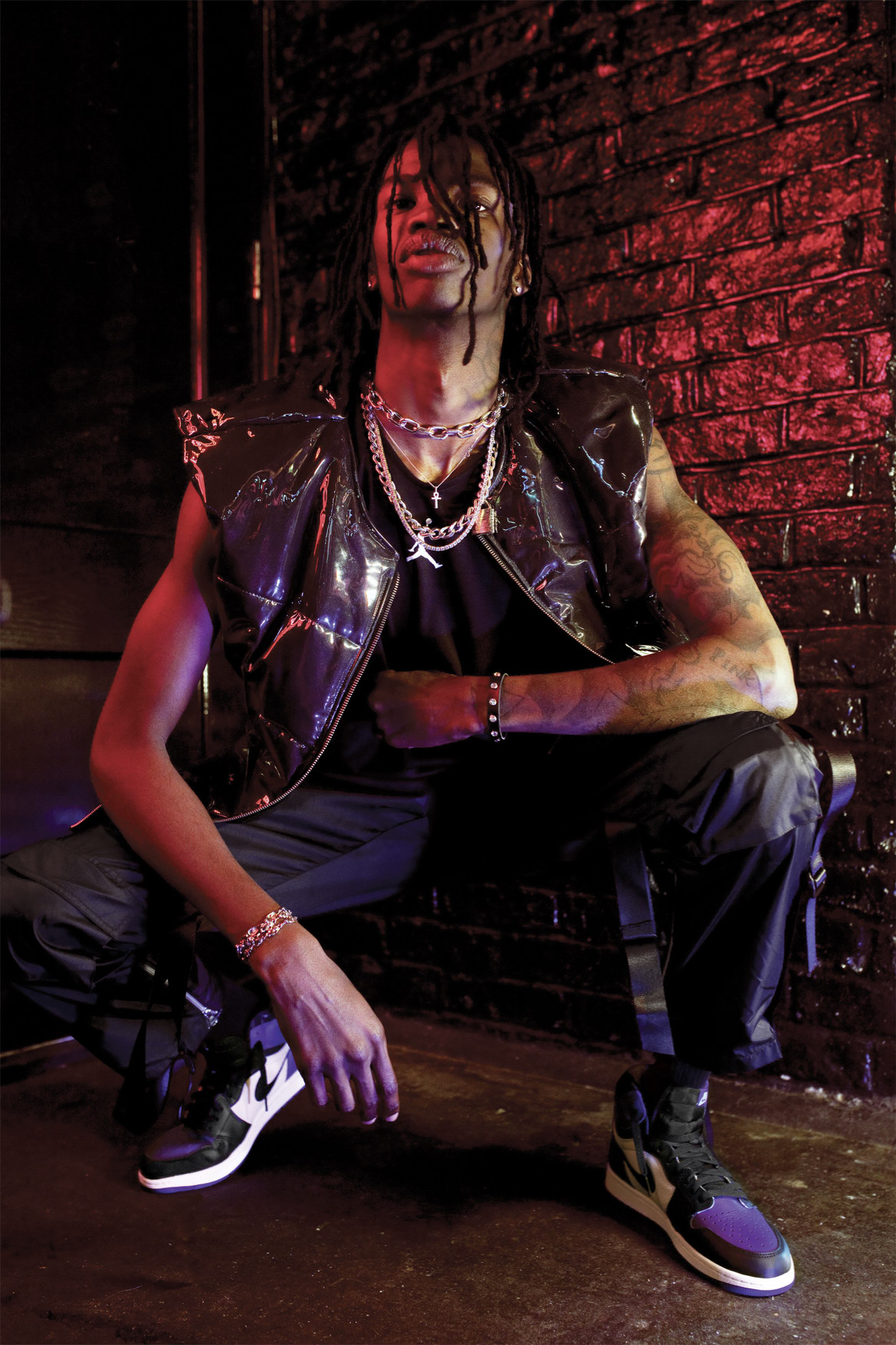 How are the fashion and music worlds in London overlapping at the moment?
I feel like they're hand in hand right now, they need each other to breathe. Fashion needs music, or visuals from artists for their brands to really show. Vice versa a lot of artists are taking much more care in the things they wear and things like that. People are not just wearing anything anymore. I think it's a great thing, the only thing that I fear is that people might start getting their wires crossed between what's quality and what's not because of how much stuff there is out there. You don't want the art of everything to die.
Is there anywhere better than London to be doing what you're doing right now?
For me personally, no. London is where I'm meant to be. For a minute I went somewhere — say L.A. or Paris, and I thought, "This is amazing, I wanna live here, I wanna be from here," but I was wrong. I'm from London, born and bred. Good or bad, London is the place for what I'm doing. People might not understand my music or whatever now but in years to come it will pay off, it will mean something being from here and that I came from London and not from anywhere else.
What about London do you think it is that makes it so special?
I think it's just the rawness of it. I think some people haven't caught on to things as much as in other places but that's the beauty of it to me, it's still so raw and it's so diverse. There's so many different things happening and so many different people doing it, I think that's what makes it special. The wide variety you can get even in just music alone — I think if your eyes are open and you know, it's amazing, and if you're just finding out, it's a big surprise!
What do you think makes the Air Jordan 1 such a unique shoe?
For me it's the only shoe you can wear with anything, or anywhere. You can wear it playing basketball, you can wear it with jeans, you can wear it with shorts, with tracksuit bottoms — which is how I wear mine when I don't care. You can wear them with anything!
Did you play basketball when you were younger?
I played football! I didn't play basketball at all. But Jordans stood out to me more than a football boot.
What do you think of these colorways - the green and the purple Air Jordan 1s? What will you wear with them?
I love the green but the purple is my favourite one. I love purple. They're perfect colours that you can wear with anything. For me, I'm really into trousers — specifically leather trousers, PVC trousers, so I'd wear them with those. I'm kind of off jeans right now so that's what I'll probably be wearing them with.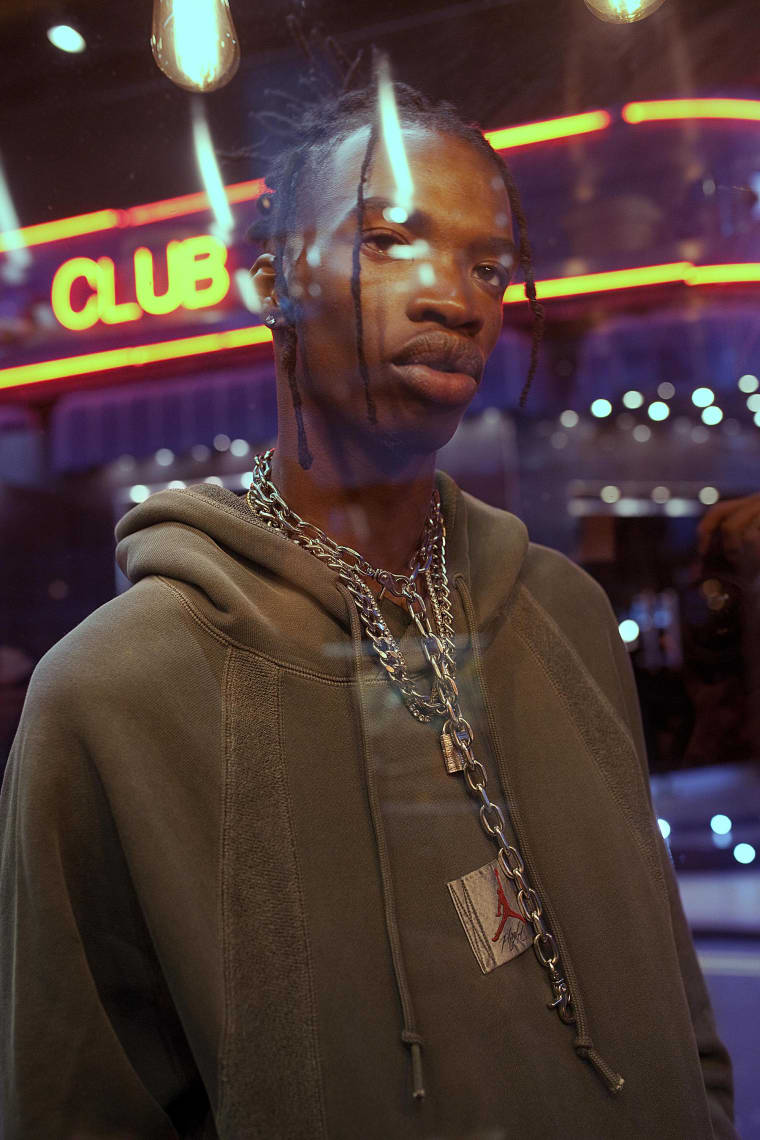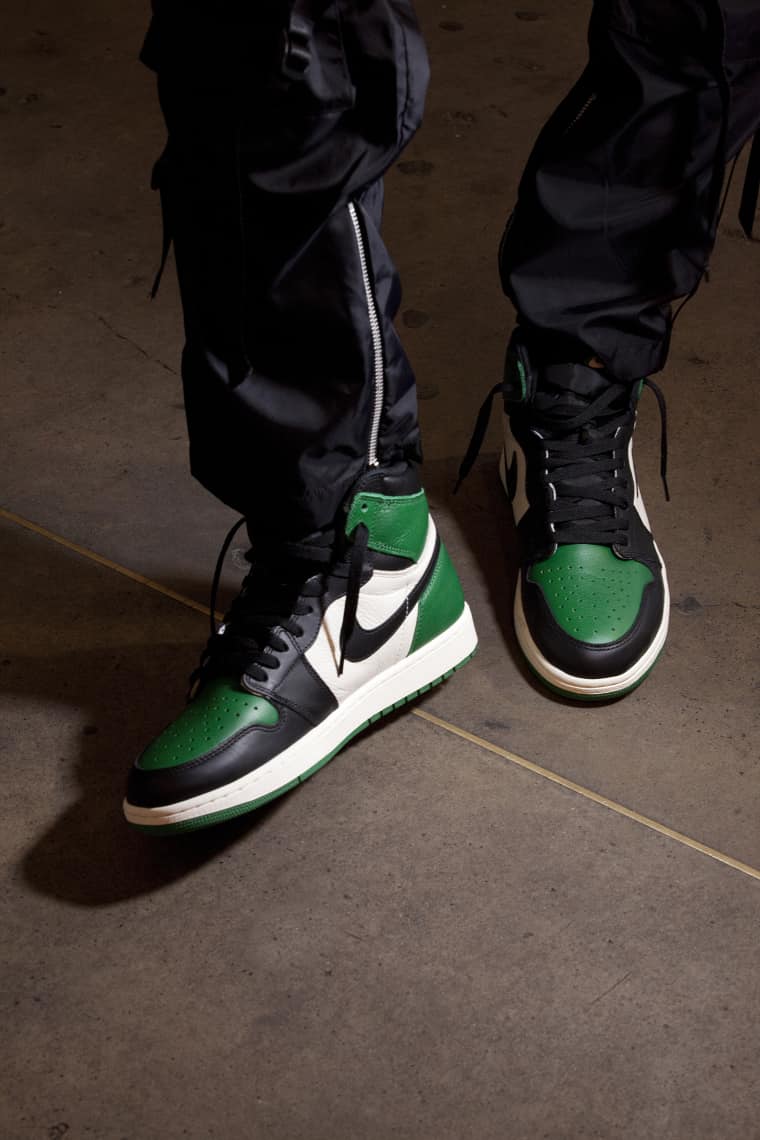 What have you been up to this summer?
Working, recording — trying to live life a little bit but mostly recording. Trying to find new zones that will help me become a better artist and more successful. I've been working on myself a lot really - there were a lot of hot days that I should have been out but I was inside the studio trying to make great music.
What are you working on at the moment and what can we expect in 2019?
I dropped the album [Pink II] in July and I'm just working more on the visual side of things right now. I think people have heard enough from me now, they need to see more. Other than that I wanna do more shows - next year I definitely wanna put the music out there. Perform a lot more, do more stuff with it in fashion...just do more interactive stuff. I've been shy with it for a few years but next year I'm ready for it, to put myself out there.
What inspires your music?
Life! Everything I'm doing imitates life; life itself is the biggest inspiration. If I go out and see something happening, even if it doesn't involve me and it's another person's situation, that still adds to my music. I absorb a lot of things: I might not use it [explicitly], but I still take it it in. I never really run out of things to talk about because life never stops, it just keeps on moving.
Do you think London inspires your sound at all?
Of course. When I wake up in the morning I'm here. London is ingrained in me: the words I'm saying, the language, the way I look at things...it's a London point of view.
What do you want to achieve in music?
I definitely would like to be the reason someone starts making music or gets into fashion. I'd like someone to say they started something because of me, whatever it is. I wanna give people hope....to be a reason for someone doing something good and not going astray, that's probably what I want the most.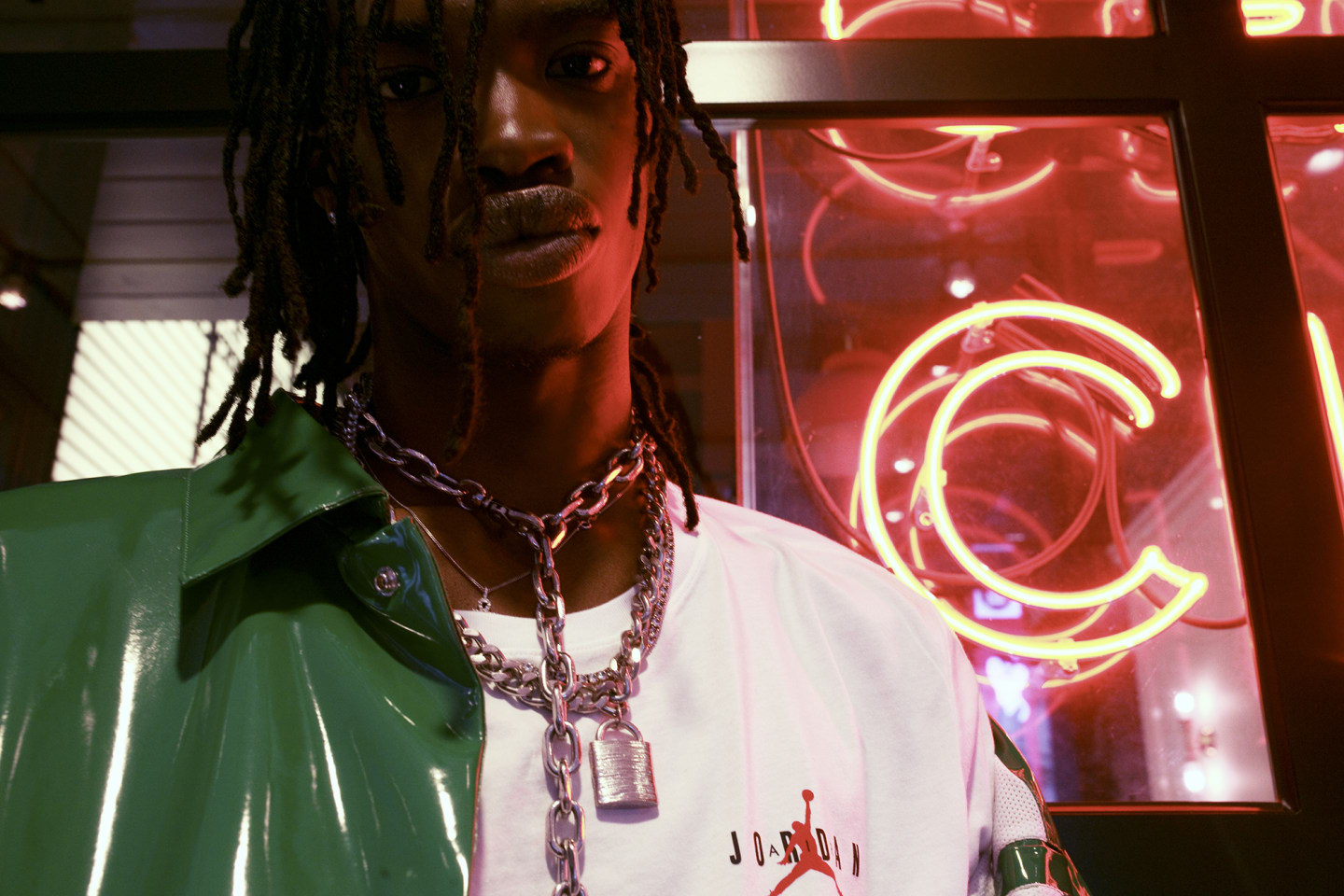 What's your process when it comes to putting a track together?
Nothing is pre-meditated. I might hear a beat or I might make the beat from scratch. If I hear a beat then I'm jumping on it straightaway, free-styling the whole thing; but if I'm making the beat then I'm building the melody as I'm making it so it's a little bit different. But everything is freestyle, I haven't wrote in a very long time. All my songs I'm known for are free-styled - whatever's going on in my mind at that time is what's coming out. It's all very natural.
Do you prefer producing yourself or jumping on a beat?
Right now I prefer making the beat myself. I've got a lot of unreleased music right now that's been produced by me and my friends. My next single is actually produced by me; linking up with Skepta and watching him and the way he does things, I took inspiration from that. I'm back on.
Does your music inform your style or vice versa? Or is it all one thing?
It's all just me. A lot of rappers rap about what they wear and stuff like that — and I do that but not as much — I think people know I can wear anything. A lot of people have to mention things for their credibility, but me wearing Louis V or Gucci doesn't make me credible, I can wear anything and if I can make it look good that makes me credible. I value clothes and dress sense a lot, I'm really particular with my clothes.
How do you think it fits in with your music?
I think it's a like for like thing — if you're into clothes, you'll understand my music better. I'm really into punk and new wave looks and music, and my music just sounds like my version of that. And I look like my version of that. I might wear PVC jeans with a chain on them which punks do, but mine look a bit more modern.