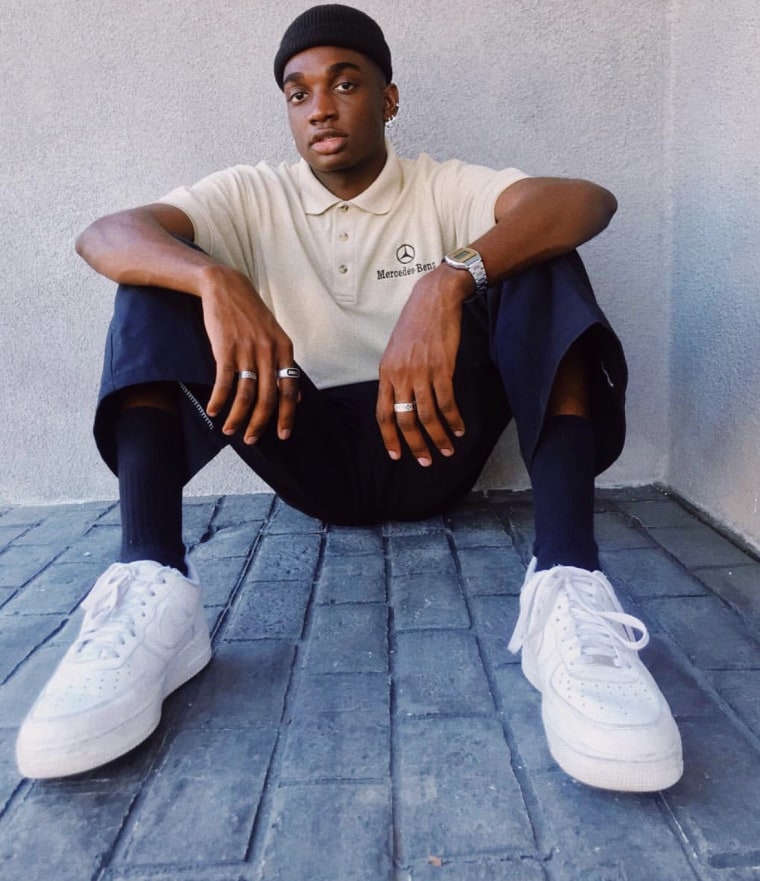 You'd never guess it now, but Rickey Thompson was a shy kid. The 22-year-old Raleigh native sat by himself at lunch and, in his words, "did not speak to anybody." Still, his friends and family always told him he was funny, and in high school he proved them right, reaching viral internet fame via Instagram and Vine, and forgoing college to move to Los Angeles and pursue social media full time.
Today, Thompson has charmed his 1.5 million Instagram followers with everything from rants about internet-boyfriend-stealers to feel-good, improvised dance routines of Rich Boy's "Throw Some D's." His videos are always flawlessly executed, but he swears they're all done off the cuff — he gets an idea, hits record, and just goes.
His following includes celebrities like Sam Smith, Dua Lipa and Hayley Williams. Recently, mutual admiration turned into collaboration, the way it often does among young people of the digital age, with Thompson's narration of Aminé's ONEPOINTFIVE and his appearance in the "Reel It In" music video. Says Aminé, "I was stalking his Instagram page one night while I was in the studio, after I finished recording 'Reel It In,' and I DM'd him. We met up for lunch, and the rest is internet history."
We chatted with Rickey about his internet glow up and working with Aminé.
Tell me how you got started on the internet.
Around 2013, Instagram got video, and I started making videos there, with just my friends and family following me. Then my best friend told me about Vine; in six months, I had viral [Vines]. I kept my Vine a secret in high school, but one day, someone was like, "Rickey, your Vines are blowing up! Kylie Jenner re-Vined you!" I reached one million followers, and I became the most popular guy in school. I won prom king. I had bullies hitting me up like, "Hey, Rickey, what's up?" I was like, "I don't have time for you!" [laughs]
When Vine died, I had 2.5 million [followers]. I would try to post Instagram videos, but it didn't feel the same. I took YouTube seriously for a while, putting out fashion videos. But [my best friend] was like, "Rickey, this is not you. Go to Instagram and talk your shit. You need to get back to your old self."
So I started taking Instagram seriously, posting every day. All of a sudden, my Instagram has blown up. I never thought I would have 1.5 million followers, or celebrities like Dua Lipa commenting on my videos. I'm getting all this positive feedback just by being myself.
How did your collaboration with Aminé happen? Were you a fan of his music before?
My friend showed me "Caroline," and I was like, "Who is this? Aminé? Okay!" So I became a fan. One day, he DMed me saying, "OMG, I love your videos." And then he's like, "I'm in LA. I wanna talk to you about my new project. I want you to come talk shit on it."
He played me these tracks in his car, and he was like, "I love to add a little funny to my music. Your voice is so distinctive, it would be perfect for some interludes."
What did the collaboration look like?
We corresponded over the phone, and I sent him videos. He would ask me to rant about a topic, and I would rant about it. I ended up doing five songs. When he sent me the finished project, I was teary-eyed. I'm literally on an album, like what?
And how about the "Reel It In" video?
He hit me up again, like, "I want you in two of my music videos." I dropped everything, like, "Where do you want me? I'm here." [laughs] The fact that when you press play, you see my face, I'm talking, then I'm dancing with the video girls—I'm so thankful for Aminé for believing in me. I love him, he is everything. He is a king.
What music did you listen to growing up?
My dad was always playing Stevie Wonder, Grace Jones, Sade, and my mom loved gospel music. My aunt introduced me to Destiny's Child, TLC, Usher, Brandy; she would show me their music videos. I have her to thank for my music taste.
And what are you into right now?
I love vibey house music, like SG Lewis, Mura Masa, Kaytranada, who's another one of my favorites. One video that really took off was of me dancing to "Be Your Girl," his remix. Then at Coachella I saw him, and he was like, "You! I love you so much, thank you so much for getting my remix poppin'!" I freaked out, like, "What?! I love you. I love everything you do."
What's next for you?
The next big project, I can't say. But my [YouTube Red] show, Foursome, is still going, and I'm gonna keep posting on Instagram; hopefully I can work with more artists. Just staying booked and busy.