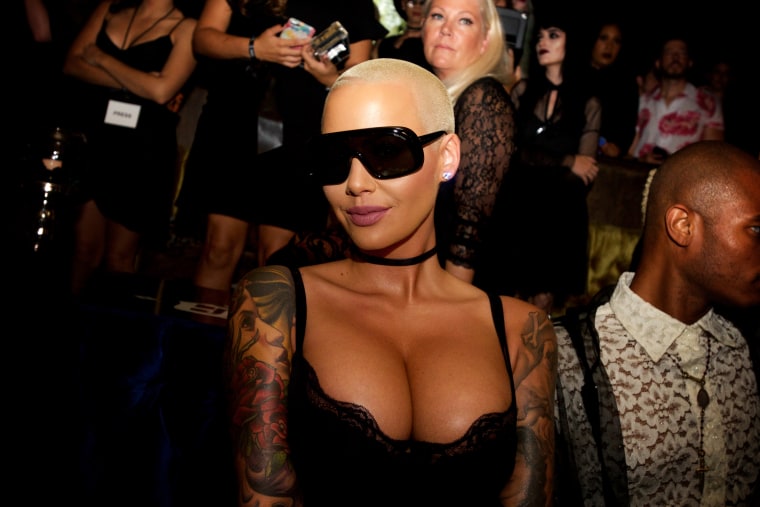 Amber Rose's fourth annual SlutWalk takes place in downtown Los Angeles this weekend. The event, which initially aimed to end slut shaming and empower and uplift women all over the world, has quickly grown to address sexual abuse, domestic violence, and political efficacy. In an interview with Highsnobiety, Rose reflected on how the event has evolved since its inception in 2015.
On the festival's exponential growth, Rose remembers that "2,500 people that showed up the first year which was a success for me, I thought it was great. The next year was 11,000 and then the year after that was over 20,000 people." She adds, "We're really taking a stand and we're not dealing with the bullshit anymore."
Rose also stressed the importance of sex education, especially on matters like consent, as well as how we should continue to destigmatize these conversations. "I feel like a lot of men have raped women and not even know that they raped women," she said. "That's a discussion that as parents we need to have with our children...You have to sit with your friends and be like, 'No, this is not cool. This is how it's supposed to be.' Have those conversations for your sisters, moms, aunties, friends."
In recent years, SlutWalk began highlighting the importance of voting and getting registered to vote. This year, Rose is partnering with Respect My Vote to provide voter registration at the walk. For Rose, she says that politics is something that she recently educated herself on: "Politics isn't the number one thing that I focus on in my life, but now [with] everything coming to the forefront and seeing so many people trying to be in office that have sexually assaulted women – obviously Trump getting into office – I learned a lot about politics." She added, "This year I am sitting with people and they're teaching me how to look these things up, how to get the information that I need to make the right choices as far as voting."
Read the full interview on Highsnobiety. Learn more about SlutWalk by going to its website.