La Maison Noir/The Black House, a visual album that accompanies South African artist Petite Noir's EP of the same name, opens with an aerial shot of an arid desert. Petite Noir's solitary frame ambles from the distance, decked in all red. After wandering and stumbling for some distance, the artist born Yannick Ilunga meets up with his younger self and recites a letter to him: Young traveller, wanderer, migrant...your story, our story will become a map for all of those who rise.
"Blame Fire," the opening song on the EP hums in the background and before long, Ilunga is joined by a group of similarly dressed people, running around the desert, setting fire to television sets, burning a kongo cosmogram, and deftly dancing around the vast expanse of desert space. The scene ends with him in a classic rock 'n roll moment: playing a guitar in a circle of fire as the night sky begins to swallow his surroundings.
It's an emotional moment that tugs at your heartstrings and, like most of Petite Noir's music, ultimately asks: where does anyone actually belong?
La Maison Noir is Ilunga's first piece of solo music since his 2016 debut album La Vie Est Belle. The same post-punk, guitar-driven spirit that made up his previous material is evident here as well. "F.F.Y.F (Pow)," which features his creative partner and wife Rochelle "Rha Rha" Nembhard, is reminiscent of his 2013 release Noirse with its marching drumline, computerized synths, and subtle xylophone taps. "Hanoii" sees him crooning in his deep vocals over piercing synths, live drums, and a thumping bassline.
But it's on "Beach" with Danny Brown and Nukubi Nukubi, where Petite Noir fully takes flight. The song kicks off with some heavily reverbed humming before being accompanied by stadium status drums and a screeching guitar. The songs opens: Dominique, is this all a dream now? Is this all a dream or is it just in my head? The Xanax put me to bed, we have nothing to fear.
The song is probably the least genre-skewing on the EP but Danny Brown and Ilunga ,who previously collaborated on "Rolling Stone" from Brown's 2016 album Atrocity Exhibition, display a synergy that feels effortless.
Since first releasing "Till We Ghosts" in 2012, Petite Noir has repeatedly mentioned in interviews that he doesn't believe in the idea of borders and policing people's movements. Noirwave, his self-created genre and philosophy, is about creating and living in a world unencumbered by physical and creative boundaries.
This makes sense when you consider that Ilunga himself was born in Belgium to an Angolan mother and Congolese father. Having travelled quite extensively in his youth, he's always been at pains to mention that he feels at home anywhere in the world. As such, his music isn't just genre-blending for the sake of it, but a larger metaphor for the immigrant experience and what it means to walk around the world with a hyphenated identity.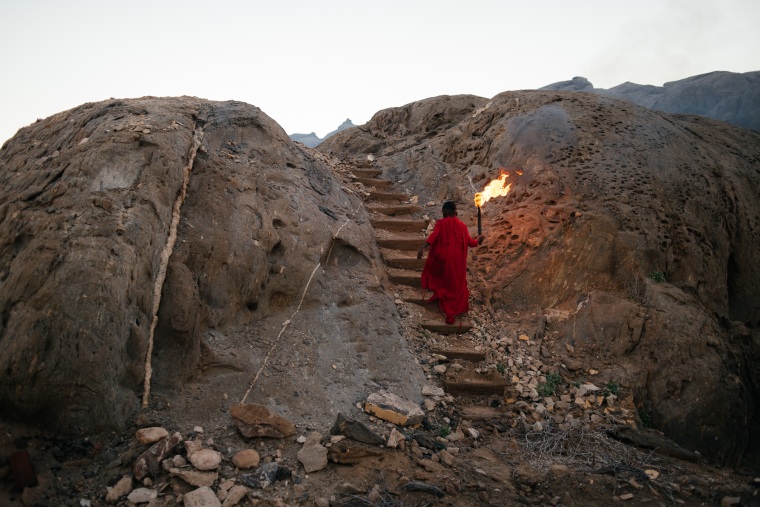 The visual component of La Maison Noir, a collaboration with Red Bull Music, resists the impulse to frame Petite Noir's experiences as exclusively traumatic. Instead, what gives the film its emotional currency is its restraint. Its message is always implicit. The all-black set of characters navigate the Namibian desert, where the film was shot, in different colored fabrics of red, blue, white, and brown. They sing, dance, breathe, and exist without being cast as receptacles for violence and systematic oppression. From the first to the last frame, the film subverts what it means to be black and African. In Petite Noir's universe, it means colourful, life-affirming, and without fear of man or the elements.
The Kongo cosmogram is a recurring motif. The religious symbol — a circle divided into four parts — symbolizes the physical and spiritual world. It appears numerous times across the La Maison Noir video, at one point as a tattoo on Ilunga's hands. The symbol represents Ilunga's own birth, death, and rebirth both as an artist and a human being. And toward the end of his visual EP, his rebirth comes full circle.
Decked in all white, he runs into a lake for a baptism of sorts. He faces the camera, reciting lyrics from "Beach" while the waters run over his body. A series of slow motion shots of him mid-flight make up the rest of the film and as his body hangs mid-air, you can't help but wonder if this kind of unbridled black joy and freedom of movement will ever be within reach for black people across the diaspora. With the current worldwide anxiety around immigration, building walls, and defining what space belongs to who, Petite Noir's music dares us to reconsider our ideas of home and borders.
The best part of La Maison Noir is not that it offers any answers or pretends that any easy ones exists. Instead, the real satisfaction comes from his understated subversion of what it means to exist in black skin as an African. Lines like, Refugees on a mission/ Don't believe the television and Congolese kid with some big dreams, aim higher from "Blame Fire" are direct and heartfelt without being overwrought. The rest of the music, with its refusal to adhere to a specific genre, further subverts the expectations of what music coming out of Africa should sound like.
If Petite Noir were to have his way, each and every person of color within the diaspora would be living in a borderless utopia —one without any creative and real life limitations. That's not such a bad thing to spend your life dreaming about.