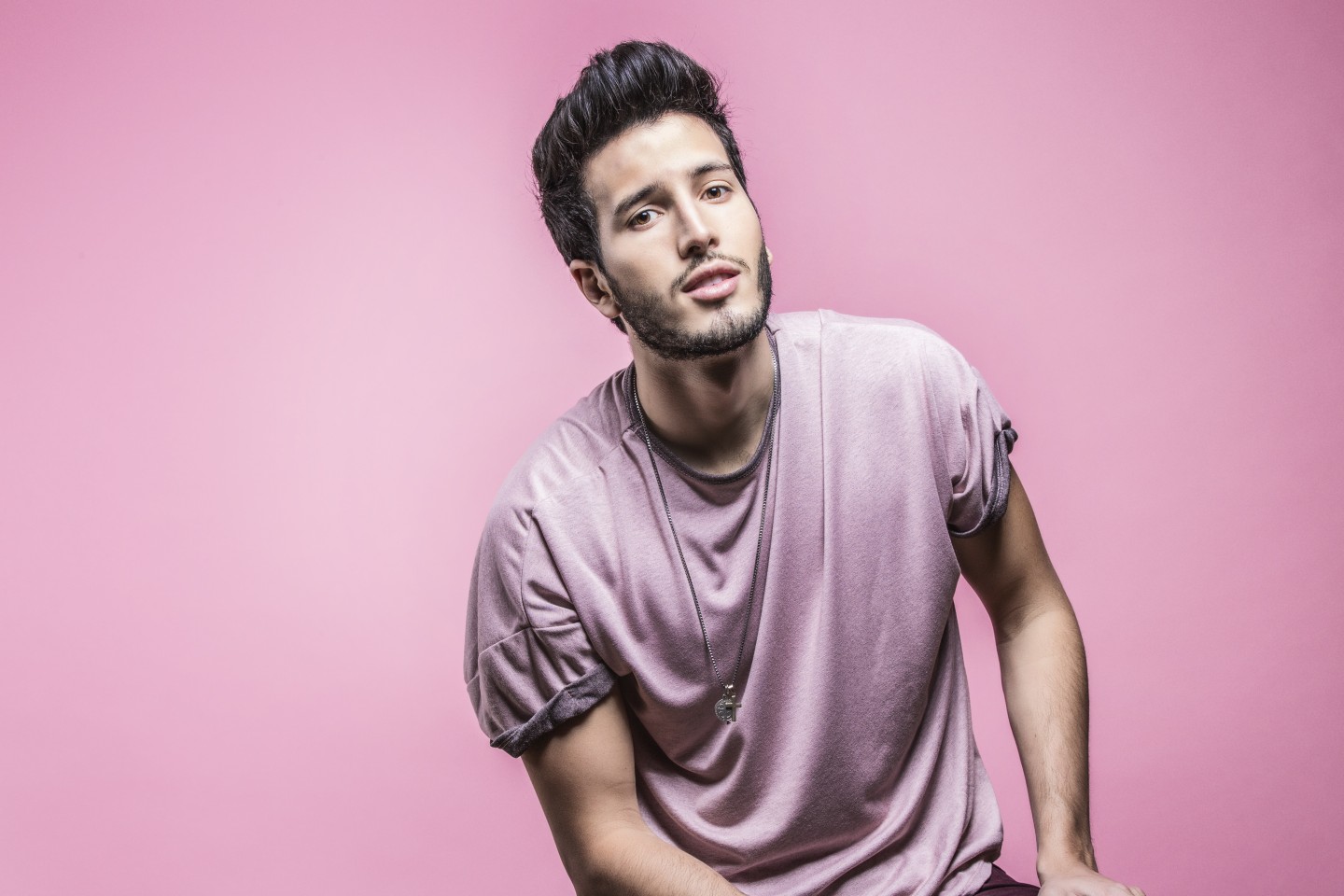 Sebastián Yatra is bringing back the Latin ballad. While the Colombian singer-songwriter's contemporaries J Balvin and Maluma are at the forefront of reggaeton's suave revival, the 24-year-old has journeyed into even softer territory, creating a musical space for himself somewhere in between the olden times' sappy romantics and the new wave's sensuous vibras. Using his plush voice and baby boy charm, the Medellín-born artist makes heartstring-tugging melodies for those who, like him, favor love over lust.
Emerging in 2016 with his Billboard chart-landing hit "Traicionera," Yatra (born Sebastián Obando Giraldo) continued enticing the rapidly-growing urbano-pop audience this year with his debut album, MANTRA, a collection of lento reggaeton songs for late-night parties and lovelorn strains to cry to — that is, if the dancefloor couldn't mend your broken heart. A testament to Yatra's versatility, the project's success (his tropical hit "Robarte Un Beso" was nominated for Song of the Year at this year's Latin Grammys), also gave evidence to an unexpected discovery: baladas can still bang in 2018.
"If you're just genuine about it and make the music you love, the songs you feel in your heart — if you feel them — someone else is going to feel them as well," the Miami-raised crooner tells me, his cantadito — a drawn-out sing-song accent that makes his love jams all the more romantic — conspicuously absent. Sitting backstage at Bogotá, Colombia's Movistar Arena after his performance at a joint concert with Latin megastars Juanes and Miguel Bosé, we have a relaxed conversation over the chorus of tens of thousands of cheering fans, as the global entertainer, who is currently on his first U.S. tour, talks about his journey from playing soccer in high school and winning international crowds with his doughy love note ballads.
You just hopped off the stage in your home country, performing alongside Latin music icons. What is that like for you?
It's an insane feeling being here in Bogotá for the inauguration of Movistar Arena, the first venue that was made especially for these types of concerts in Colombia. This will be a place where thousands of great artists from around the world come to share their music, and I'm so fortunate and lucky to be the first artist to perform officially in a sold-out show here at the arena next to Juanes and Miguel Bosé — two of my idols who have represented Latin music all over the world with such a great level of love in their songs. I try to give it 100% every single night. Tonight we're here in Bogotá, tomorrow I'll be in Orlando.
You left Florida when you were 20 years old to build your music career in Colombia. How does it feel to return for your first U.S. tour?
I grew up in Miami, so just being back in my second home and seeing all my friends and the people I grew up with — having them at one of my shows — is going to be such a surreal feeling. They're the people who'd be with me in my garage every day, when I'd practice in front of the mirror or writing my first songs — which were pretty bad.
You blasted into the mainstream music scene in late 2016 with your hit "Traicionera." Two years later, you're Latin Grammy-nominated, have sold-out concerts, and are about to embark on your first U.S. tour. Does it all feel fast for you?
It actually feels like a lifetime. I started this project when I was 12 years old, and it took a long time to get a team going, create my concept of what I want to do, and feel prepared to do it. I released my first song at the end of 2013, but we were independent for two or three years here in Colombia. Little by little, we started gaining traction, and Universal Music Latin liked the project and believed in me. We've been working together now for two years. "Traicionera" took the project into a whole different level, and now we're doing our own shows and selling them out. We've been in Mexico, Argentina, Chile, Uruguay and now the U.S.A., and we'll be doing Colombia next year. We just came from a tour in Europe as well. A lot of crazy stuff is happening.
Latin urban music right now is massive, and some of the biggest artists are coming out of Colombia. What do you think it is about the sabor of this country and culture that is attracting such a vast audience?
Passion and work ethic. You see guys like J Balvin, Maluma, Juanes, Carlos Vives, and all these new guys coming out that are just insane. At the end of the day, they all have different styles, but they all work nonstop. It's been the case for us as well. We've done what we've done because we have given 200% every single day and night. Last year, I did 221 shows in 86 cities, and this year we're doing similar.
While you were born in Colombia, you were raised in Miami. How do these cultures influence your music?
Growing up in the U.S. influenced my way of thinking. It made me so much more open to other cultures and people, and just understanding and taking my time to look at the best things about culture. We're all so different, but at the end we have one thing in common, and that's love. We express it on our own different ways, but we all feel it the same.
What's the feeling you want your songs to leave listeners with?
Each one of my songs has to make you feel something special inside, no matter what type of song it is. A lot of times, people ask me, "Are you an urban artist, a pop artist, what are you?" I say that I try to make songs that help you out though life and accompany you during your best and worst moments. We do songs like "Ya No Tiene Novio" with Mau And Ricky, and we're all dancing around, the video is hilarious — then two days ago we released "Vuelve" with Beret, and you hear this song and you just want to die. Even if you're not going through a tough time emotionally or in your relationship, you feel like you are.
As a young immigrant growing up in the 305, did you think these dreams you've had all your life could be realized?
I always visualized this. I was the kid who'd walk around school and sing in the halls nonstop, and everyone else was like, "What are you doing, bro?" I would show up to soccer practice with my scarf because I had to take care of my voice, and I stopped playing soccer for a long time because I needed to dedicate myself to singing class. I went every day, two hours a day for three or four years. One of the classes was stage presence. I'd just picture everything and sing the songs of all my favorite artists.
Who are some of those artists?
Luis Fonsi is awesome, and Juanes, of course. The guys from Reik, we just recorded a song together that we'll be releasing next year.
You also have "Robarte Un Beso" with Carlos Vives. What's it like to work with artists you have long looked up to?
It's just crazy to be able to share stories with these guys — to write songs together and just share love. That's my biggest purpose in life, and what I think music is: an opportunity to get to people with a good message, leave something nice behind, and have people be able to be happy with your songs. To share them with their kids and see the type of influence you can be for this next generation.
What type of influence do you want to be?
I want people to see me and know that, being themselves, they could make their dreams happen. You don't have to be something different. If you're genuine about it and make the songs you feel in your heart — if you feel them — someone else is going to feel them as well. I just want to be something positive.
In addition to your urbano songs, you're also making great ballads, which is rare these days. Can we expect to hear more of this in your next album?
It's all ballads! I started by singing ballads and, as you said, the world has turned urban, so I got out of my comfort zone and started writing urban music, and I even started feeling comfortable with it. We did "Por Fin Te Encontré," "Traicionera," and "Robarte Un Beso," which were amazing. But the songs that I felt could really live forever were songs like "Cómo Mirarte" and "No Hay Nadie Más," [the latter of] which is a song I wrote on my couch one day when I was really sad about a girl I was dating, and I wanted to make her happy and forgive me. These songs move me so much that I want other artists — and young artists — to not be scared to do ballads [just] because ballads aren't hot right now. No matter what's going on in music, people go through the same emotions, and we're going to demonstrate that. This new album is taking ballads to the next level in 2019.
You're 24 — at the early stages of your career. What do you want people to say about you 10 or 20 years from now?
"That guy is nice," or "Oh, cool guy." "I like his music. His songs make me feel fuckin' great." That's all I really want, you know? Just [to] take this project to more hearts everywhere. Right now we're singing in Spanish mostly, but if God gives us the opportunity to sing in English and start going to other cultures around the world, we'll try to do that as well.