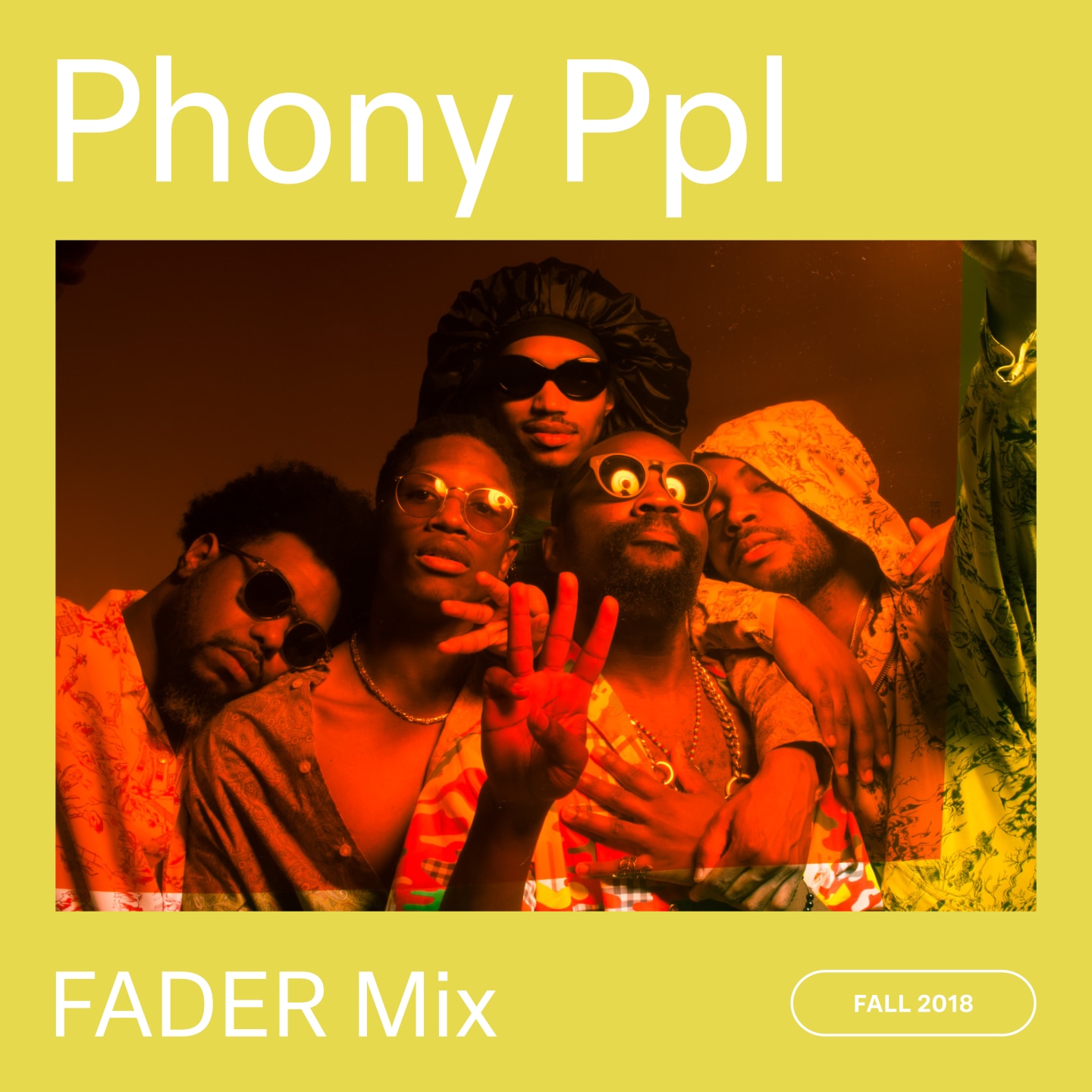 The longstanding FADER Mix series presents new, exclusive DJ mixes from our favorite artists and producers.
For the past few years, Phony Ppl have been something like New York's roving house band, a handful of musicians who helped redefine the city's live scene with their eclectic soul-, funk-, and hip-hop-inspired pop. With releases like 2015's Yesterday's Tomorrow, the group, made up of Elijah Rawk, Matt "Maffyuu" Byas, Elbee Thrie, Aja Grant, and Bari Bass, doubled down on their style. This fall, after signing with 300 Entertainment, they put out mō'zā-ik, a warm, thoughtful follow-up that culminates their years of experimenting and honing their songwriting. Today Phony Ppl share a FADER Mix, a collection of warm grooves that delightfully distills their ethos into 45 minutes. Listen below, and read on for a Q&A with the group and a tracklist.
What do you imagine people doing while listening to this mix?
We imagine people chillin' out, with a finely rolled El; room all clean, got the nice oils going for the good room aroma and you're ready to just have your mind and ears go on a musical journey through the eras. All different types of feels and emotions to be felt while listening.
Is there a track in particular that stands out? Why?
The Track Honey Butt by Mandril. I remember MaffYuu's dad stopped our rehearsal one day and was like, "Come into the studio, I got something to show y'all" and it was that song, LOUD, bassdrum and bass thumpin'. We were all standing in there blown away! My dad stops our rehearsals to show us songs often.
What music or artists do you turn to for inspiration when you're working on projects of your own?
We listen to just about everything, we will pull the best that we like from any song, even if considered terrible or amazing. There's beauty in everything made, you just have to be listening for it. For musicians we look towards: EWF, Radiohead, Coldplay, in general bands that are still together decades later.
You've accomplished a lot over the past couple of years. What are some of your favorite memories?
-Going on tour with Kali Uchis
-Finishing up this album!
-Traveling to Korea to headline our FIRST FESTIVAL EVER! #SojuBoiCe
-Playing Jools Holland 25th Anniversary
-Playing at the Camp Flog Gnaw festival BOTH DAYS
-Spending the Week with Just Blaze and the Great People at Universal Audio
-Meeting T-Pain, going to Atlanta to hang with Audio Push and then seeing T-Pain again months later at Diamonds of Atlanta
-Doing shrooms during the Super Moon in Montauk, recording a lot of Yesterday's Tomorrow
-The list is very extensive!!!
Tracklist:
Leny Andrade, "A Resposta"
Mandril, "Honey Butt"
Homebrew, "Once I Had a Friend" (Kon's Quick Edit)
Foster Sylvers, "Cotton Candy"
Gil-Scott Heron , "Bottle"
Bill Withers, "Make A Smile For Me"
Foster Sylvers, "Misdemeanor"
Lo Borges, "Vento De Maio"
Jamiroquai, "Runaway" (Live at Abbey Road)
Peggy Gou, "It Makes You Forget"
Theophilus London f. Peter Hadar, "I Want You For Myself"
Tortured Soul, "I Might Do Something Wrong" (Osunlade Lonely Mix)
The Stuyvesants, "Crush On You (Remix)"
Amerie, "Why Don't We Fall In Love"
Hi Tek f. Dion & Taleb Kweli, "Let It Go"
J Dilla, "Track 6"
J Dilla, "Track 12"
J Dilla, "The Diary"
The Stuyvesants, "WOAH (Remix)"
Elbee Thrie, "Posessed (Creative Zone) (Bari Remix)"
Elbee Thrie, "Stepping Out (Joe Jackson Cover)"
Phony Ppl, "Before You Get A Boyfriend"
Leon Thomas III f. Buddy, "Favorite"
Grand Puba, "I Like it"