Christopher John Rogers
Glamour is being reimagined by a Southern style visionary.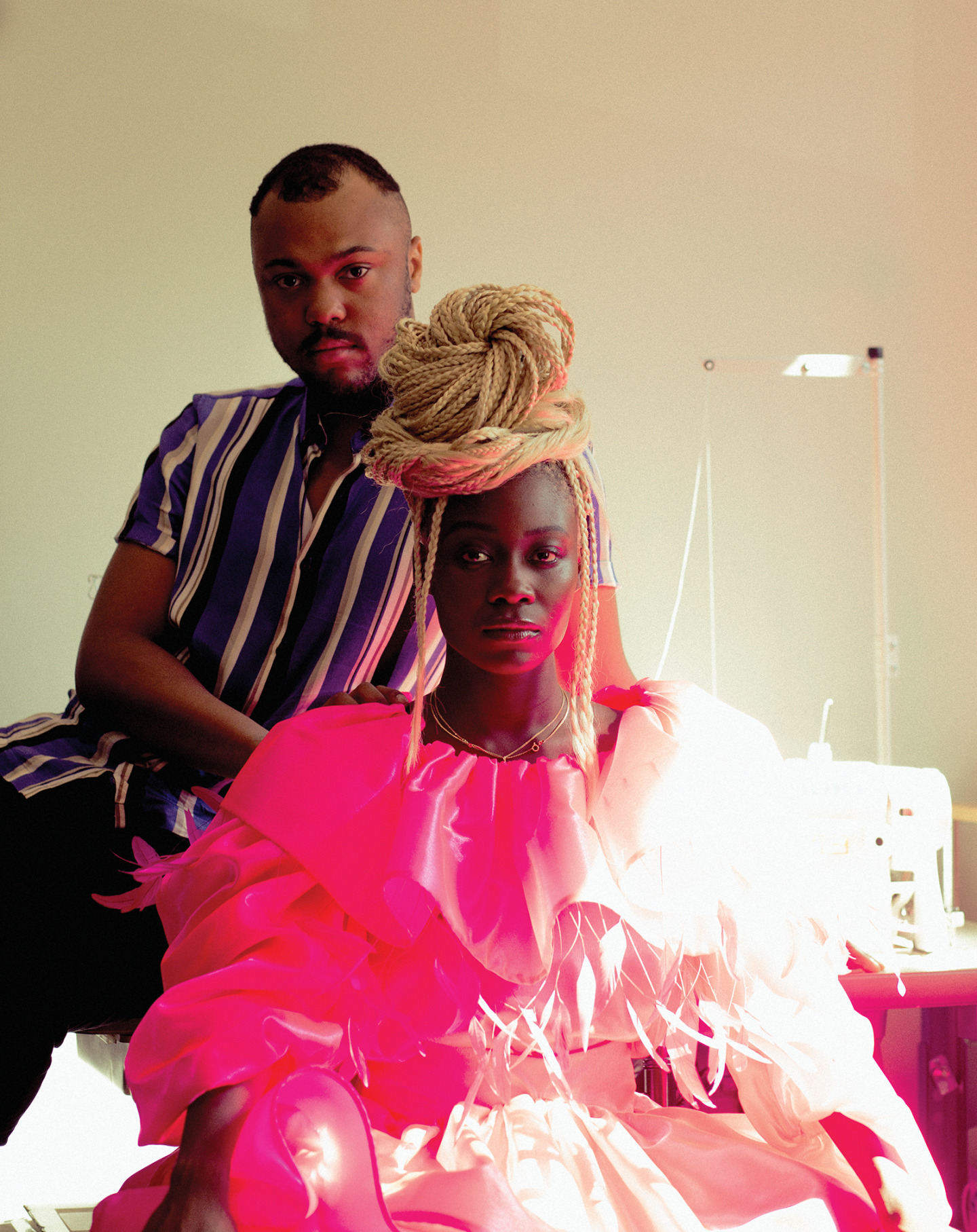 One afternoon in September, the fashion designer Christopher John Rogers gazes over his brunch on the patio of LaRina Pastificio. Using a fork to draw a distinction in the air between costume and style, he explains that his fascination with fashion started in the fourth grade in his hometown of Baton Rouge, Louisiana. "I was really into anime, manga, and all that stuff," he says. "I was making a comic book and one of my friends, Catherine, was like, 'Why do your characters always seem to wear the same thing?'" The question rattled Rogers, then 10: "I told her, 'I don't know' but I started exploring dress and what that meant in terms of fashion outside of costume."
Rogers, 24, is tall and lean. He is wearing a vintage, short-sleeved blue, almond, and coffee striped shirt, black chinos, and cowboy boots that compliment his buzz cut. He began dreaming of a career in design soon after he started inventing new styles for his superheroes. In his mind, style became a way to create myth, and with an accessory, extend the fantasy, draw attention, and eventually, for him, a way to make visible the person. "I'm from Louisiana, black and gay, and I come from a very spiritual family," Rogers says. "I was always kind of shamed for being myself. I can be quite feminine. I like pink and green and expressing myself, so I've always kind of felt like I had to suppress myself."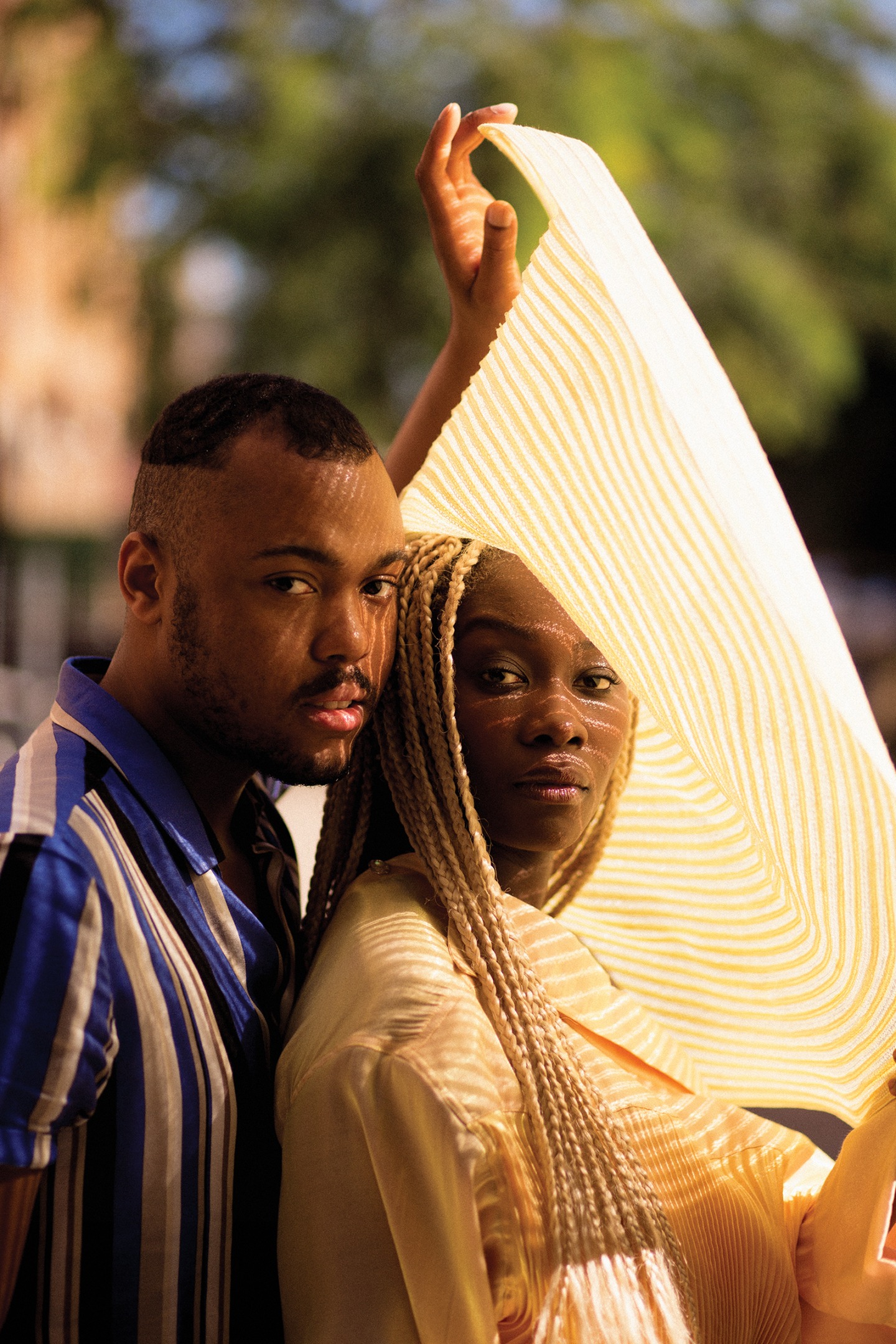 By the time Rogers was a freshman in high school, he had taught himself how to sew by watching tailoring tutorials, scrutinizing fashion histories, and hanging on every word Alexander McQueen and John Galliano uttered during backstage interviews after their shows. He would later study fashion at Savannah College of Art and Design, formalizing his talent through experimentations with aesthetics of beauty that were "adjacent to glamour."
A few weeks before our brunch, Rogers debuted the first collection of his eponymous line at New York Fashion Week. The Spring 2019 show featured au courant references to mid-century couture, the decadence of an Elizabethan collar, and the idea of color as emotion, which was influenced by Moroccan artisans' sensitive and instinctual use of saffron yellow, bayou blue, and a soft, organic peachy pink. The raw-hemmed cream suit topped with a long, orange geometric hat was designed with a dash of deaconess. "I grew up Southern Baptist and my grandmother was the head of our church and, girl, I love a monochromatic look. I love committing to a color, I love dressing up," he says, sipping a bellini. "In our culture there's this emphasis on comfort — It should be easyyy! — but like, for me, there's nothing wrong with effortful dressing."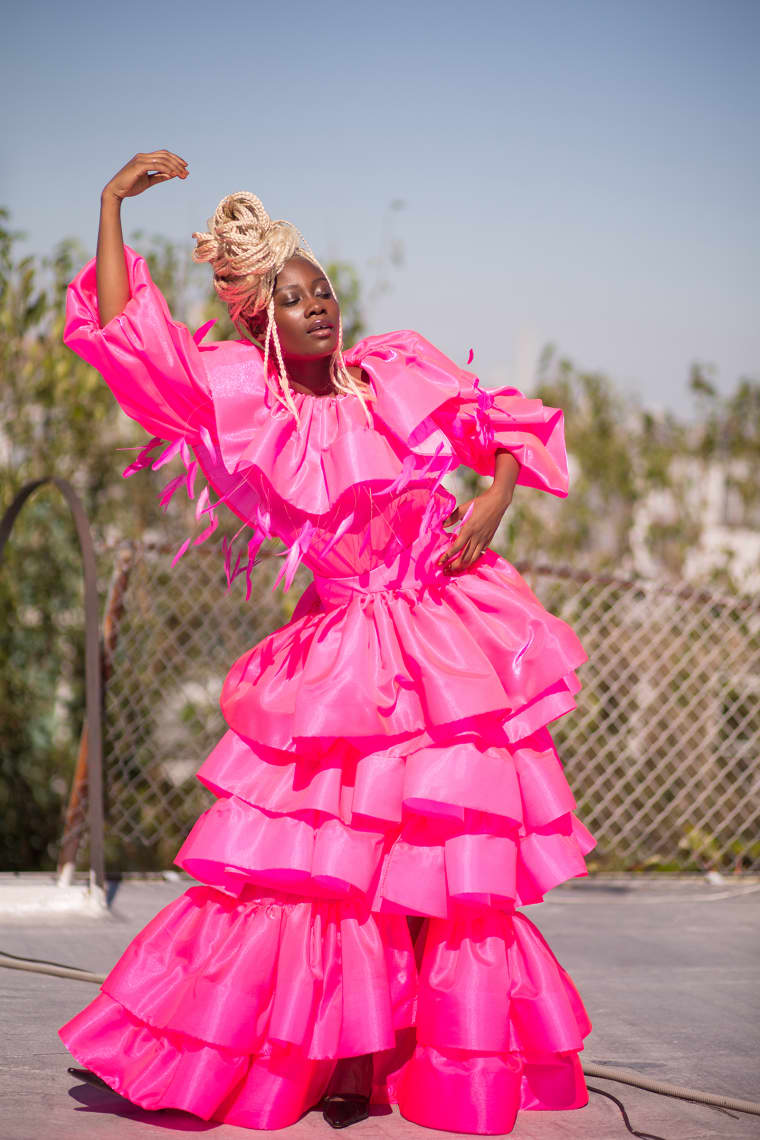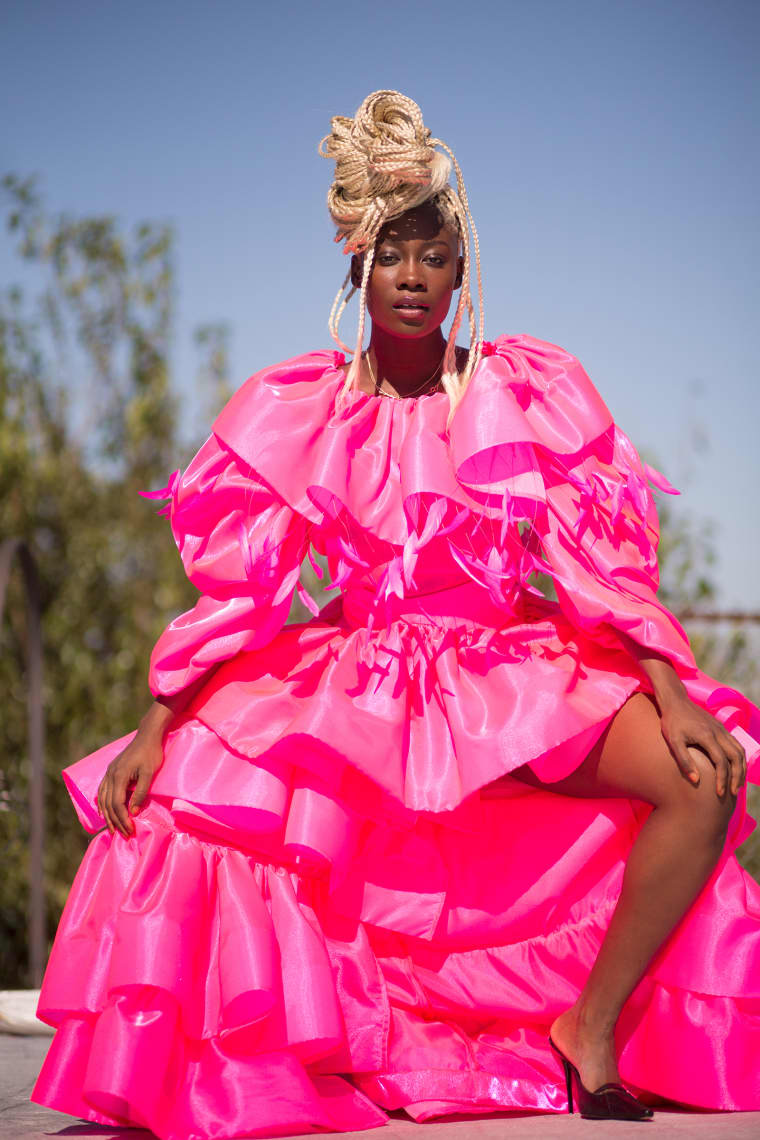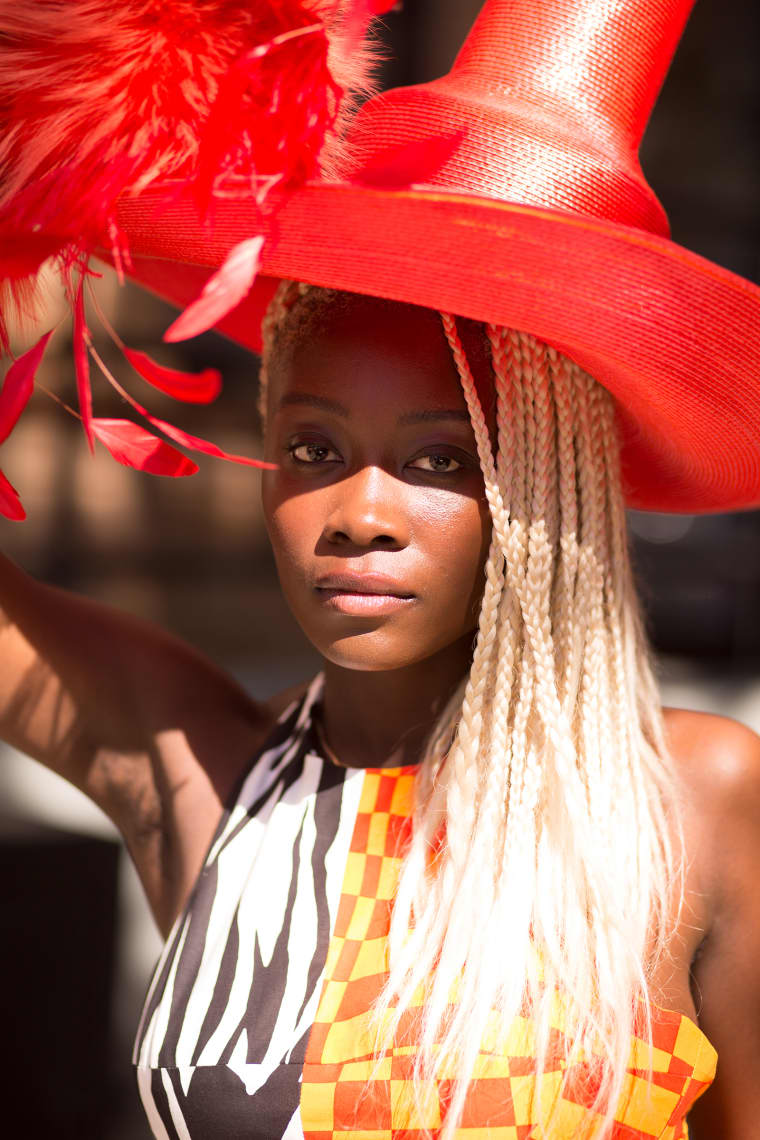 Rogers sewed every look of the collection at his kitchen table in Bushwick with the help of his roommates. "Oh, gag. So I actually have no money!" he deadpans when asked about his process and sourcing fabrics. "Like, I don't have backers, I have a full-time job as a designer at Diane Von Furstenberg, and I take that money and I buy fabric I can afford and I try to turn the party." The process seems to be working. At the 2017 BET Hip Hop Awards, Cardi B strutted across stage in Rogers's Eddie fox, mink, and ostrich intarsia coat; in the Black Panther soundtrack's "All the Stars" video, SZA croons in his multi-hued taffeta bustier and crawfish suiting trouser; in early October, Tracee Ellis Ross posted a photo wearing the designer's white Spring 2019 Aba basque cotton shirtdress.
Good art is often judged on whether or not it is intimately tied to the contemporary. Today's fashion is a reflection of a rise in visibility for genderfucked, feminine perspectives which debase the blasé citing of traditional power and beauty. In seeing Rogers's Spring 2019 line presented alongside Laila Gohar sculptures and against the white cube of Martos Gallery on Elizabeth Street, those tenets rang true. His work effectively conveyed the slipperiness of creating space through self-expression. Across the back of a tulle wrap he designed, the word "DRAMA!" in purple and blue gems glistened. The shimmery organza dresses and liberal use of plaid and Swarovski crystals also carried a message: "It's not about a girl wearing a suit or a guy wearing a heel, it's about you feeling yourself and feeling the fucking fantasy and the fucking look," he exclaims. "That's what it's about. You know what I mean? It's about queerness in terms of you fully embodying the nuances of yourself when dressing up."