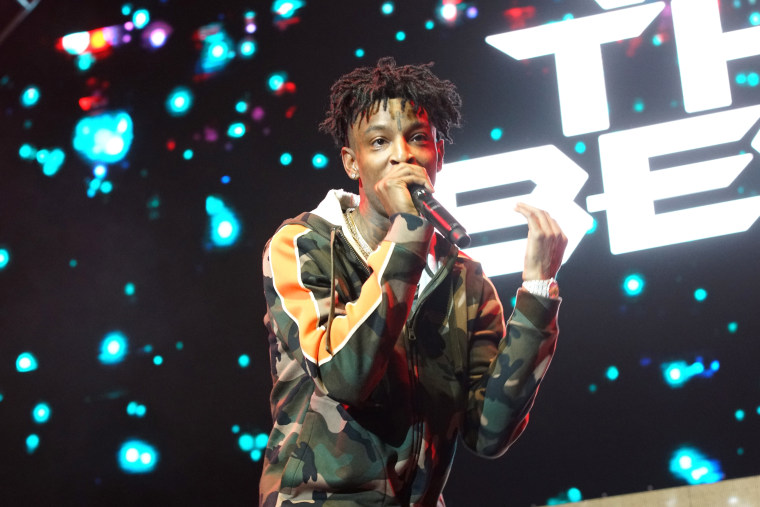 21 Savage described his arrest by ICE as "my worst nightmare," in a New York Times interview in which he talked about both his time in jail and people's response to the news.
A major flashpoint during Savage's time in jail was the Grammys on February 10. The Atlanta rapper was scheduled to perform alongside Post Malone but was forced to pull out. Despite many of his collaborators, including Cardi B and Drake, winning awards on the night, only Childish Gambino producer Ludwig Göransson mentioned his plight from the stage.
Asked about this by Times writer Jon Caramanica, Savage said he doesn't hold any grudges. "The Grammys is the Grammys, but when you in jail," he said. "The Grammys is nothing. I got to watch it. By that time they had put a TV in my room."
On that same subject he added: "I don't care what nobody say — everybody in that building who's connected to this culture, I was on their mind in some type of way. That's all that mattered. They didn't have to say it 'cause everybody knew it. It was in the air. All the people that was there, they said the words in other places and that matter just as much. All the big artists was vocal about the situation, so I was appreciative. Even the memes."
The numerous memes and Twitter jokes about Savage's arrest, many of which centered around the discovery that he was born in London, dominated the coverage of his arrest. However, Savage said he didn't take any of it to heart.
"Some of them was funny — I ain't gonna lie," he said. "I was appreciative of that. I coulda been another person who just, "He locked up? Damn," and nobody said nothing. Some people, I see why they was mad. It ain't about the meme, it's about the bigger picture. But I done been through way worse things in my life than somebody putting me on a meme. I been shot — what is a meme? A meme is nothing."
Elsewhere in the interview Savage echoed his belief that rapping about ICE, and immigration control in general, made him a target for arrest.
A deportation hearing for 21 Savage is still scheduled. Jay-Z and his label Roc Nation have hired attorney Alex Spiro to assist in the legal proceedings.