Hoodrich Pablo Juan is still blessed, highly favored, and widely studied
Ahead of his forthcoming project BLO, the Decatur artist touches on his highly influential sound, the love (and hate) that drives Atlanta's rap culture, and staying motivated through the bullshit.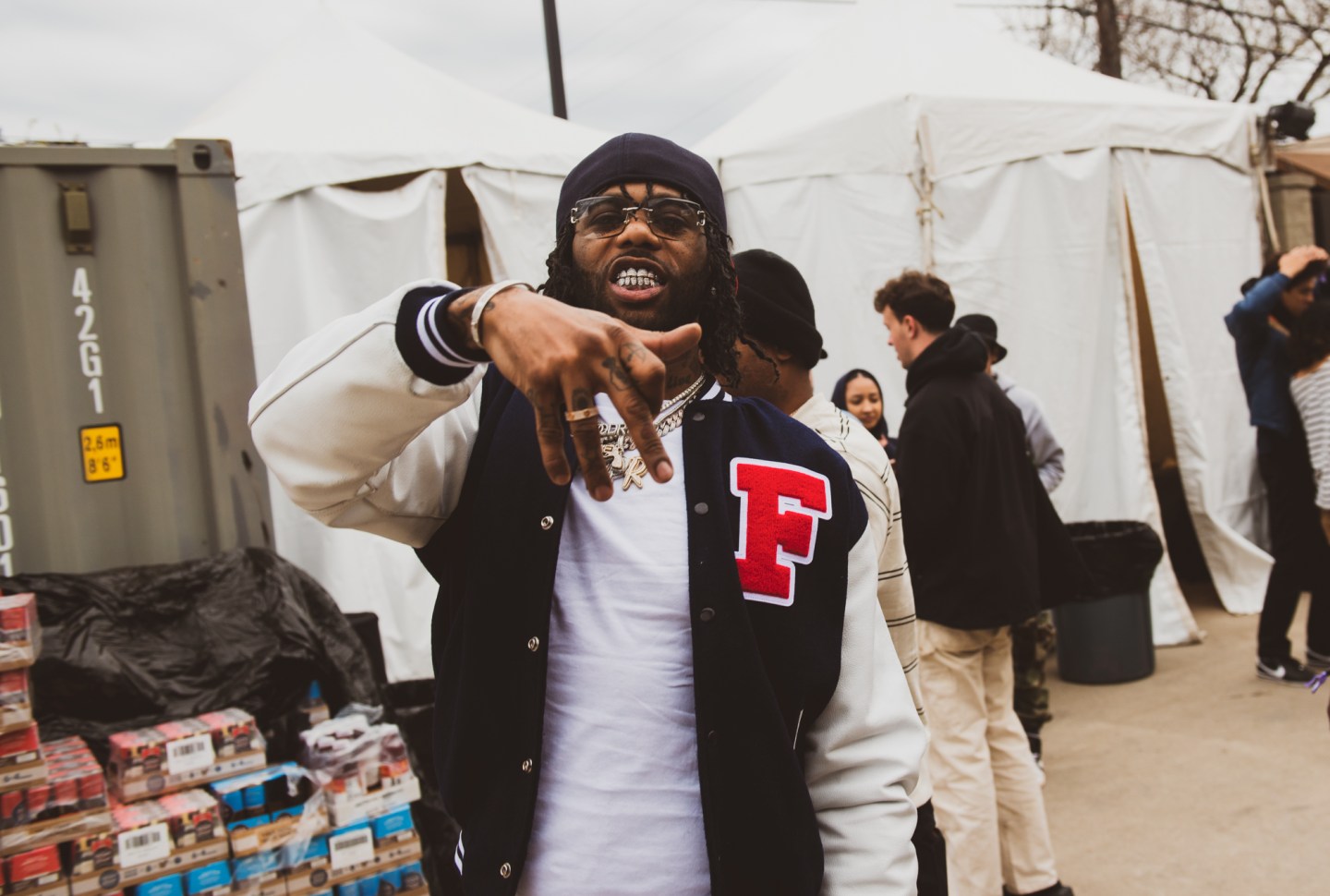 Much of today's rap sound has been filtered through the heavy gravitational pull of Atlanta's music scene. Musicians all over the world have followed in the stylistic footsteps of current Atlanta titans like Future, Young Thug, and Playboi Carti, and you can count fellow Atlantan Hoodrich Pablo Juan in that grouping as well.
By releasing more than 12 projects over the last four years, with contributions from Atlanta power players and producers ranging from Migos to Zaytoven, Hoodrich Pablo Juan's unique flow has permeated through DeKalb County's invisible boundaries and straight into the buzzing rap scenes in Dallas, and the D.M.V. (D.C., Maryland, and Virginia) metro area. His nonchalant, whisper-y delivery sounds like the low rumble of a fine-tuned luxury car engine; on "Zombamafoo," from his 2017 release HoodWolf, Pablo combats frequent collaborator Danny Wolf's thunderous 808s with a conversational tone, bypassing the beat's trunk-rattling intensity with raps about smoking good-ass sherbert and dripping in designer.
When I ask him about the influence of his style during a phone conversation, Pablo calmly tells me that music is meant to be taken, flipped, and ultimately changed. He also ponders the idea that his sound is so unique because he doesn't really listen to the music of his peers. "I do not listen to people," he says with conviction, before clarifying, "I might listen to two or three rappers. When it comes to my sound, it's strictly what I been through straight to the mic."
Pablo's singular sound has garnered him as much attention from his contemporaries as it has from record labels; in 2017, he penned a deal with Gucci Mane's 1017 Eskimo Records imprint. After a fairly quiet 2018, Pablo returns next month with BLO, a star-studded effort that includes previously released singles "Screaming Slatt" with Young Thug and "Shoebox" with Gucci Mane and NAV, as well as production from DJ Durel, Nard & B, and Danny Wolf.
Tell me about your upbringing.
I was born in Newark, New Jersey. I moved to around Candler Road in Decatur [Atlanta, Georgia] when I was five or six years old. I have six brothers and sisters and we was raised Muslim — a strict household until my dad passed. It's ingrained in me — in my roots — and I try to practice the stuff that's most important from that.
What made you start rapping?
It was everybody around me asking me to rap. They'd be like, "Go in and rap, bruh. Put it together. You got the clothes for it." I'm very intelligent, so when I put it together, people dug it, and I kept going with it. If five people around you supporting, it gives you a certain feeling. When you from the streets, you not hard-headed, and you get an opportunity to rap — and you know how that is — I made my choice to pursue it. There's a lot more love and encouragement around the music than there is in the streets. For some reason, everybody pushes you forward. They want you to win.
It sometimes seems like every artist and producer in Atlanta works together and has known each other forever. How'd you find yourself in the city's scene?
I been knew everybody through the streets. When I started rapping, somebody could hear it, and them just knowing me gave them more reason to support — which gives your raps a little more oomph. If I met you a week ago, we talked on some regular shit, and I heard your song, it's gon' give me just a little bit more excitement. That's how it is with everybody from Atlanta — Metro Boomin, Migos, Peewee Longway, Gucci Mane, somebody knows them. People be proud of you. I remember all of them when they started, so unless you gon' go Hollywood, everybody knows everybody.
Is there a sense of competition when you see people you know that are close to blowing up?
For sure. I'm not gonna lie, I always get my motivation from other rappers in Atlanta. If I see you doing good, I'm like, "Damn, I can do that." I don't know about everyone else, but I ain't no hater so when I see somebody else doing good. I get motivated. I think it's a no-hate culture. We already know each other, so it ain't like we see you on and then we're like, "Man, fuck that nigga." When you see somebody else on, you proud of them.
What inspired BLO?
BLO is short for Pablo, so this project is just me giving folks some different angles of me. I feel a certain way about a lot of stuff — a couple of different perspectives.
You and Danny Wolf have crazy musical chemistry. How'd that come about?
Me and Danny came from hard work. We met three or four years ago. When he used to come around, he'd give me beats and they'd be good, but I'd tell him go make some harder ones so we could go up. Instead of getting mad, Danny would make something better and come back with a whole lot of beats. The more beats he came with, the more songs I did to his music. We were both just working hard, and that brought us together. Plus, we were coming up at around the same time.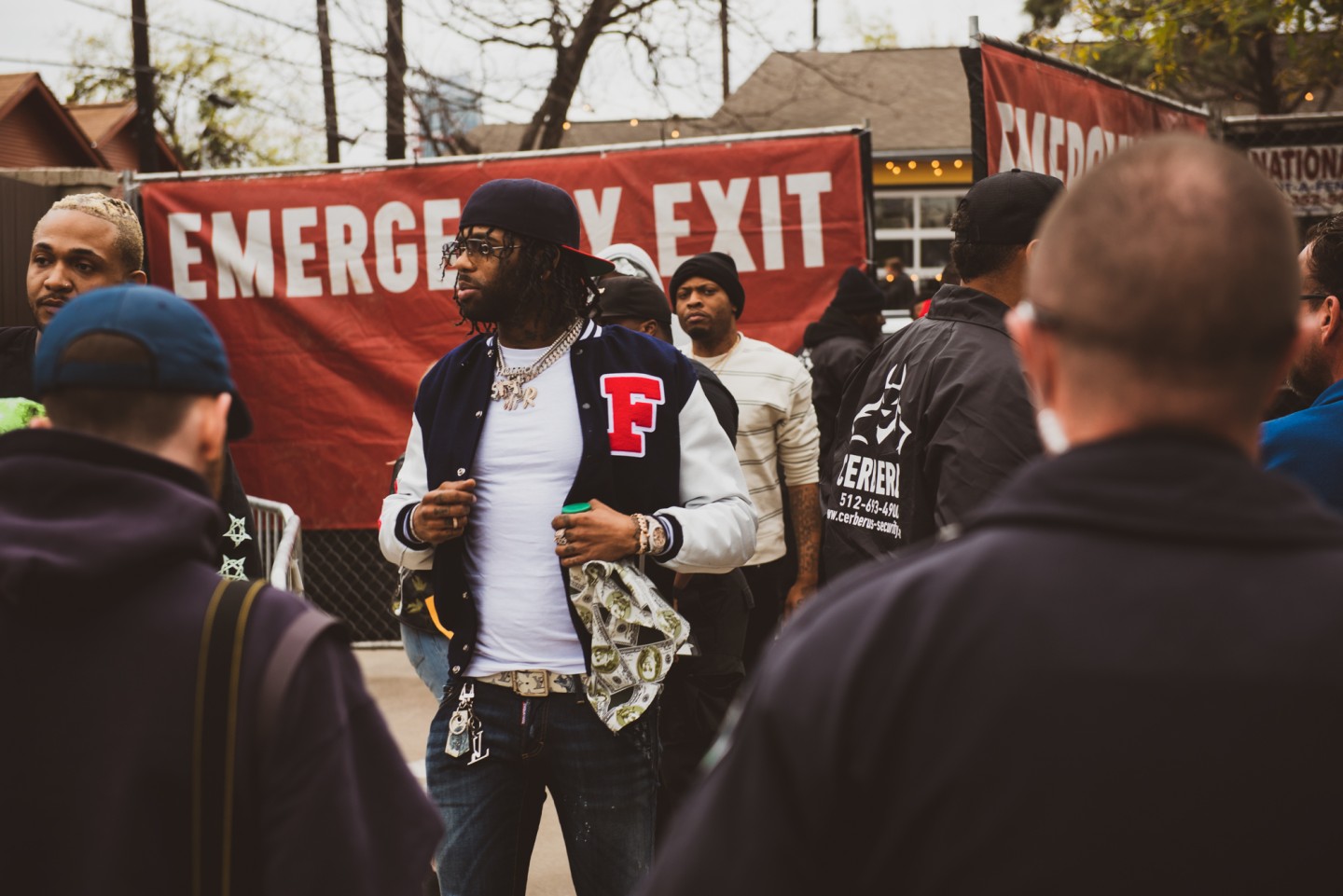 "There's a lot more love and encouragement around the music than there is in the streets. For some reason, everybody pushes you forward. They want you to win."
You kind of took a step back from dropping music in 2018 as opposed to the previous year, when you dropped multiple mixtapes.
Let's just say that I made more music in 2018 than I did in 2017. Why I didn't drop it is different, because the circumstances changed. It was a transition. In 2019 I'm dropping more tapes. If it was up to Pablo, I'd drop a mixtape every month.
What's stopping you?
Back then, I ain't even mix my music. There was a lot of steps that I skipped that I don't skip anymore, so it's gonna take a little longer. I used to do my shit outta the studio and drop it.
But music has a time bomb on it. You should always drop at the moment of how you feel. Music is emotion and feeling. You're not going to feel the same way you feel every year — not even in six months. You be going through different phases, and music should be dropped accordingly. People want to know how you feel at the moment.
Your sound is one of the few influential sounds in rap right now. Do you ever take notice of that?
Yeah for sure, but that's what it's for. I don't look at it like it's my sound. It's for people to eat up and get what they can get out of it. I used to listen to Boosie, Gucci Mane, and [Young] Scooter. It's always gonna be a little bit of what you listen to — just like when I was raised Muslim. I can't help but have some Muslim ways. That's what music is about. It always evolves.
Do you listen to music more for the sound or the message?
It's always about the message. The sound is cool, but I be liking songs more when they talk about something you can relate to.
Tell me about how you signed with Gucci Mane's imprint.
When you have labels and deals coming at you, it's all gonna be about what you want to do. I don't really know about rap — what I know is from the streets, so I just went with Guwop because I like the way he's doing what he's doing. Plus, he's from where I'm from.
As much as there is love in Atlanta's rap culture, there's also a lot of hate. In regards to recent news of you being the target of burglaries and robberies, where do you think that hate comes from?
It's the same as the streets, just a different angle. Even when I was young, I used to always be fresh. When you dress a certain way or kick yourself like a player and you don't mug everybody, somebody might take your kindness for weakness. It's always some hating-ass lil' person in the corner who's just mad. You can't worry about them. But as far as all that news, it's still news with very little facts.
People be misconstruing shit, too. In life, ain't nobody gon' be perfect. I don't care if it's somebody who you think is cool or extra gangsta. Knowing what I know in the streets, everybody has been through shit. Nobody is allowed to point a finger at nobody. At the end of the day, this is the internet, you can't worry about that. What you got to do is realize that you're a normal person, and normal people go through shit. I don't feel no type of way. Just keep on going, motivate yourself, get it out in the music, and let the people know how you feel right quick.
Do you feel like it's harder to move around now that you have a bigger following?
Yeah, that had to grow on me though — me realizing that I can't just go into stores and shit. You could cover up everything but your eyes, and they'd be like, "There goes Pablo." That was a big problem for me. Everybody judge me like, "Boy, you not normal." I ride by myself, I pull up, don't care who there, just kickin' it. That's me, same way I was in the streets — but in the streets, I wasn't walking around with half a million dollars worth of jewelry or riding in a quarter million dollar car.
Somebody explained it to me like this: You see the BRINKS truck full of money? You see how they protect it? A Rolls Royce truck don't come out every day. You don't see that out in the hood in the same spot every day. So when I put myself as the BRINKS truck or the Rolls Royce, then I understand. When your money evolves, you gotta evolve with it.