Red Bull Music Academy Bass Camp gets up close & personal with the world's largest synthesizer
This year's Red Bull Music Academy Bass Camp experience was packed with music history.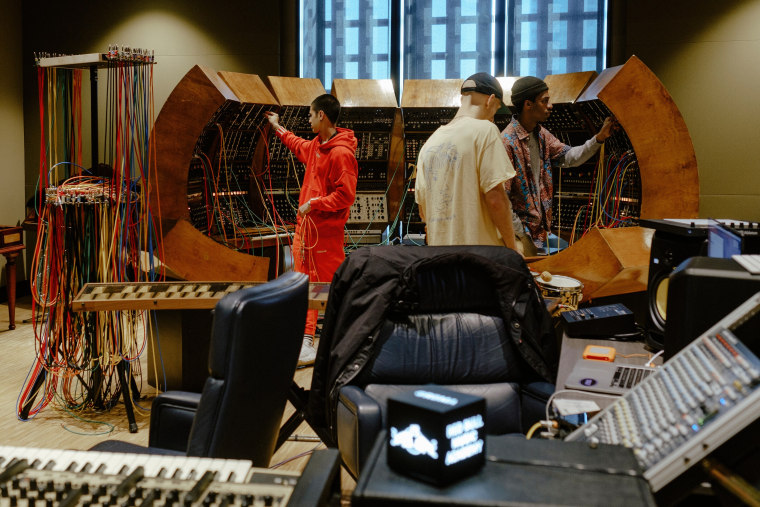 At this year's Red Bull Music Academy Bass Camp in Calgary, 20 emerging artists, and producers from all over Canada had free reign over the National Music Centre's 2000 instruments and multi-floor studio spaces, one of which included the legendary synthesizer, TONTO.
With lecture guests including Polaris Music Prize-winning singer-songwriter Lido Pimienta, soul music rebel Swamp Dogg and LCD Soundsystem's Gavin Rayna Rossum, there was just as much opportunity to learn as there was to collaborate among artists like OVO Sound Radio regular Govi, Toronto-based DJ & producer Korea Town Acid, Montreal-based Isabella Lovestory and more.
"I create most of my music alone in my basement with just my laptop and a MIDI keyboard," Govi told The FADER over email about the experience. "My favorite piece of equipment to use at NMC was definitely the TONTO. It was really interesting to learn about and experiment with such a legendary piece of equipment." Packed with history, TONTO has been used in the creation of classics in the 70s and 80s, having been used by everyone from Quincy Jones, The Doobie Brothers, Stevie Wonder, and The Isley Brothers. Created in 1968, it was one of the first instruments with the capability to produce multiple tones with different voices simultaneously and despite technological advances since then, it remains the world's largest analog synthesizer.
"It's like a living, breathing being," said Toronto-based soul singer LOONY. "Thinking about Stevie using it to make songs that I love, that the world loves, was mind-blowing."