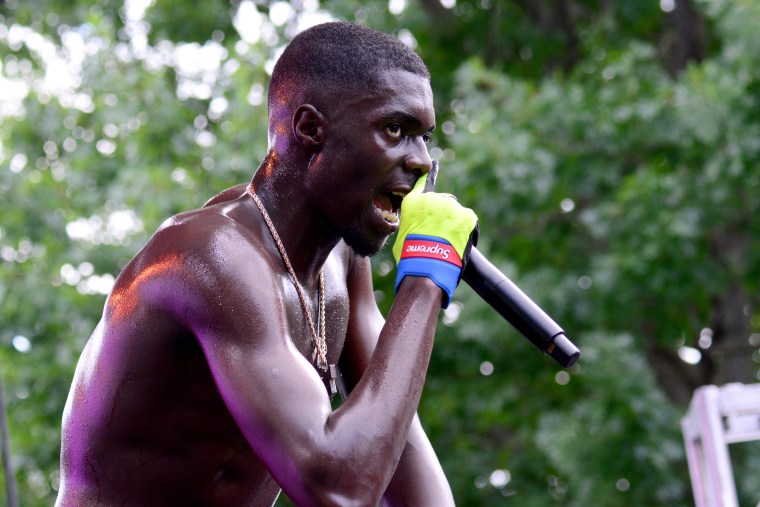 In February, Justine Skye called her ex-boyfriend Sheck Wes "my abuser" and accused him of assaulting her at the Montrose Hotel in Los Angeles. On Monday, TMZ reported that the L.A. County District Attorney's office will not press charges against Sheck Wes in the Montrose incident, citing a "lack of evidence."
Skye's allegations of abuse at the Montrose Hotel were part of a series of claims against Sheck Wes. Skye began on February 11 alleging that Wes was present when a group of his associates stalked and attacked Skye and a group of her friends. "You're pathetic sheck and you beat women. You hit your girl before me and you'll do it again," she claimed.
Wes called Skye's allegations "lies," stating on Twitter: "I never hit or beat any women." Skye quickly followed up Wes's denial by sharing text messages she allegedly sent during an incident of abuse and video footage of the rapper jumping the fence at her house. Six days later she was granted a restraining order against the rapper.
Justine Skye's management confirmed the dropped charges in a statement to The FADER and said other legal proceedings against Sheck Wes are ongoing:
"A judge in the Superior Court of California granted a restraining order against [Sheck] Wes that is still in effect and the correlating case is still pending. However, it is unfortunate that the Los Angeles District Attorney decided to not pursue any further action at this time but that is often the case with many victims of Domestic Violence which is why incidents like this go unreported much of the time."
Representatives for Sheck Wes were not immediately available for comment.