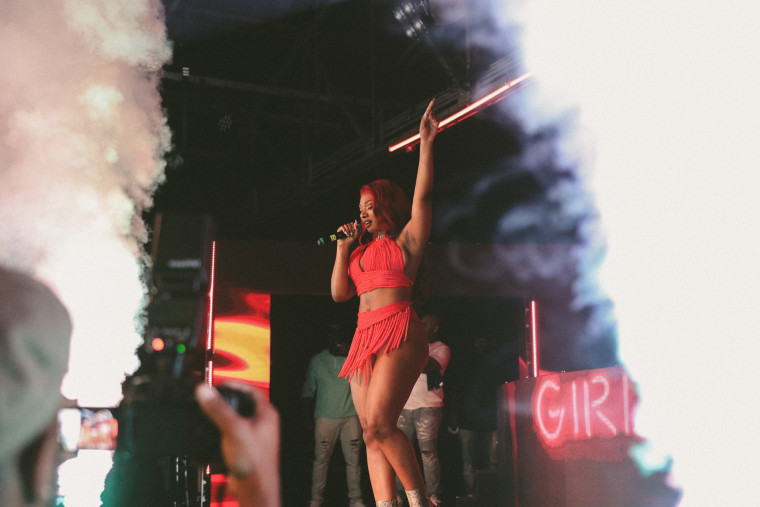 Houston's Warehouse Live is a proving ground. Put enough people in here, packed together with enough joy that their voices touch the roof and beyond the marquee? You've made it. One of the most hyped concerts to ever happen at the venue was Drake's very first Houston show in May of 2009, the first major performance of his since So Far Gone had blown up. Without that night, maybe Drake wouldn't affectionately refer to Houston as a second home, get an official day here, or have the stretched out charity and party atmosphere that is Houston Appreciation Weekend. In the eyes of Houston, that Warehouse show made him. Now, ten years later, there's someone else catching the same amount of hype.
Last night was Megan Thee Stallion's first major show since "Big Ole Freak" cracked the axis of rap, and she fully grasped the opportunity, proving that she's more than a viral star. The Hotties — Megan's legion of fans — were stretched in a line around the block by 5:30 p.m. The show wouldn't start for another four hours, and she wouldn't grace the stage for another five. They wanted an up-close glance at history, a perfect storm of a night that probably won't be replicated at any other Megan Thee Stallion show for the foreseeable future.
Fans strolled in wearing cowboy hats and club attire — men in form-fitting denim, women in comfortable jeans and bodysuits ready to twerk to their hearts' content. And the hometown response to Megan made it clear that this wasn't some attendees first Megan Thee Stallion show. To them, she was just Megan, the woman who freestyled as part of a viral cypher at Prairie View A&M University. A peer who blew up and always remained down to earth about it. The school that produces productive people brought her back last fall for homecoming, just as the buzz surrounding "Big Ole Freak" was in its infancy — far before radio picked it up and before record label 300 came into the picture.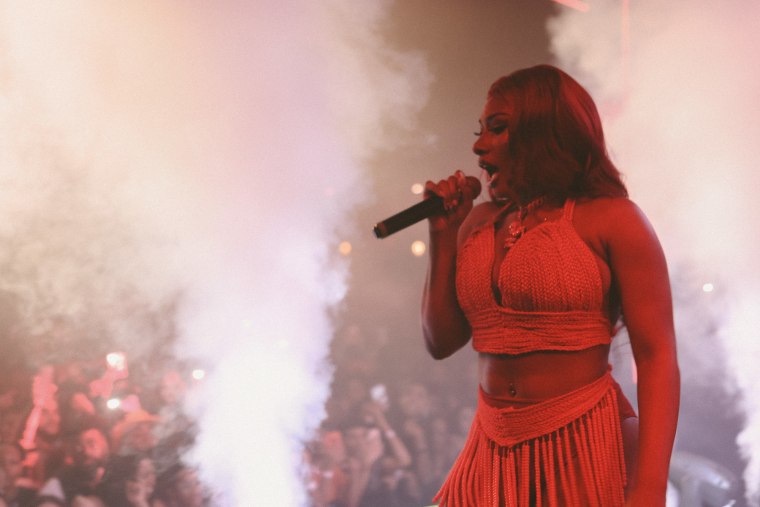 Seeing Megan captivate an audience — with all eyes squarely focused on her every word, her every step — is invigorating, especially because she's a local artist embracing her local identity. The last Houston artist who turned supernova was Travis Scott, but that felt more like an explosion that came out of nowhere. Scott's reached stardom via avenues outside of the city, Houston simply attached to his birth certificate and mannerisms but not rooted in his music or sound. Houston, a rap capital known for its prickly and particular fan base, is a proud city that embraces those who immediately sound and feel like them: the drawl, the confidence, and unflinching demeanor that feels wholly independent. It's the one weapon that disarms even the most staunch Texas rap fans. It's why Scott, despite his mainstream success, struggled to initially break through here. But Megan's rise feels like the city — the immediacy wholly synonymous with her take-no-shit attitude and authenticity.
On stage, Megan held court like a Queen in front of people she considered in on the ride. When the squelch of Ginuwine and Timbaland's "Pony" ripped through the atmosphere and a smoke machine announced her arrival, Megan directed the DJ to "play my shit." Clad in all red like Jessica Rabbit, she was more than ready to engage and let people in on some real Hot Girl Shit: "We gotta show 'em what the fuck we really do Down South. Where the real bitches at. This is motherfucking TEXAS."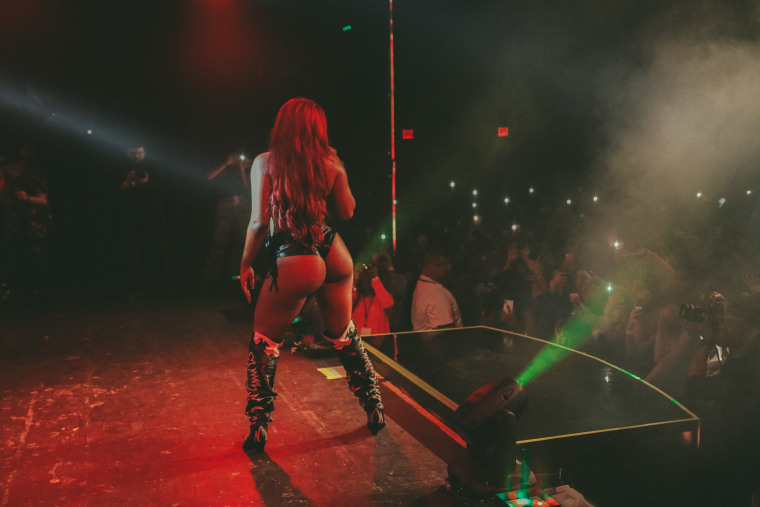 At one point, 300 Entertainment CEO Kevin Liles paused the show, taking a moment to tug on a large cigar, and acknowledged the importance of this moment. Liles jokingly attempted to grab the mic from Megan but he had to stop himself before speaking. "This shit is TURNT. I mean TURNT. You need to RUN THAT BACK." The crowd erupted and Megan obliged, albeit a bit shocked.
"I didn't know what that was," she laughed. "That's the boss man!"
Megan pressed forward, performing and occasionally stopping to converse with the crowd. She even found a moment to reflect on her late mother, Holly Thomas. "Y'all know 2019 has been a tough year for me," she said with a pause. "I didn't want to cancel my shows or stop going hard because that's not what my mom would want me to do. I just wanted to share this video of me and my momma and all the shit we was doing up until now."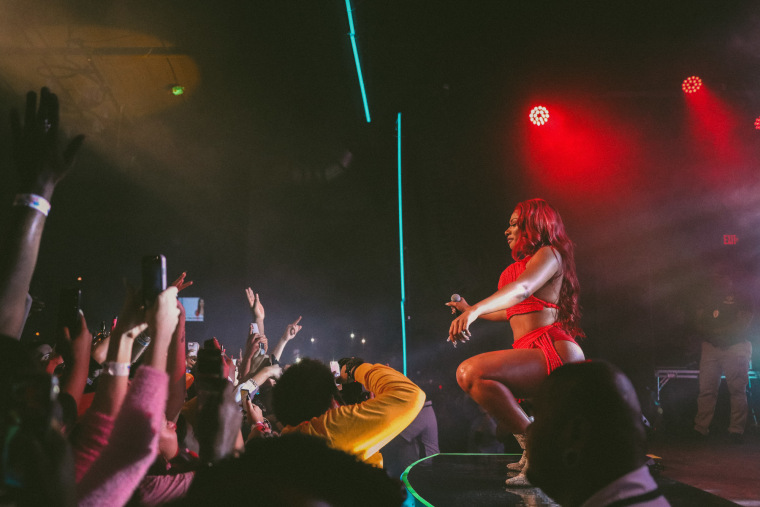 True enough, a video appeared on the LED screen behind Megan of her rapping with her mother's eye careful and steady upon her. At her urging, even though some would chastise their daughter for cursing or twerking, she only urged her daughter to dive further into it. "Twerk harder, Megan. Wreck these hoes Megan…" It was a moment of brevity, a pause on the world as for a brief moment, the shocking and sudden loss of her mother overwhelmed her. Then she darted back into her Hot Girl Meg persona. "I'm not gonna cry, play my shit."
Throughout the night, as Megan cued up hits from "Freak Nasty" to "Neva," the crowd rapped right alongside her, sometimes so loud and powerful that they drowned her out. She yelled out, "I wanna drive the boat!" to thunderous cheers and applause. She brought it back to her early days, freestyling on YouTube and looking at the crowd and their outstretched arms as if she were proving herself all over again.
Obviously, Megan closed with "Big Ole Freak," clad in a black alternate version of her first outfit, only this time some cowhide cowboy boots were on her feet. The crowd lifted her up one more time, finishing lines and making the night feel like there were 2,000 Hotties with her on stage. Instead of a nervous swell of emotion, Megan gave out nothing but smiles and confidence. She twerked to loud applause and cheers, ripping through lyrics with undeniable energy. The Hotties only pressed further to match her energy, buoyed by confetti that shot out and the announcement of an after-party some had heard was at one of the city's marquee strip clubs, Onyx. Walking out, members of the crowd pulled their phones down and rapidly began uploading video to Instagram and tweeting, telling people online and elsewhere that they missed Megan Thee Stallion's moment.